Gadwal Vijaya Lakshmi assumes charge of GHMC Mayor, Mothe Srilatha takes over as her deputy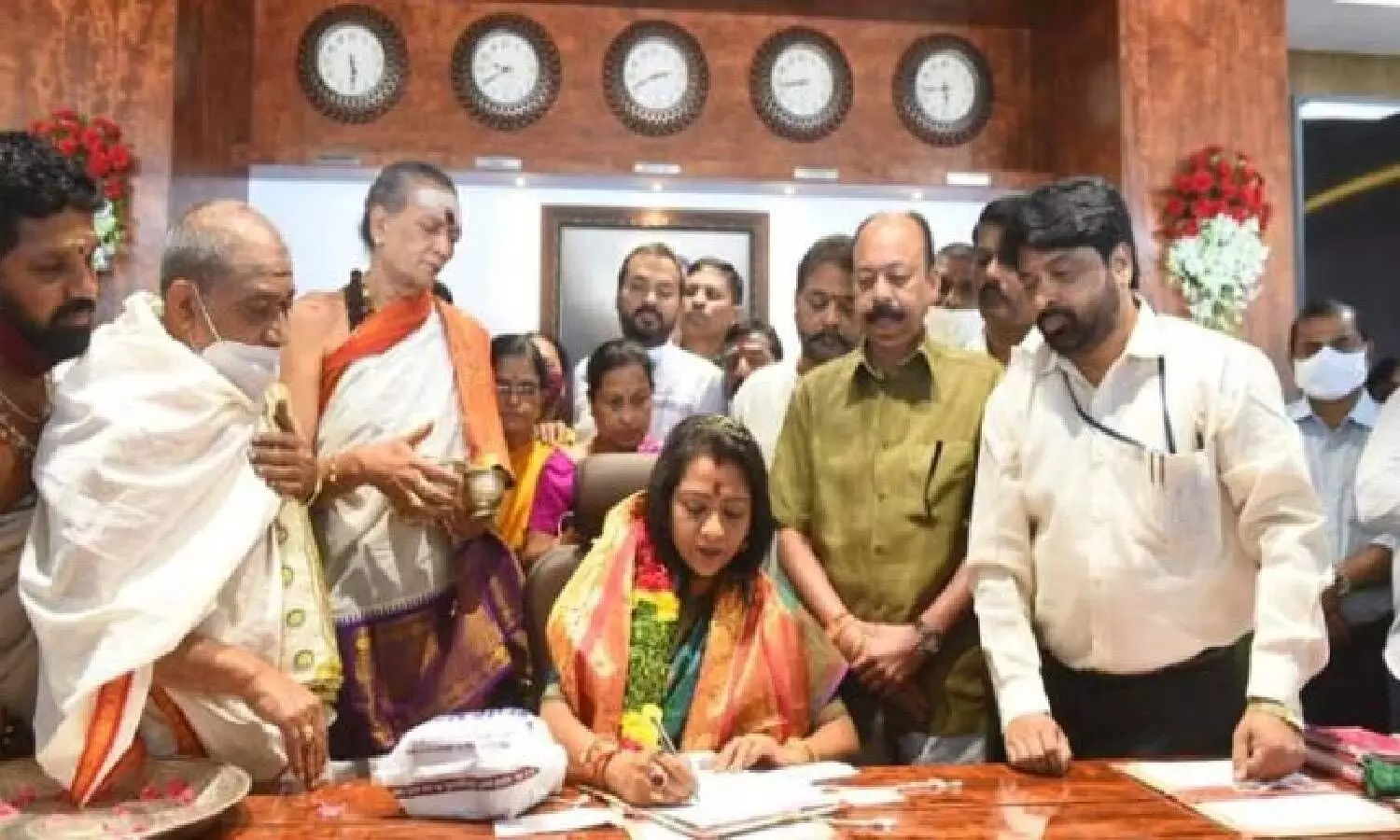 Hyderabad: Gadwal Vijaya Lakshmi took over the charge of Mayor of Greater Hyderabad Municipal Corporation on Monday.

An interfaith prayer was held before she formally took over the charge.

State minister Talasani Srinivasa Yadav, MP K. Keshava Rao, deputy chairman of the Legislative Council, Vidyasagar, and MLC Prabhakar Rao were present on the occasion.

Many officials from various departments were also present.

Later, Mothe Srilatha also took over the charge of Deputy Mayor of the GHMC.
Mayor Gadwal Vijaya Laxmi and Mothe Srilatha Reddy were elected as Mayor and Deputy Mayor after AIMIM Corporators supported TRS candidates on February 11. Mayor seat has been reserved for women for this term.

Gadwal Vijaylakshmi is the Corporator from Banjara hills in the city. She is the daughter of Dr. K Keshava Rao, Member of Parliament, Rajya Sabha from TRS. She holds a B.A, LLB degree. The newly elected mayor is married to Bobby Reddy. Before coming back home, she stayed in the USA for 18 years.

While in the USA, she worked as a research assistant at Duke University North Carolina in the cardiology department. The University is one of the 5th largest research Universities.

She returned to India in 2007 and gave up her US citizenship to join her father in politics. In 2016 she contested as a Corporator from the TRS party from Banjara Hills. She won with a huge majority.

Also, she is the 3rd woman in United Andhra Pradesh to be elected as the head of a municipal body.