Hyderabad: Diwan Devdi was once the residence of the Salar Jungs, the Prime Ministers to the Nizam in Hyderabad. Diwan Devdi evokes images of a market dealing in tarpaulin, rexine covers, carpets and ready-made ware. It is also home to travel and transport offices and shopping complexes. But there was a time when it was the nerve centre of administration. Only nobles and high officials could dare step in.
It was Mir Turab Ali Khan, Salar Jung I, who decided to set up offices close to the Diwan Devdi for effective monitoring of the administration. But it was Mukhtar-ul-Mulk who gave shape to the magnificent Diwan Devdi. The Salar Jungs owned a vast area surrounding the palace extending from Nayapul to Patherghatti on one side and up to Purani Haveli on the other side. The two gateways – one towards Chatta Bazaar and the other towards Patharghatti – still exist.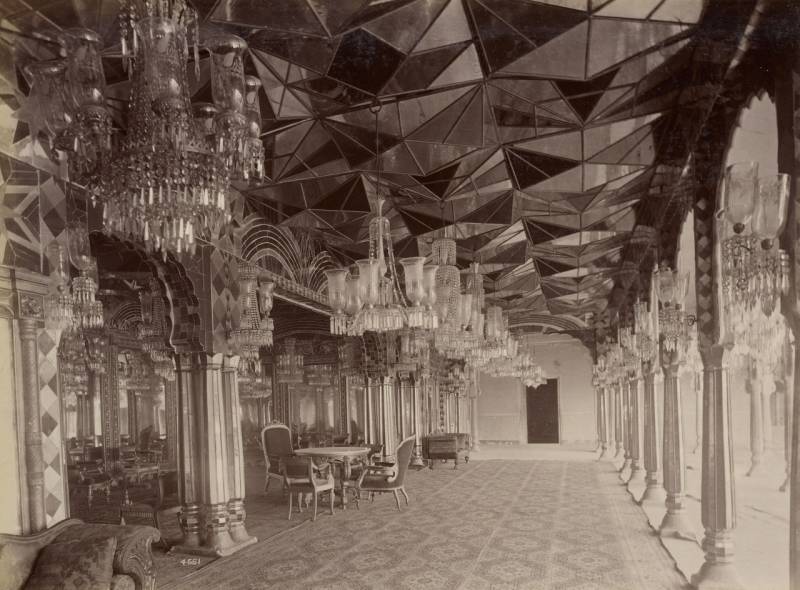 Aina Khana
The 80-room palace had different buildings such as the Aina Khana (House of mirrors), Chini Khana (House of tiles), Putli Khana (Hall of statues), Naqqar Khana, Naya Makan, Diwan Khana (drawing room), Kutub Khana (library), Lakkad Kot (wooden pavilion) besides the Nizam Bagh and the Noor Mahal. Old Hyderabadis recall how the countless mirrors in the Aina Khana took one's breath away and left visitors wondering at the numerous images all over.
The Diwan Khana designed in accordance with Persian architecture was the most impressive. So was the Naya Makan with its large hall, high baroque ceilings and doorways sporting semi-circular arches. But unfortunately, none of them exists today. Only faint memories and pictures of the grand palace remain.
Even the famed Salar Jung Museum was housed at the Diwan Devdi before it was shifted to its present site in 1968. The then Prime Minister, Jawaharlal Nehru, inaugurated the exhibits in the ancestral palace of the Salar Jungs as a private museum in 1951. The architecture of the Diwan Devdi was typically Asaf Jahi with indented arches, wooden pillars marked by carved peacocks and ceilings of delicate stone inlay.
The sprawling garden on the eastern side was used by the sixth Nizam, Mir Mahboob Ali Khan, to host parties. A part of it was developed as a tennis court where the Nizam used to play with Turab Ali Khan. And this portion came to be known as Nizam Bagh. The outer wall of the Diwan Devdi complex collapsed in the great Musi floods of 1908. It was reconstructed later.
This splendid place suffered neglect after the demise of Salar Jung III in 1949. Family members who inherited the property gradually started dismantling Diwan Devdi for commercial purpose. Except for the arched gateways nothing remains today.
This place is now busier than a beehive. But few are aware or care to know about its past glory.