In a step closer to moon Indian Space Research Organisation's Chandrayaan-2 spacecraft entered Lunar Transfer Trajectory leaving Earth's orbit.
ISRO said that on Wednesday around 2.21am Chandrayaan-2 entered into Moon's transfer trajectory. ISRO launched Moon mission on July 22 and it will land on the moon on September 7.
"The final orbit raising maneuver of the spacecraft was successfully carried out by firing liquid engines for about 1203 seconds. Spacecraft's orbit was progressively increased five times from July 23 to August 06," ISRO said in a statement.
ISRO is monitoring the health of the spacecraft from the Mission Operations Complex of the organization. Indian Deep Space Network antennas in Bylalu near Bengaluru are used with the help of Tracking and Comand Network.
#ISRO
Trans Lunar Insertion (TLI) maneuver was performed today (August 14, 2019) at 0221 hrs IST as planned.

For details please see https://t.co/3TUN7onz6z

Here's the view of Control Centre at ISTRAC, Bengaluru pic.twitter.com/dp5oNZiLoL

— ISRO (@isro) August 13, 2019
ISRO launched the moon mission Chandrayaan-2 on July 22, 2019, by the launch vehicle GSLV. Scientists said that all systems onboard of Chandrayaan-2 are working normally.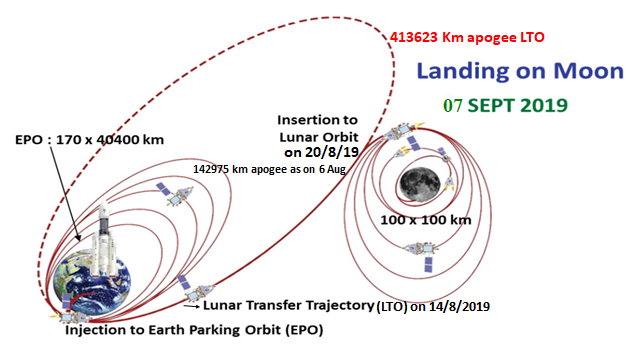 The spacecraft will approach moon on August 20 and the same day liquid engine will be fire again to send Chandrayaan-2 into lunar orbit.
Chandrayaan-2 will approach Moon on August 20, 2019, and the spacecraft's liquid engine will be fired again to insert the spacecraft into a lunar orbit.
"Vikram lander will separate from the orbiter on September 2, 2019. Two orbit maneuvers will be performed on the lander before the initiation of powered descent to make a soft landing on the lunar surface on September 07, 2019" said ISRO.