Opinion: Chances of Sharmila's party emerging as political force in TS cannot be ruled out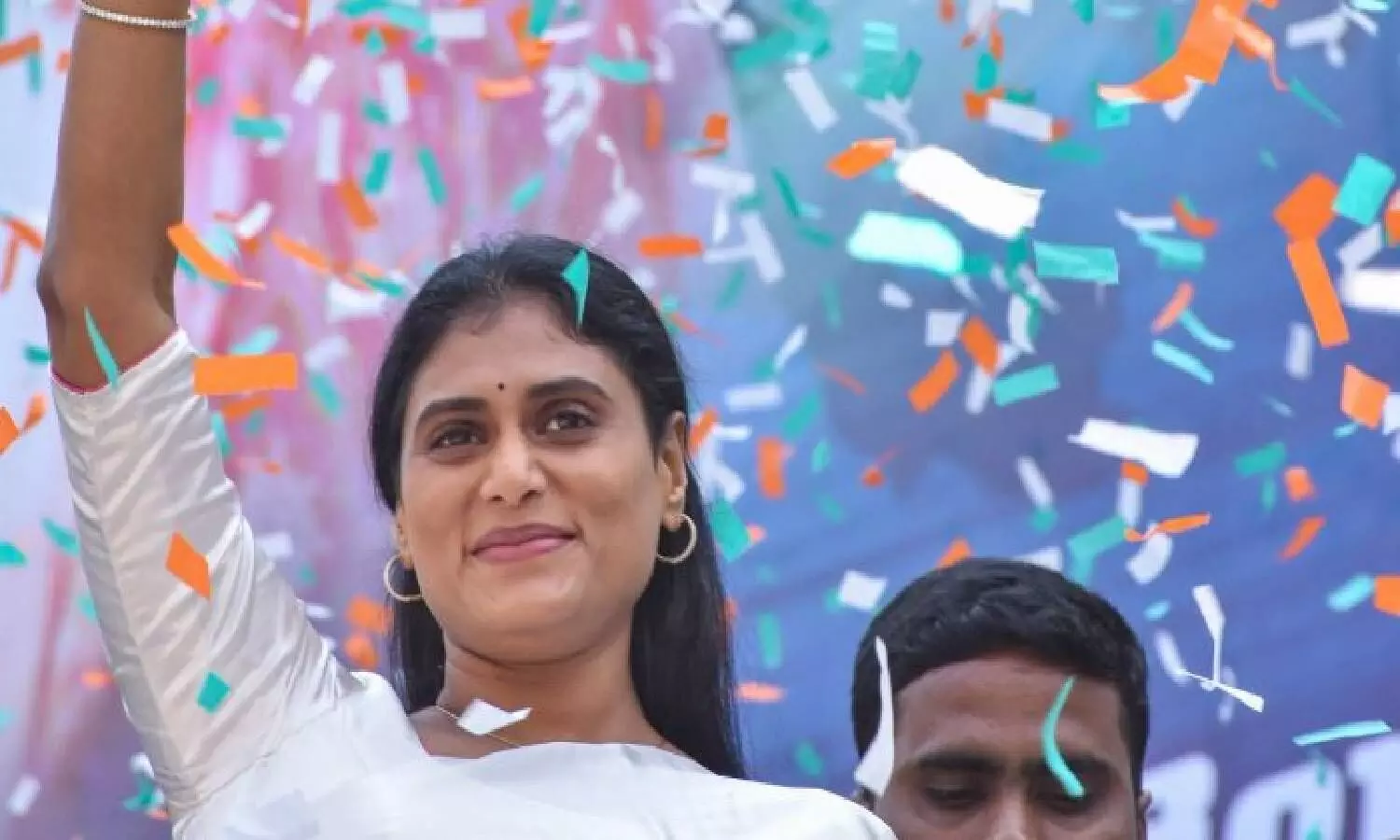 Hyderabad: What are the chances of success of YSR's daughter and AP Chief Minister Jagan Mohan Reddy's sister Sharmila's proposed political party in Telangana? Though the idea of her party is yet to take a definitive shape, it has triggered a curious debate among political circles.

Since she hails from a political family with enormous clout from Andhra Pradesh, Sharmila's moves are being scrutinized from all directions. Her caste, Reddy, an influential land-owning community in Telangana, has also added an element of credibility to the idea of a political party.
This development has given rise to a question about the success of her party if it is allowed to become a reality.
In India, no woman has so far launched a new political party. They have become leaders of existing political parties and a few are leading separate political parties but they are mostly factions of the parent organizations.
A woman launching a political outfit is altogether a new development. If Sharmila were to launch a political party, she would become the first woman founder of a political party in India, a great achievement indeed.
The political influence she commands, the money power she wields, and her caste are bound to rekindle hopes of political participation among the economically privileged sections across all castes in Telangana.
A backward caste political leader, who heads a party in Telangana, expressed apprehension that privileged sections of lower castes are likely to gravitate towards Sharmila's party as it is bound to provide new opportunities for political empowerment.
The political space available in the existing political parties to the aspirational middle class is not commensurate with the growing democratic upsurge among these sections. So, they are waiting for the arrival of a new political party, he said.
Telangana, which witnessed rapid economic development in the recent past, has been the stage for several socio-political movements in the past two decades. Leaders like R. Krishnaiah and Manda Krishna Madiga are responsible for the unprecedented social and political mobilizations among the OBC and Dalits, respectively. The Telangana movement that followed these mobilizations has politicized the society to levels unknown in the history of Telugu states.
Every social group expected political participation in one form or the other in the new state. The disappearance of TDP which once had a reasonable base among these sections has also contributed to the expansion of these forces.
The mobilization of Telangana backward castes and Dalits has not followed the pattern of Bihar and UP where these forces have been harnessed by political parties such as SP, BSP, and RJD. The political aspirations of these marginalized sections found expression in these parties in north India. Though the participatory base has been expanding among the OBCs and Dalits of Telangana, curiously this has not led to the emergence of regional social justice parties on the lines of BSP, SP, and RJD.
The number of lower caste aspirants vying to enter politics in the region is so high that Telangana Rashtra Samiti (TRS), the party largely responsible for the separate state movement, is finding it difficult to accommodate them to their satisfaction.
Congress is in a bad shape to meet their demands. The party floated by Professor Kodandaram is a non-starter. Jagan's YSRCP has been maintaining a respectable distance from Telangana. Janasena is not in the reckoning of the Telangana people. North Indian Social justice parties have never been owned by Telugu people. The only available option for the new middle class is the BJP.
Emboldened by the electoral gains in Dubbaka and GHMC, the saffron party is presenting itself as a viable alternative to the TRS. The emerging middle class, which is more aspirational than ideological, has no qualms to align with the BJP.
This is the background against which Sharmila is all set take the plunge, and her leadership and the secular space her party is expected to offer might look more bankable than that of Hindutva BJP for lower castes and Muslims.
The chance of Sharmila's party emerging as a force in Telangana cannot be ruled out.