Hyderabad: Some parts of a Low Intensity Improvised explosive device (IED) were found near a ticketing counter at the Mangaluru international airport on Monday. The device was recovered by personnel from the Central Industrial Security Force (CISF).
According to them, a person kept a bag and left it unattended outside the airport. Though the IED did not have any charging mechanism and trigger operation, it had explosives but was NOT a live bomb.
The device was later destroyed in a controlled explosion on the outskirts of Mangaluru Monday evening.
Many claims started flooding social media after this incident. Few claimed this was an act of Jihadis. One of the users claimed "Days ago, Jihadis almost burnt Mangalore city. Now a live bomb has been detected in Mangalore International Airport. Bcoz of few traitors, Jihadis are getting more power. But if the police take action against masterminds behind these, Politicians come to their rescue! Disgusting.
Few claims had a different version. They opined that the culprit was a person named Aditya Rao and shared few pictures of him with BJP and RSS leaders.
Aditya Rao who kept bomb in Mangalore airport was a RSS member and close to tejasvi Surya and Prabhakar bhat. Please share this to everyone. pic.twitter.com/8o6A9wFIaM

— Digital Bhagat Singh (@DigitalBhagt) January 23, 2020
Fact Check:
Firstly, the person responsible for the explosive devices found in Mangalore Airport is NOT a jihadi.
According to ANI, IED was recovered from a bag at Mangaluru airport on January 20: Suspect Aditya Rao has surrendered before Bengaluru police. Mangaluru police's investigation team is flying to Bengaluru to question him.
IED recovered from a bag at Mangaluru airport on 20th January: Suspect Aditya Rao has surrendered before Bangaluru police. Mangaluru police's investigation team is flying to Bengaluru to question him. #Karnataka pic.twitter.com/BTMnBbzhxJ

— ANI (@ANI) January 22, 2020
According to the police, the man in their custody is a habitual offender. He was arrested in 2018 for making a series of hoax calls to Bengaluru's Kempegowda International Airport and the Krantivira Sangilli Rayanna (KSR) city railway station. He was upset at not getting a job as security personnel at the airport.
Further, in a tweet, IPS Harsha confirmed that officials of Mangaluru City Police will be in Bengaluru to investigate the developments in the case. NDTV also reported on the issue.
The second claim that the accused is a member of RSS and a Narendra Modi supporter is also FALSE. The photo of the accused and the viral picture are NOT the same. The person in the viral picture was identified as Sandeep Lobo, a RSS member in Karnataka.
He has a Facebook account where he has shared some pictures with BJP and RSS leaders.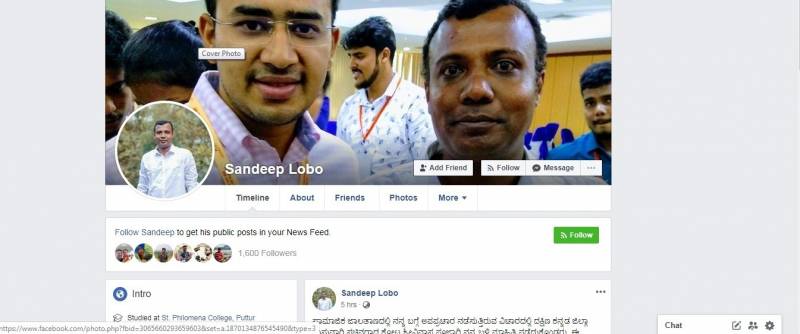 He also posted a message stating that he will take legal action against all those, who are sharing his pictures as a Mangaluru bomb case accused.
The claim that the accused is a RSS member is FALSE. The pictures of Mr Lobo are being misused to propagate a false claim that he is Aditya Rao, the accused of Mangaluru airport.
Both the Claims are FALSE. Jihadis were not behind the Mangaluru airport bomb threat, and the man accused is Aditya Rao and is NOT the same as the viral pics shared and is NOT a RSS member.