Sopore: On the huge gates of South Asia's Second Largest Fruit Mandi here, posters of two Lashkar-e-Tioba militant commanders flashing 'Wanted' have become the biggest talking point among the visitors and passersby.
Mudasir Ahmad Pandith alias Maaz Bhai and Sajjad Ahmad Mir alias Hyder are the prime accused in September 6 failed assassination bid on the prominent apple grower's family and main brain behind the current unrest in the apple rich town of Sopore. Four people including top apple grower Hamidullah Rather and five year old girl were injured in the incident.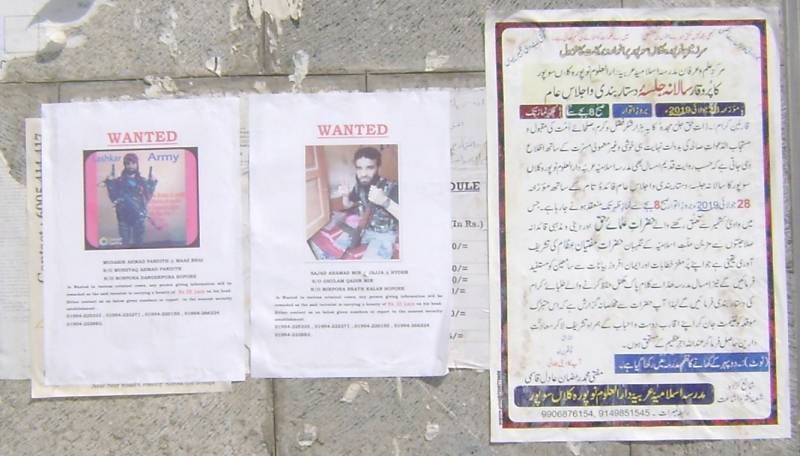 While one of their aides Asif was killed in a chance encounter, police have gone into an overdrive announcing Rs five lakh bounty on Pandith and Rs 10 lakh on Mir. Posters have been put up across Sopore seeking information about the duo.
Behind the operation against two militant commanders lie the idea of raising the morale and confidence of the fruit growers who have been caught in the crossfire. Lakhs of tonnes of apple crop lie in the orchards and warehouses waiting to be exported to outside the state markets.
Prices of the apple have sharply crashed with some growers resorting to distress sale to avoid decaying of the fruits. Last year, A grade Delicious apple box was selling between Rs 800 to Rs 1000, but this year the rates have come down to Rs 300 to Rs 500.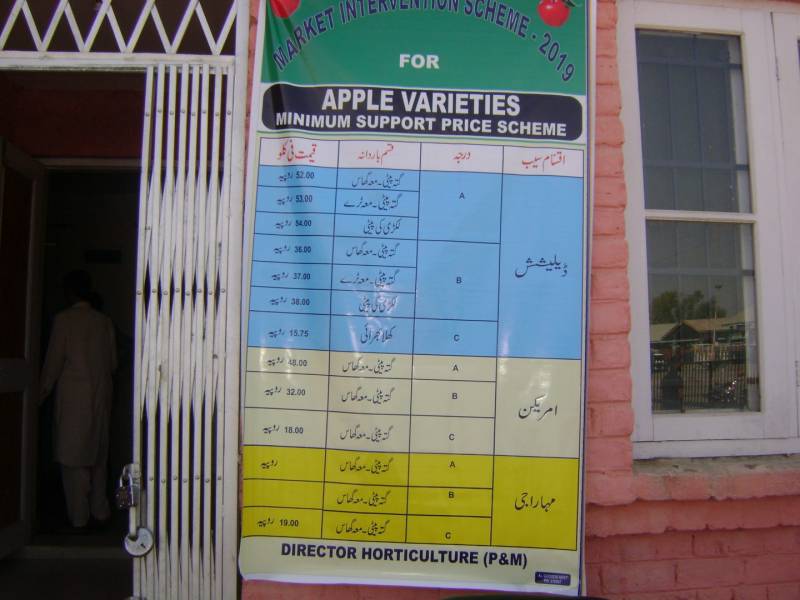 Farmers are unable to ship the fruit as militants have forced the closure of Mandies and warned people against trading. For the first time in the last three decades, apple is at the heart of the conflict between the militants and the government.
"September to November used to be our peak fruit season. Everyday nearly 300 trucks carrying apple used to leave Sopore Mandi for different states including West Bengal, Delhi and others. It used to peak by October and touch even 500 trucks per day", said Fayaz Ahmad Malik, President Kashmir Fruit Growers and Dealers Association, Fruit Mandi, Sopore.
Kashmir's fruit season starts in May when first crop of cherry is harvested. It is followed by pears and other fruits which hit the market in the following months. Apple is almost the last crop that hits the market in autumn. Bulk of the apples is exported to the markets in Delhi. Some of the crop is also sold in Bangalore, Mumbai, Ahmadabad and other cities.
Horticulture is the mainstay of Kashmir's economy with seven lakh families directly and indirectly associated with the sector. The horticulture contributes seven percent to the Gross State Domestic Product of Jammu and Kashmir.
More than 3.38 lakh hectares of land is under the fruit cultivation in the valley. Of which 1.62 lakh hectares is under the apple cultivation. Last year the fruit production including dry fruits touched 23.30 lakh tonnes last year compared to 22.34 lakh tonnes in 2017.
Jammu and Kashmir is the largest producer of apple in the country with production touching 18.28 lakh metric tonnes last year. The apple production was 17.27 lakh metric tonnes in 2017. Five states --Himachal Pradesh, Jammu and Kashmir, Uttarakhand, Arunachal Pradesh and Nagaland – produce apple in the country.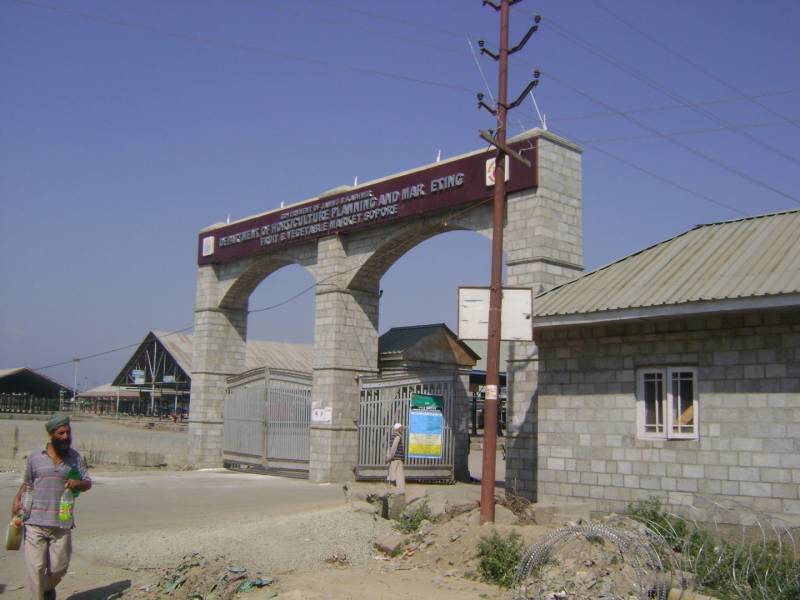 Two Northern Eastern states of Arunachal Pradesh and Nagaland though produce apple, the production is far less than North Indian states. Kashmiri apple however stands out given its sweetness, size and texture and that is why it has a huge demand in the country and abroad.
This Kashmiri apple, however, is now the target of militants who want to crumble Kashmir's economy by stalling its export. Militants have dropped letters in different fruit mandies asking them to shut their shops. The subtext of threat letters is to prolong the hartal and project Kashmir as disturbed before the international community post abrogation of Article 370.
On September 6, militants stormed the house of prominent apple grower Hamidullah Rather and shot at and injured four family members. "The militants fired with an aim to create fear", said a police officer.
Sensing farmer distress, Jammu and Kashmir government went into an overdrive to announce Market Intervention Scheme for apple in order to blunt the tools of militants and help the growers who are unable to find buyers.Under this scheme, the government is looking at helping directly and indirectly three million farmers.
"We have taken note of various concerns raised by apple farmers regarding rates being offered to them particularly C grade variety as well as the issues of transportation. The proposed support price based procurement scheme will address all these concerns. Apples of all varieties will be procured. Rates have been fixed so as to incentivize people to sell it at good process", said Rohit Kansal, Principal Secretary and spokesman of J&K government.
According to Kansal, Jammu and Kashmir produced 20 to 22 lakh metric tonnes of apple, which is nearly 75 percent of the total production of the country. "There are four collection centers which have initially been nominated include Parimpora, Shopian, Sopore and Batengo (Anantnag). No farmer will now have to make any distress sale. In fact our estimate is that the sale of C grade apple alone through this scheme could end up benefitting farmers by Rs 800 crore", he said.
However, the scheme has come at a time when harvesting season has started. In fact Kashmir's apple industry follows the advance model of business. Every year before the flowering and spraying season (spraying of fungicides and pesticides) starts, growers, mostly marginal farmers, enter into an agreement with dealers (Arties) and borrows advance money with a promise to repay it back during harvesting season with six percent commission on the sale of fruit crop.
Fifty eight year old farmer Ghulam Nabi Sheikh is one of the Arties who had given advance money to the farmers with a hope to harvest good profit this season. Luck however had other things in store after unrest gripped the state.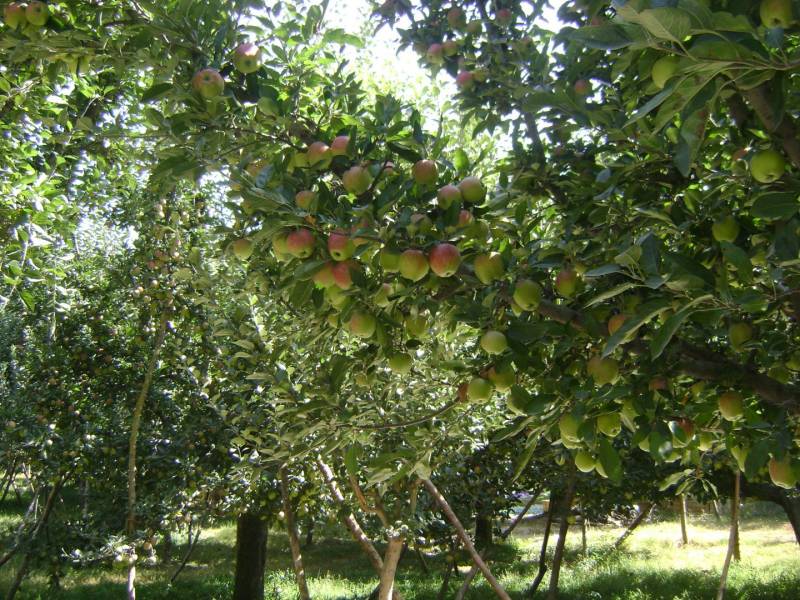 "We do not know whether we will be able to get back our money. Most of the arties borrow loans from banks on huge interests to pay advances to growers. When growers are unable to find the buyers, how will we get back our money," Sheikh said.
Under the scheme, the farmers have to handover fruit to the government officials at the mandies which will then ship it to outside the state markets. "We have constituted a committee who will grade the apple. Accordingly the farmers will be paid the money which will be directly transferred into their bank accounts", said Ayaz Ahmad Nathnu, Area Marketing Officer, Horticulture Planning and Marketing Department, Sopore.
However, sources said, farmers are not enthused and that is why there is lackluster response to the scheme. Figures reveal that more than 3000 apple growers have registered for the scheme in Kashmir.
Srinagar: As apple plucking season is at its peak in Kashmir, security has been beefed up in these... Read more 👇https://t.co/vW8OpltXY8#appletrucks #safety #Kashmir #Article370

— NewsMeter (@NewsMeter_In) October 23, 2019
Sensing that farmers are wary about the scheme given the low returns, government has revised the prices to help the apple growers. "An ambitious market Intervention Scheme has been launched by the Central Government through NAFED and the Horticulture department. Prices for apples have been revised last week", he said.
(The author is a journalist based in Srinagar, Kashmir. With an experience of 23 years in reporting, he was last associated with DNA)