Hyderabad: Bringing a ray of hope to the three-year-long battle by Prajay Megapolis residents, Telangana MA&UD Minister KT Rama Rao ordered the Directorate of Enforcement, Vigilance and Disaster Management (EV&DM), GHMC, and Chief City Planner GHMC to look into the issue at the earliest. Last Saturday, residents of 800 flats owned by Prajay Properties Private Limited had conducted a silent protest demanding necessary facilities and pending deliverables.
Request @Director_EVDM and @ccp_ghmc to look into the issue asap https://t.co/dJ5p0KGif5

— KTR (@KTRTRS) September 30, 2019
Following KTR's order, Viswajit Kampati, Director EV&DM, issued a notice to the builder directing to furnish documents including occupancy certificate and sanctioned plan within three days. "The major allegation, in this case, is that there is no occupancy certificate for the apartment. This will be checked, and we will decide on a plan of action. The builder has sold all flats, and he has moved out. So, now, the residents will need to approach the consumer forum if the builder does not turn up," said Kampati.
"For concerns regarding fire safety, Prajay Megapolis comes under the purview of Director General of Fire Services. To immediately start the action, I have issued a notice to the builder. Now I will pass on the file to concerned authorities," he added.
Responding to the Minister's action, one of the residents in Prajay, Bia Reddy said, "We welcome KTR's action. However, the builder is still not reachable. We have decided to wait for three days as per the timeline mentioned by EV&DM, then will file an FIR for deficiency of services and breach of trust."
The allegations of the resident also include lack of proper water supply, fire safety, and functioning lifts. Some of the flats have seepages as well.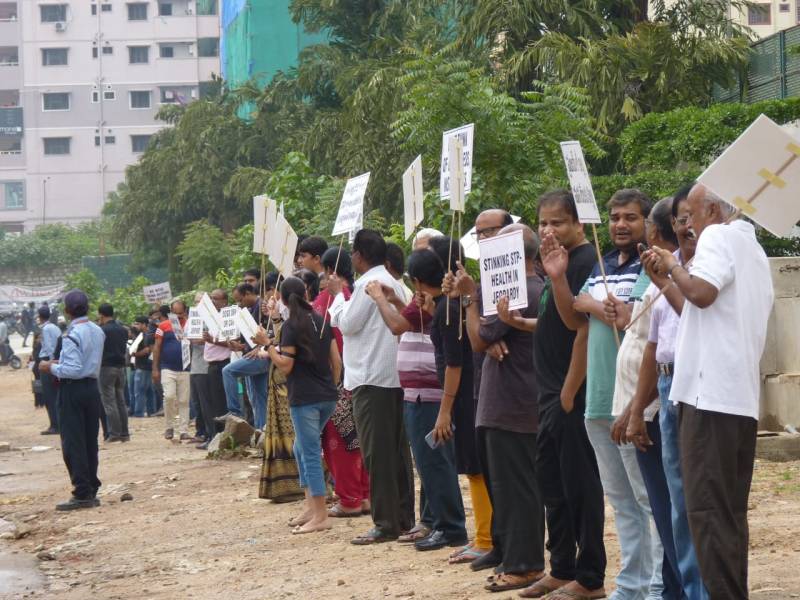 File image
Residents of the flats had earlier submitted grievance letters to GHMC on several instances. They also allege that their plea to the builder was ignored. According to the residents, GHMC already granted Prajay Megapolis permission for Phase 2 of construction despite the complaints in Phase 1. They demand concerned authorities to complete the pending work in Phase 1 and proceed to Phase 2.
Also Read:
https://newsmeter.in/prajay-megapolis-flat-owners-protest-against-builder-urge-ghmc-to-act/