Hyderabad: The sleuths of Legal Metrology Department- TS slapped a fine of Rs 35,000 against the management of 'Prism Club and Kitchen', a famous pub in Hyderabad for peg measure violation. The inspection found that the pub staff had served less liquor to the complainant but charged him more against the quantum he was served.
Acting upon a complaint filed by a consumer, the sleuths of Legal Metrology inspected the club premises located in the financial district of Hyderabad.
During inspections, the officers found that the club management is not serving liquor as per the standard peg measurement and the electronic weighing machines employed by Prism is due for verification.
According to the complainant, the fine on Prism Club management was because the staff had served liquor that measured a single peg but billed him for two, which is in violation to the Legal Metrology Act. The investigation carried out by the Legal Metrology found that the management had violated section 8/25 & 30, 24/33 of the Legal Metrology Act 2009.
The sleuths registered 2 cases against Prism Club and Kitchen post inspections.
According to Legal Metrology Section 30, 'peg measures should be verified and follow the standards mentioned by the Act. The establishment is booked for short delivery of liquor since the bar provides less than the norm'.
Mr Srikhande Umesh Kumar, founder of Know Your Rights and a consumer activist, told NewsMeter, "Short delivery of liquor is an infamous practise followed by bars. The establishments can cheat many customers through this. We need more vigilance against such bars. The weights and measures department should verify peg measures."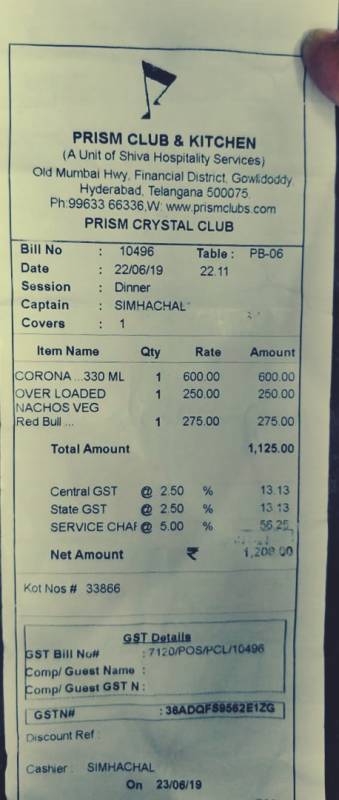 Meanwhile, the Legal Metrology Department also imposed Rs 5,000 fine on Friend's Dinner at Suchitra, and Rs 2,000 fine on Hotel Parivar at AS Rao Nagar.