Hyderabad: In a twist to the sensational to Miryalauda honor killing cases, T Maruthi Rao father of Amrita, committed suicide in a Arya Vyshya Bhavan at Chintalabasit in Khairatabad in the city on Saturday night.
Telangana police confirmed that Maruthi Rao ended his life and his body was found on Sunday morning. Nalgonda SP A V Ranganath told media'We have got information from the relatives of Maruti Rao that he committed suicide in Hyderabad," Hyderabad police booked a case of suspicious death. It is suspected that he consumed poison. Police are also looking into other angles in the case.
Maruthi Rao, along with others, is accused in the murder of Perumalla Pranay Kumar a dalit who married Rao's daughter after a love affair. As the trial is about to start by March 10 Maruti Rao ended his life.
His body was found in room number 306 lying on the bed. His driver, who came at 8.45 am spotted him dead.
A police official said, "Amrutha has filed a petition in High Court seeking expeditious trial in the case against her father. The dalit family of Pranay is also working on it. Police filed a tight charge sheet with all evidence. Maruti Rao is trying to delay the trial through legal methods. However as the chances are bleak and his trial is imminent, he may have taken the extreme step.
"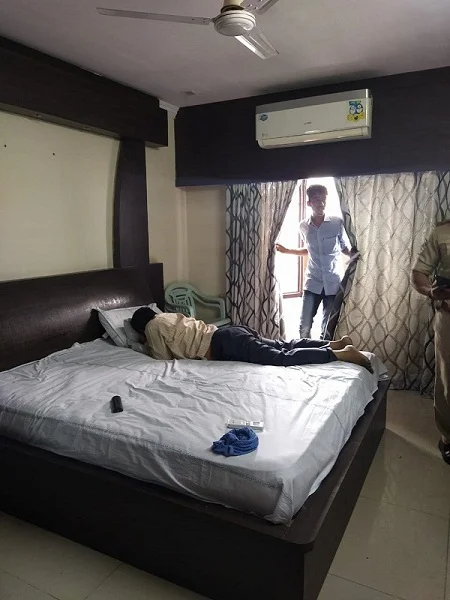 Maruthi Rao also wrote all his property in the name of the brothers and trusts and said nothing goes to his daughter. In the will which made his brothers as legal heirs said against his will Amrutha varshini married Pranay.
Perumalla Pranay was hacked to death in front of his pregnant wife Amrutha outside Miryalaguda hospital in Nalgonda district on September 14 2018. Maruti Rao allegedly disliked the marriage as he belongs to upper caste and the boy Pranay belongs to dalit community. Maruthi Rao suicide has sent shock waves in Vysya community.
Police in June 2019 filed 1600 page chargesheet against T Maruthi Rao, Bihari hired killer Subhas Sharma, Asghar Ali ( acquitted in terror cases including ex Gujarat home ministers Haren Pandya, Mohammed Abdul Bari associate of Asghar Ali, T Shravan brother of Rao, S Sivha driver of Rao and others. The case was then booked under criminal conspiracy, murder and sections of arms act and prevention fo SC-ST atrocities act.
Cops found footage of CCTV cameras at hospital and toll gates, call data records and forensic reports against the accused. Recently a dead body was found in Maruthi Rao's shed.