Hyderabad: In the absence of a vaccine for COVID-19, plasma treatment has become a ray of hope for many patients. Plasma from patients who have recovered from the virus contains antibodies that can possibly fight the novel coronavirus. As demand for plasma to treat COVID patients grow, many recovered patients are coming forward to help those in need. NewsMeter talked to Hyderabad's own plasma heroes, who, after surviving the virus, have donated their plasma multiple times.
P. Uday Kiran Gupta is a resident of Shadnagar in the city. He tested positive for COVID-19 on 23 May. For 10 days he was admitted to the Gandhi Hospital in Secunderabad and later was on home quarantine for 14 days. After recovering from the virus he has donated his plasma three times and saved seven people. "I was able to give a second life to these people and I am proud of it," he told NewsMeter.
His first donation was at Chola Hospital. He said the next two donations - at Medicover Hospital and Global Hospital - were motivated by Cyberabad commissioner of police V.C Sajjanar's appeal to recovered COVID patients to donate plasma. Since then, he has been working closely with the Society for Cyberabad Security Council's COVID control room. Uday said he looks forward to saving more lives in the future.
Dr. Sampath Kumar, who has donated blood 211 times and has world records to his name, tested positive for COVID twice. On 28 July, he received a report that said his blood had COVID antibodies. He posted a message on his social media account saying he was willing to donate plasma. Within minutes, he received calls from three Hyderabad hospitals.
"I was approached by a patient at Century Hospital who was living his last days on a ventilator. A businessman from Kurnool, he has two daughters. I decided to help him and I am grateful to hear that he is recovering," Dr. Sampath said, adding he is willing to help other patients.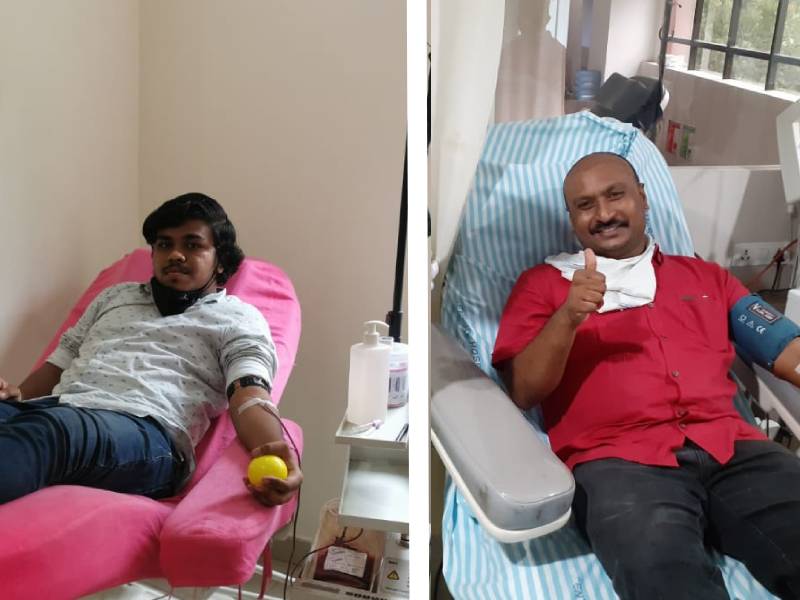 Uday Kiran Gupta and Dr Sampath Kumar donating plasma
The Telangana government has been encouraging people who have recovered from the coronavirus to donate their plasma and save lives. Lakshman Kumar, another COVID-recovered patient who has donated plasma twice, feels the government should start a plasma bank in the state. The 36-year-old businessman, who returned from the US on 17 March, started showing symptoms of COVID-19. He was eventually admitted to the Gandhi Hospital and was discharged on 7 April. "It has been nearly three months since I recovered and still the percentage of antibodies in my blood is more than average," he said.
His first plasma donation was to a 55-year-old man at Apollo Hospital, Jubilee Hills. On 30 July, he was approached again to donate plasma through SCSC. "This is the only way we can save the lives of people. Only five per cent of COVID-positive patients end up needing plasma. Even if everyone who has recovered from the virus comes forward and donates plasma once, we can ensure zero casualties," Laxman added.
Telangana's first plasma donor was Akhil Ennamsetty, a young advocate from Warangal. He has donated his plasma twice.
The process of plasma therapy is similar to donating blood. A person who has recovered from the novel coronavirus develops antibodies against it. People who test negative two weeks after their recovery can donate their blood. The plasma is then separated from the blood, tested for viral antibodies, and then administered to a COVID-19 patient.