Hyderabad: Indu Harikumar, a school teacher from Hyderabad, had never run for medals in her life. Though she is an avid trekker and fitness fanatic, the thought of running races had not crossed her mind, until she crossed 50.
At an age where people turn sluggish or struggle with ailments, here's a 51-year-old woman who has proved all her critics wrong, with her athletic spirit.
Indu won a gold, a silver, and a bronze – just like her school students had predicted – at the 21st Asia Masters Athletics Championships (AMAC) held in Kuching, Malaysia, between December 2-7 this year.
The humble beginnings of an athlete
Indu Harikumar said, "I never knew I could do this until a friend asked me to try running marathons. I started by participating in the Airtel 10k marathon in 2018, and I ended up first in it! It was such a surprise to me then, and that's when I had decided that I wanted to strive further."
Jacqueline Babitha Xavier, a running Coach, and a runner herself, says how difficult it is usually for married women, with kids, and a full-time job, to juggle between responsibilities and their passion for running. With her encouragement, several women have come forward into this field. "More women need to come and take up running. So, this is a great achievement. This is different because for a man, it is very easy. For a woman, you have to plan days ahead- in terms of tending to your familial responsibilities and work along with this."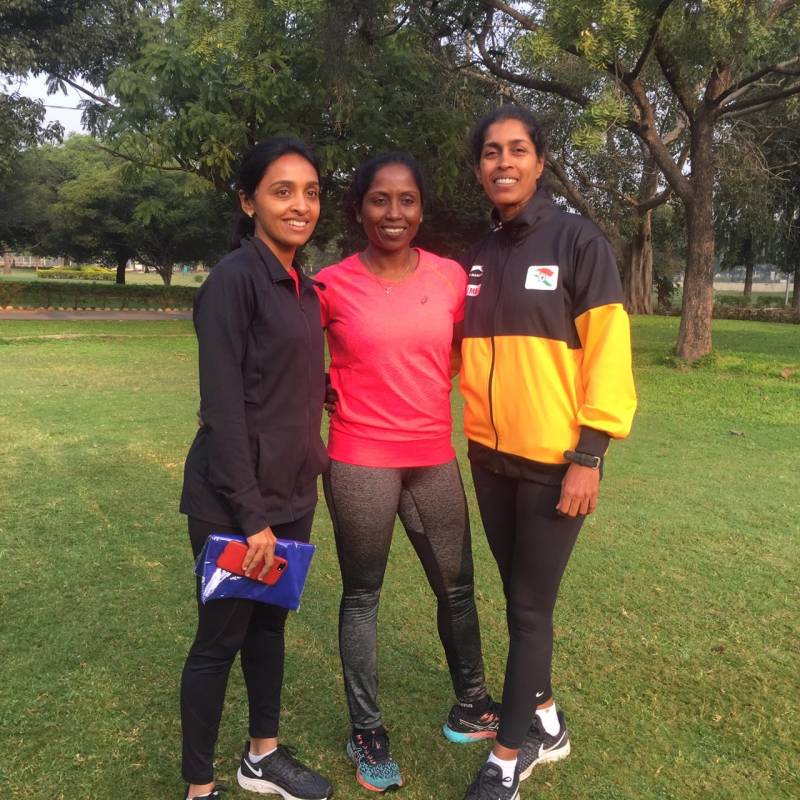 From left: Kruti Kadakia, Babita Xavier, Indu Harikumar
Competing among 27 countries, Indu won a bronze medal in the 1500 metre race at the Asian championships, while securing gold and silver in the 400-metre relay and 100-metre relay respectively, in the age category from 50-55.
"I was heavily bleeding during those days, what with the menopause and all the uncertain hormonal changes in the body. And I was wearing shorts for the first time then! I have realised that it's all a matter of how far you would go to achieve your goals," said the school teacher.
While undergoing rigorous training for the meet, Indu would wake up at 4.30 am, and by 5, she is off to Mahendra Hills to work out. After more than an hour's exercise, she would rush back home, finish cooking and other household work, and leave for school by 8. Her evenings also were devoted to training sessions, wherein she would go to the gym and practise.
The way forward
Marathon runners like Kruti Kadakia have also participated in the Asia Masters Athletic Championships, earning a silver medal in the 4 x 400 m relay for India under age category 40. Talking about the challenges she faced as she explored her running prowess, Kruti said, "People would ask, what are you doing to yourself? You have tanned, you have lost weight and all that. I have given a deaf ear to all that negative attitude and that has helped me to keep myself sane."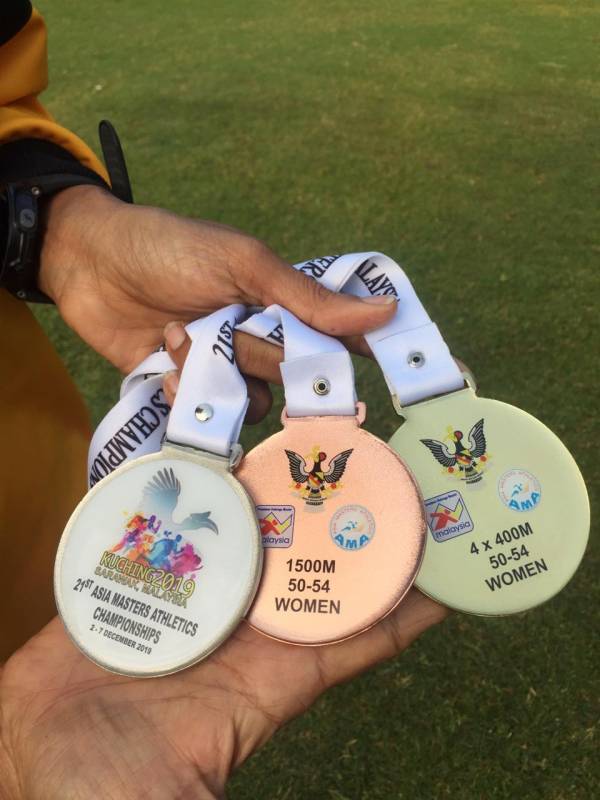 Indu seconds this. During her intense training sessions, there were times when she would doubt herself, of injuring her body permanently with the strain. "I have heard people from the non-running fraternity telling me not to continue and I may end up with some permanent irreversible damage to my body. It could be out of concern, but the fear of what if they could be right and my own understanding of myself was a big challenge," says the athlete.
Now, the athletes are gearing up for the World Masters Athletic Championship, to be held in Toronto, from July 20-August 1, 2020. Though the euphoria of the Asian meet is not over yet, the athletes are all set for the next event, to make India proud.