Hyderabad: Indian Meteorological Department (IMD) has forecasted heavy rains very likely to occur at isolated places over Telangana. in different parts of Telangana for the next 48 hours.
It also predicted thunderstorm accompanied by lightning to occur at isolated places over Telangana.
IMD said light to moderate rain or thundershowers will occur in the city for the next two days. The IMD also warned that rainwater may inundate the roads in low-lying areas. It urged people to restrict their movement.
According to the Telangana State Development Planning Society, During the last 24 hours, Highest Rainfall of 110.1 mm recorded at Siddipet Urban in Siddipet district in the state, while Rajendranagar in the city received 38.2 mm of rainfall, highest in the city.
Siddipet, Medak and Bhadradri Kothagudem districts received heavy rainfall of more than 64.5 mm in last 24 hours while except the district of Vikarabad, Medchal Malkajgiri, Mahabubnagar, Narayanpet and Jogulamba Gadwal, moderate rainfall (15.6-64.4mm) has been received in the districts of Telangana.
State Cumulative rainfall from June 1 to September 11, 2020, is 853.0 mm against Normal 645.1 which is 32 per cent higher than the normal.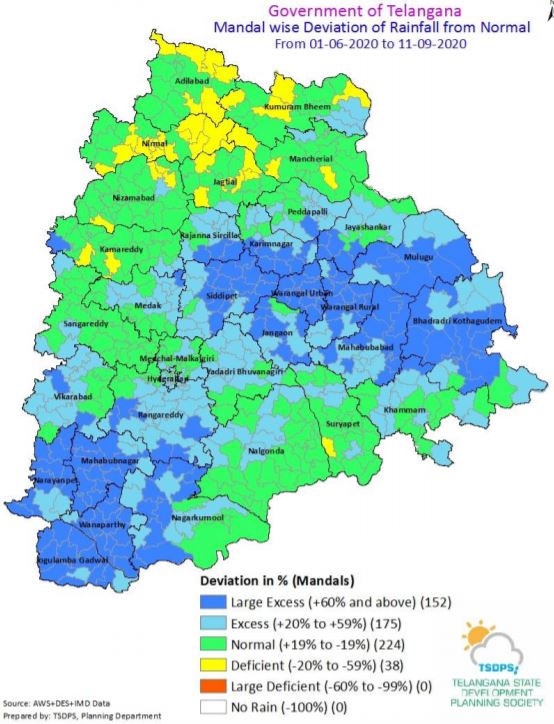 It also said that 175 mandals received excess rainfall of 20 to 59 per cent, while 175 mandals received more than 60 per cent of rainfall.
Meanwhile, 224 mandals in the state received normal rainfall and only 38 mandals saw a rainfall deficit till September 11. State Average Rainfall on September 11 is 8.4 mm against 4.5 mm Normal.
"The east-­west shear zone now runs roughly along 15°N across peninsular India between 3.1 & 5.8 km above mean sea level. The trough from East Uttar Pradesh to Vidarbha now runs from Bihar to south Chhattisgarh across Jharkhand and extends upto 1.5 km above mean sea level. A low-pressure area is likely to form over West-central Bay of Bengal off Andhra Pradesh coast around 13th September," read the IMD's weather inference for Friday.