Migrant workers protest against lack of facilities at IIT-Hyd campus, damage T police vehicle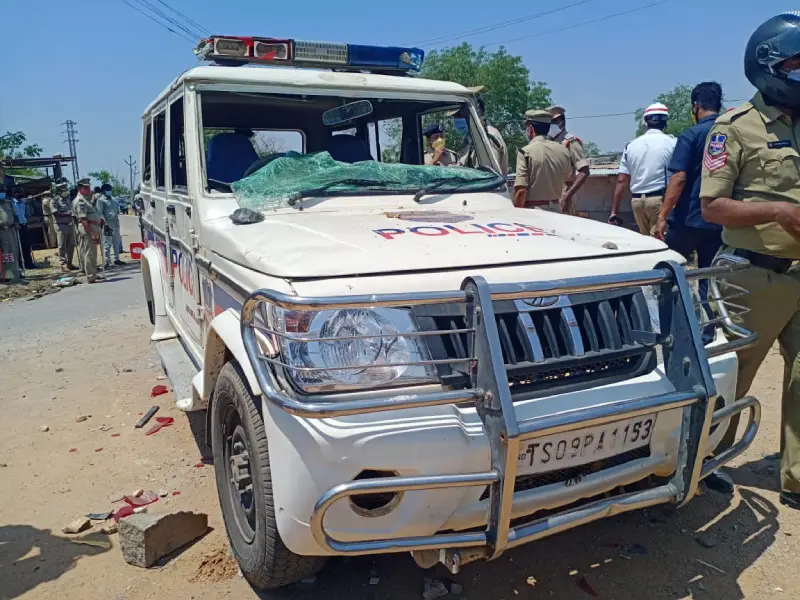 Hyderabad: Tension mounted at IIT-Hyderabad campus located in Kandi of Sangareddy district on the city outskirts on Wednesday morning, as a protest by over 1,000 migrant labourers demanding facilities took a violent turn. Two police personnel were reportedly injured, while a police vehicle was also damaged. Further some property at the campus was also damaged in the incident.
The workers were employed by private contractors undertaking construction works at the campus, much before the lockdown came into force. However, after the contractor allegedly failed to take care of their needs, the migrants decided to stop the work and move back to their place. On Wednesday morning, they staged a protest at the work site in the campus, demanding that they be sent back home.
According to sources, the workers were hired for construction work in the campus premises. Taking advantage of the lockdown, the contractors expedited works, with an aim to complete as much as possible before the lockdown is lifted. All the migrant labourers were given accommodation in makeshift shelters.
But since the lockdown, the contractors were not taking care of their needs and food arrangements, the workers alleged. They said despite the repeated requests to the site supervisors, their problem was not solved and there was no response at all from the contractors, due to which they decided to return to their places. On Wednesday, they protested demanding their pay and transport to travel home.
Telangana government has extended the lockdown till May 7th, unconfirmed talks making rounds that the state is likely to extend the lockdown further.
During the protests, a group started pelting stones and resorted to ransacking the premises. Police teams were immediately rushed to the campus, but a police vehicle was also damaged in the incident. However, police brought the situation under control and held discussions with the contractor and the workers, after which they were given assurance that their needs will be taken care of while at work. Workers withdrew their protest. Further, additional force was deployed at the campus, as a preventive measure, police officials said.