Hyderabad: After battling burns for close to a month, the attender of Abdullapurmet Tahsildar Vijaya Reddy, who died after she was set afire in her office, succumbed to his injuries in the early hours of Monday. K Chandraiah was being treated at DRDO Apollo Hospital.
Chandraiah had suffered severe burns when he tried to rescue Vijaya Reddy after she was attacked by farmer-turned-real estate agent Kura Suresh on November 5. His death took the tally in the gruesome crime to four.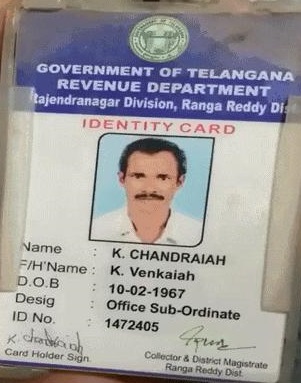 On that fateful day, Vijaya Reddy was in her chamber and Chandraiah was at the door sending people one after the other to air their grievances to her. Suddenly, he noticed a fire in the cabin and the Tahsildar crying for help. Chandraiah rushed to rescue her, but it was too late. In their attempt to save Vijaya Reddy, the attender and her private driver Gurunatham suffered severe burns.
While Vijaya Reddy died on the spot, Gurunatham succumbed a day after. Attacker Suresh too died of burns a couple of days later.