`adbcovid.manaadb.com': Two Adilabad engineers launch website for people requiring oxygen, plasma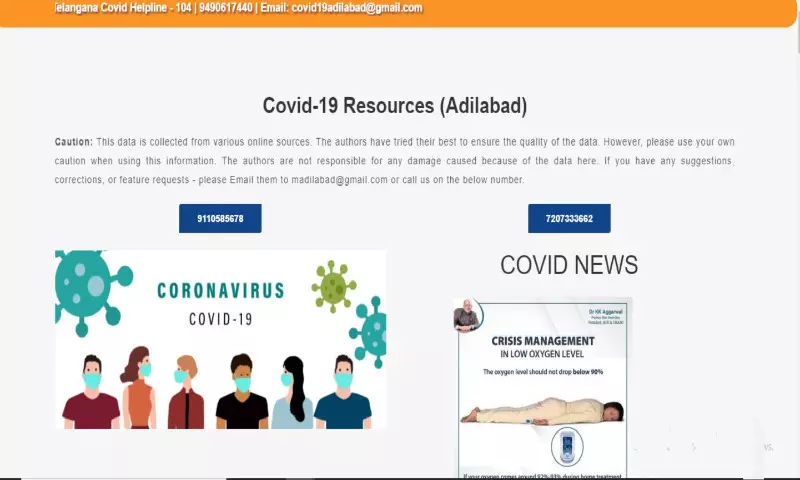 Adilabad: Two engineers from Adilabad have developed a website to help people who are in urgent need of beds, plasma, blood, or oxygen.
Abhishek Murarka and Ajay Bhardwaj developed the website to cater to the people of Adilabad and make it easy for them to find all the important resources about COVID-19. People of Adilabad can log on to adbcovid.manaadb.com, to check on bed availability, plasma donors, injections, and food services
"A couple of weeks ago, one of my friends who works in an MNC tested positive along with this family. He called me after he recovered and told me about the situation he faced. He said they had no idea about who to consult and where to get admitted. He is an educated person and yet he was unable to find the necessary details and had to make multiple calls to arrange for things," said Abhishek.

It was a kind of wake-up call for Abhishek who decided to develop a website so that people like his friend do not face problems. Taking a cue from HydCovid.com, Abhishek and Ajay launched the website on Wednesday.

"As soon as we get an update, we post it on the page. We may have a separate database for plasma donors/recipients specifically for Adilabad within a day or two," said Ajay. The duo is planning to meet government officials and gather information about injections and oxygen distributors. They plan to hold discussions with officials regarding oxygen cylinders as well.
"We are planning to meet government officials to collect accurate data about the availability of beds and update the same on the website," Abhishek said.

The website has details about bed availability, testing centers and contact for home testing, plasma request, injections, and meals for COVID-infected patients. Apart from these, a person can also find important contact details.

Currently, the website collects data from multiple sources. Abhishek and Ajay are also looking for information about food vendors who can provide meals for people.

"People in the city can have more access to resources and information, but villagers don't know where and how to find information. They don't have access to information platforms," said Abhishek.