Bogus hospital beds added to Covid dashboard to inflate availability figures: Independent investigation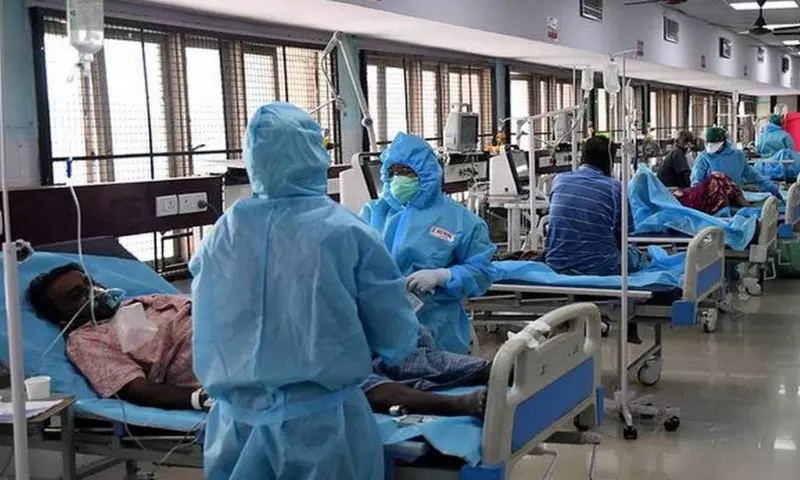 Hyderabad: An independent investigation carried out by a group of citizens engaged in COVID relief works has stumbled upon a high number of 'bogus hospital beds' which have been added to Telangana's COVID real-time dashboard to inflate the number of available beds.
It has been found that the authorities have added Neuro, ENT, infertility, and special clinics, including rehabilitation centres located across various districts, when in reality they do not treat COVID-19 patients. A cross-check done by NewsMeter has revealed similar results.

Let's start from the genesis;The Telangana High Court on several occasions pulled up the state government for fudging the number of new COVID-19 cases, deaths, and statistics of available resources. This includes hospital beds, oxygen supply, medicines, and more.
With the onset of the second wave, apart from a shortage of oxygen and Remedisivir, the state has seen an acute shortage of hospital beds as well. It is pertinent to note that patients from other states flocked to Hyderabad to seek treatment resulting in overburdening the medical infrastructure.

The High Court took cognizance of the issue based on media reports and directed the government to strengthen its medical resources. Acting on the direction, the state instructed its health department to increase the availability of hospital beds.

On 13 May, the total number of beds as seen on the government portal https://health.telangana.gov.in/ was 53,530 . But the catch here is, in the beginning of 2021, the number of beds was merely 17,635, including 7,952 in government hospitals and 9,683 in private hospitals

The truth behind the fudged numbers

B. V Sheshagiri- an activist, Sai Mani Varun, Major Shiva Kiran (rtd) and their team comprising doctors and advocates discovered that the truth is quite different.

What blew the lid was when this group of citizens was trying to provide hospital beds to COVID patients especially from the districts, they looked up the government data but to their shock every enquiry was a revelation. Sai Mani Varun who made several calls to listed hospitals said, "Following the order of the High Court, the government increased the number of beds. However, only on the portal. In reality, there are 1000's of unusable beds that do not cater to COVID simply for the reason that they are meant for polyspecialistic services. Over 147 such hospitals are listed on the portal. Patients who need admission reach out to these hospitals only to find out that they do not serve COVID-19 patients."
He further added, "When one of our members reached out to one such hospital, the person who took the call made it very clear that they had made several complaints to the district medical health officer to remove their names from the portal as they cannot serve the required purpose but to no avail."

To his surprise, Sai found that there are approximately 76 children's hospitals, 22 ENT hospitals, 18 neurological hospitals, and many eye, cancer, fertility, dialysis, orthopedic, and other centers listed for COVID treatment. In total, there over 307 hospitals that do not have the resources to treat COVID patients and keep receiving hundreds of calls daily due to the misinformation available on the website.

For example, Mini Hospitals and Nursing Homes displayed on Telangana Portal http://164.100.112.24/SpringMVC/getHospital_Beds_Status_Citizen.htm are in fact non-COVID hospitals.

According to B V Sheshagiri, Around 10,000-12,000 zero occupancy beds were found to be fogus out of 30k beds in 390 Hospital. " I have collated statistics of 3000 to 4000 beds that are bogus across 310 Hospitals . So, the private hospitals portrayed 38,172 bed is incorrect as many beds do not taker to covid patients. Also, hundreds of hospitals have not updated the statuses of their beds since 5 or 6 May or even as early as April. These numbers are only placed tactfully to achieve a total of 53,530. As on 13 May, a total of 455 hospitals are not showing updated numbers. But in reality, there are hardly any beds available to meet the demands of the patients and the growing number of cases," he said.
The group found that many small family physician clinics and other relatively small nursing homes are displaying beds that are way beyond what their area space can hold. "Most small nursing homes are also displaying a number of ventilators and CPAP beds which require immense finances to acquire. It would not logically be possible for a small nursing home with minimal turnover.This is an absolute shocker. All along we were under the impression that last year was well used by Telangana State to shore up the medical infrastructure. There was sense of relief that district headquarters were well placed, but the myth being removed, wonder where we are headed as the next wave is expected to impact rural areas more. Disappointing to say the least, added Maj Shiva Kiran (rtd).
NewsMeter findings

NewsMeter contacted several hospitals and these were their responses:

1. Adilabad Neuro Super Speciality Hospital: The operator Mahipal said that no COVID treatment is being provided at the hospital. They have requested the DMHO to remove their name and contact number from the database. Ironically, the dashboard shows xyz number of beds occupied and vacant.

2. Ayyappa Orthopedic and Children hospital (Adilabad ): Several calls went unanswered.

3. Dr. Sundariah Hospital New Hope Centre: The centre is only treating outpatient COVID patients (no admission).

4. Hyderabad Eye Centre, Unit Seshanna, Chennawar Eye centre: Incoming calls were barred.

5. Jeevan Jyothi Hospital: Calls forwarded to another number, unanswered.

6. Sachi Nursing Home and Diagnostic Centre – ECG and X- ray centre: Several calls went unanswered.

7. Seva Hospital and Kidney Centre and X-ray: The surgeon is currently working at RIMS and no COVID patients are admitted. Dr. Naresh Rathode told this correspondent that the DMHO has permitted all hospitals to treat patients. However, this centre does not have the resources. No COVID admissions.

8. Arif General hospital: Number out of network.

9. Cure Rehab Physiotherapy Post Hospital: Providing COVID treatment.

10. Sriram Kidney and Infertility Cenre Hospital, Khammam: Wrong number. Employee has left the organization but the hospital admits COVID patients.

11. Life Care Hospital Medak: It admits COVID patients based on severity.
Sequence of events

1. In September 2020, the state had 7,952 beds in government hospitals and 9,683 in private hospitals. A report was submitted to the High Court.

2. With the onset of the second wave of COVID-19 and after being slammed by the High Court, the state increased the number of beds to 53,316 (15,144 in government and 38, 172 in private hospitals)

3. What has been added to the Telangana COVID dashboard was poly clinics, neuro hospitals, cancer & ENT hospitals, and rehabilitation centres that do not admit covid patients.