`Dega', 'Poola': Techies, management gurus set up rooster farms as cockfights become lucrative business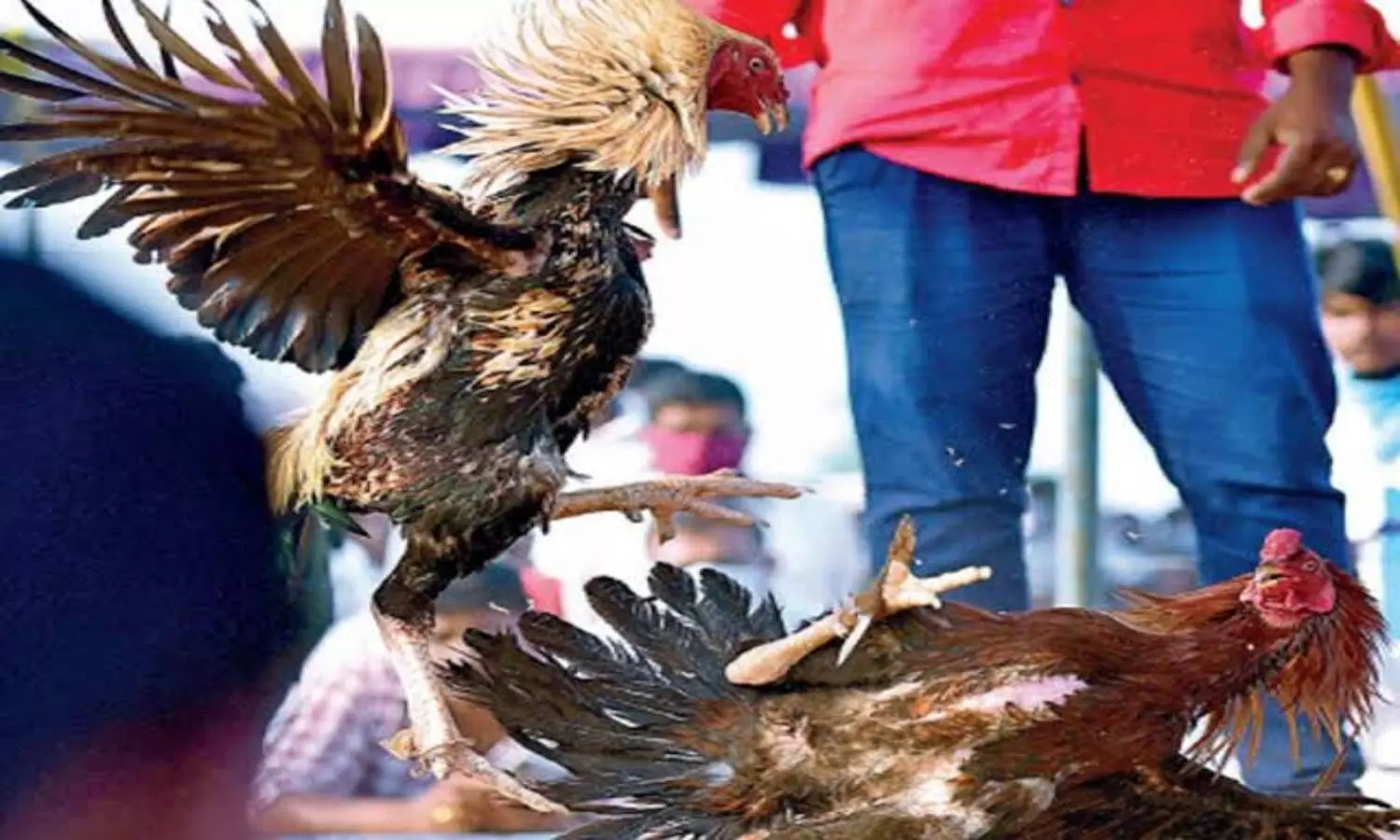 East Godavari/ Krishna, January 5: Thousands of roosters, sharp knives, crores in cash, and huge arenas are being readied for organizing cockfights during the three-day Sankranti festival in coastal areas of the state
Cockfighting was banned in the state in 2014 under the Prevention of Cruelty to Animals Act, 1960, and the AP Gaming Act 1974. The ban was upheld again in 2018. Regardless of its legalities, cockfighting continues unabatedly in the East and West Godavari districts of Andhra Pradesh.
For the first time, educated youngsters, techies, and management gurus are rearing and preparing the unique rooster breeds for cockfights in Krishna, Guntur, and East Godavari districts. Aseel, a rooster breed known for its fighting skills and killer instinct, is much in demand. Educated youngsters are training different breeds for cock fights.
Punters are placing hundreds of crores as bet in the cockfights during the three-day festival. Management gurus and IT professionals are also placing bets hoping to earn quick money.

Rooster breeding farms have sprung up in at least a dozen places across coastal Andhra, particularly the East Godavari and Krishna districts.
P Aloknath, an MBA graduate started a rooster farm at Morasapudi of Nuzividu Mandal in Krishna district. He said that breeding and raising the best breed of roosters is a very costly affair. A fine quality breeding kit comprises two hens and one rooster costs up to Rs 3.5 lakh in the market.

The feeding of the roosters and training is also expensive. "We feed cashew, almonds, and millets to roosters. We also give herbal baths to roosters," he said.
Raghu M, another farm owner in Krishna district, said cockfight lovers from various parts of Andhra Pradesh, Telangana, and Tamil Nadu are now coming to his farm to purchase roosters. "The price of a rooster ranges between Rs 50,000 and Rs3.5 lakh this season depending on the built and fighting skills," he said.

The prices are fixed by the farm owners based on the variety and its color. The most popular species include 'Myla', 'Rasangi', 'Kaki', 'Dega', 'Poola', 'Kodikaki', 'Kakinemali'. 'Tteethuva'. `Pachchakaki' and 'kakinemali' are considered the most powerful and prize-winning.
Stop cockfights: Petition filed in High Court
P Subash Chandra Bose, a native of Togummi village in West Godavari, and B Venkata Durga Prasad from Vadapalli village have filed a writ petition in the Andhra Pradesh High court seeking a ban on cockfights during the Sankranti festival.

Petitioners said despite the orders from the AP High Court and the Supreme Court, cockfights are being conducted in Kovvur Mandal during Sankranti season.
They said MLAs and MPs have turned gamblers and encourage people to participate in cockfights. They indulge in selling illicit liquor, gambling.
Petitioners said animals and birds are subjected to cruelty in these cockfights.