From Palace to Prison: Nowhera Shaik of Heera group hopeful of re-paying investors before Ramzan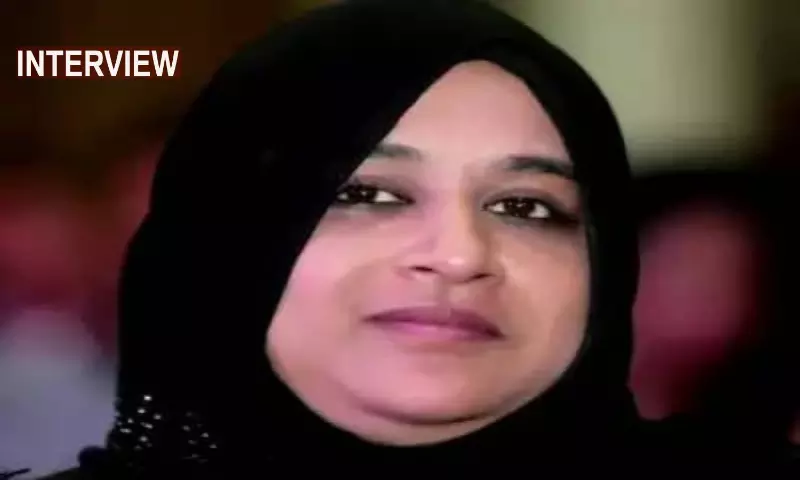 Hyderabad: After pursuing for nearly two weeks, I received a call on March 30 stating that Nowhera Shaik, with much hesitation, agreed to a one-on-one interview. This was for the second time she faced the media after her release from Byculla Jail in Mumbai this January.
For those new to this name, Shaik is the founder and CEO of 20-year-old Hyderabad-based Heera Group of companies with a turnover of Rs 10,000 crore. Owning five malls, the company trades in gold, textile, and food products. It has a staff strength of 25,000 and meter-running clientele.
However, the business operations came to a halt after she was booked for multi-crore Ponzi scheme fraud.
Pertinent to note that she was first arrested in 2018 when she forayed into politics and launched 'All India Mahila Empowerment Party'. She was arrested 20 times and spent close to 3 years in different jails across Telangana and Maharashtra.
Hailing from the Chittoor district of Andhra Pradesh, she is accused of collecting money from thousands of Muslims especially women based in India and abroad in the name of "Halal Investment".
According to Enforcement Directorate sleuths, Shaik collected deposits to the tune of Rs 5600 Crore from around 1,72,000 investors (IBG Members) across the country by making alleged false promises of paying high rate of returns i.e. 3% per month (36% to 40% per year).
Coming back to the interview call, I was asked to come to the head office of the Heera group located at Banjara Hills Road No 10. It was the third day since the company resumed operations. While I sat at the reception, many clientele walked in for inquiries.
After waiting for an hour, I was asked to proceed to her residence a few kilometers away. The house, which is under round-the-clock guard, is nothing less than a palace. The opulent furniture, exquisite interiors and 24x 7 round-the-clock maids reflected the empire that Shaik had built and speaks of her journey from a palace to prison and back.
After waiting for another one hour, the maid asked me to proceed to the 2nd floor in an inbuilt lift, where I finally began the interview:
Q. Hailing from a conservative Muslim family and having the least financial support, how did you set up Heera group with a turnover of Rs 10,000 Crore and came on the radar of investigation agencies?

My father was a small-time businessman. He was well versed in trade. So the seed was sown by him. Back in 1988, I started Heera Group of companies with an aim to empower backward Muslim women by providing them employment and make them self-reliant. The first venture was in Andhra Pradesh. Later I expanded my business to Maharashtra and Karnataka. In 20 years, we expanded our operations to metro cities. Many women across India trusted and invested with us. Investment ranged from hundreds to lakhs of rupees. We launched Heera mart that sells gold, garments, food products. Thousands of clienteles benefitted from our schemes which attracted more investment. Like any other profit-making business, the Heera group came on the radar of our enemies.
In 2012, a complaint was filed stating the company has no license. This resulted in an investigation. The agency probing, many at times carried out searches without a warrant and confiscating electronic devices and files. It was because of 'political pressure'. I was repeatedly called for questioning. Hundreds of notices were issued between 2012 and 2017. Later, central crime investigating agencies were involved. One of the many bizarre complaints I found against me was that bundles of currency are lying in my house. It was in 2017, I filed Rs 100 crore defamation suit against individuals for false complaints. When my petition was heard by High Court, an FIR was filed against me.
(Fact-check: ED's investigation found that Nowhera Shaik and Heera Group of companies did not possess any valid permission either under Banking Regulation Act, or from RBI or from any other government agency such as SEBI for collecting deposits).

Q: ED's probe found Heera Group of companies cheated 1.72 lakh investors and diverted nearly Rs 5,600 Cr for personal gain. Your contention?
Heera Group was a full-fledged running company having lakhs of clientele. However, only a group of 25-30 clienteles from different states connected to a particular political party filed complaints at the Central Crime Station resulting in an FIR. Without giving notice to the company, I was arrested in Delhi in 2018. It is pertinent to note that the arrest came a few days after I announced to launch a political party. There is no truth in the claims that the company cheated 1.72 lakh clients. During the hearing, the prosecution could only produce 20 receipts and cited Rs 500 crore scam. However, the receipts were only for Rs 3 lakh. If 1.72 lakh people have been cheated, I urge them to come forward and claim their money. Even in the list of complainant, less than 30 people have been named. So where does this figure come from.

Q. Why do you say that you're a victim of political vendetta?

I was arrested on October 14, 2018, from Delhi and brought to Chanchalguda Women Prison jail. After spending 9 days in prison, I was granted bail by Nampally session court.

As soon as my bail was granted, the authorities with signing power went on unscheduled leave, delaying my release, it took 5 days to complete the jail formalities. Immediately another FIR was lodged against me in Maharashtra. The moment I stepped out, Mumbai police arrested me in a different case. Multiple FIRs were registered against me in different states.
On January 1, 2020, Mumbai police again took me into custody. I was moved from one jail to another, by flight. Heera mart malls and godowns were forced to shut down. From family to staff, people were threatened that they too will be arrested, a celebrity who attended a family function was also in the list. This was done despite the fact that the Heera group paid Rs 100 crore as income tax before the arrest. If this is not political vendetta, what is it?
My legal team anticipating more arrest and approached the Supreme Court for bail. Later the High court issued an order in favor of Heera Group. It was on January 23, 2021, that I was granted interim bail.
Q. You claim to have been ill-treated in the Jail?

I am witness to calls (received by officials) to ensure I was tortured. Strangers made multiple inquiries about me. I was transferred from one cell to another to ensure my health deteriorates. Being an under-trial prisoner, I was put in a cell accommodating mentally ill and hard-core criminals. But I took it in my stride. The jail authorities did not provide proper amenities. I cited the jail annual and fought for my rights.
Later, I made friends with other jail mates. There are so many people stuck in prison due to a lack of legal support. I will fight for them and may file a petition in the court. The friendship bond grew so strong that many have written letters.
Q. Investigation into money laundering case has revealed that Heera group created 250 accounts in India and eight accounts in UAE and Saudi Arabia to divert money for wrongful gains. Your comments?

I urge the investigating agency to provide the details of all the bank accounts and quantum of money diverted. Heera group has lakhs of transactions. If the funds have been diverted for wrongful gains, I urge the officials to put it on paper before the court. According to my calculation, only 29 members have filed FIR. Where are the rest investors who claimed to be cheated? Out of the 250 accounts, the officials have shown only 71. Where are the rest?

I do not own any property in Dubai. It is a known fact that all properties are given on lease for a period of 15-20 years. We have taken commercial space on rent for company operations.
Q. What is your strategy to pay back?

The Supreme Court while granting conditional bail has directed me to return money to the complainant and resume operations. The company already submitted cheques in the court. Investors who have to get Rs 1 lakh received Rs 2 lakh. We have returned double the money. Complainants can approach the office with the members' ID number and after checking, the money will be returned. The company has enough resources to return investors' money. Hopefully, before Ramzan, all payments will be cleared.

Q. Properties worth Rs 299.99 Crore of Heera group have been attached. Has any property been released following the SC order?

A. Few accounts have been unlocked but no properties have been released. Unless the resources are set free, I cannot resume operations completely. Talking about future plans, there are efforts to reopen all malls before Ramzan, hopefully. The company is waiting for unfreezing of properties and data. I started this company with 200 women and currently. Now, there are lakhs of clienteles.