How Bhuma Akhila Priya, husband Ram hatched plan to kidnap 3 from Hyderabad in land dispute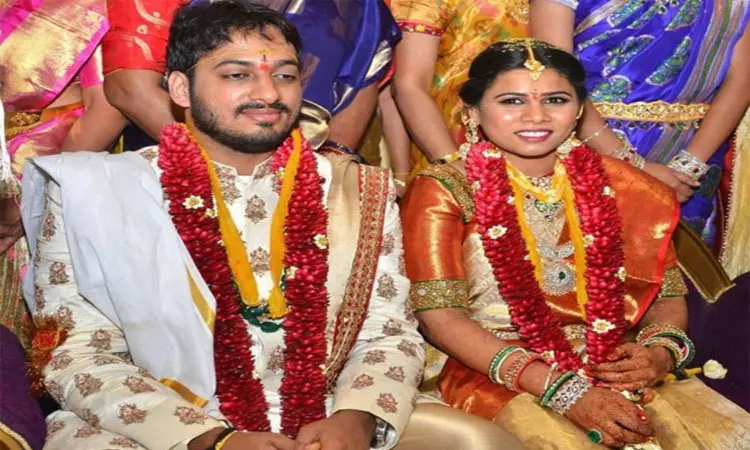 Hyderabad: Telangana police foiled a dramatic kidnap and arrested former TDP minister Bhuma Akhila Priya and booked her husband Bhargava Ram on 6th January. The sequence of events what led to the rescue is no less than a cinematic scene.
At around 7.20 PM on the 5th of January, 10-15 men posing as Income tax officials trespassed into the house of law student Katakaneni Manish (22) at Manovikas nagar in Secunderabad. One among them was wearing a police uniform holding a stick with a plea of conducting raids. They began searching the premise. Manish's family was showed a search warrant (fake) in the name of three brothers Praveen, Naveen and Sunil Rao (paternal uncles of Manish). The family was confined to a hall and few others in the bedroom, restricting their movement.
Twenty minutes later, Manish's aunty Sarita (spouse to Sunil) who happens to be their neighbour came to their rescue. She opened the door latch which allowed the house mates to venture out. By then the men took the three uncles Praveen, Naveen and Sunil in three different cars and zoomed away. The lid blew off when Manish found that the men were not government officials but kidnappers. The family dialed 100 at 8.10 PM.
Speaking of the case, Hyderabad Commissioner of Police Anjani Kumar said, "The kidnap is suspected to be in connection with a land dispute. In September 2020, Praveen Rao filed a complaint against A V Subba Rao in a land issue which culminated in the kidnap. Hyderabad, Cyberabad and Rachakonda police based on CCTV analysis, description of the vehicle and number plates (some of them turned to be fake) and with the help of Andhra Pradesh police traced the kidnappers".
He further adds. "Multiple teams from Telangana and Andhra Pradesh police were tracking the kidnappers via cell movement. A high alert was issued to the toll plazas in Telangana and inter-state enroute. Knowing the cops were tracking them and with no way left, at around 3.30 AM on 6th of January the kidnappers left the three victim at Narsingi. The three have been rescued safely. During questioning, it was found that Bhuma Akhila Priya and husband Ram were involved. On 6th morning, TDP former minister Akhil Priya was arrested at her residence in Hyderabad and brought to the police station. She has been placed under medical examination at Gandhi Hospital.
The Hyderabad police is also verifying the involvement of Srinivas Chowdhary @Guntur Srinu, Prakash, Sai, Chanti.

What did Hyderabad Police's investigation reveal?
Praveen Rao purchased 25 acres of land in Hafeezpet of Hyderabad in 2016 with the help of mediator A.V Subba Reddy assistance who happens to be a closed associate of late Bhuma Nagi Reddy. However, trouble brew when A. V Subba Reddy and Bhuma Nagi Reddy did not come to terms. After the TDP leader's demise his daughter Akhila Priya approached Praveen Rao for a share. But when Praveen refused citing that the process of transaction has been completed, lawfully. She began threatening him, cops said.
Earlier, a case was registered against A.V Subba Reddy at Miyapur Police station for trespassing and threatening. "Settling for the share in the land Akhila Priya and her husband hatched a conspiracy and kidnapped the victims" Cops added.
Hyderabad police have booked Akhila Priya, Bhargava Ram and A. V Subba Rao under section 452(trespass), 419(cheating by impersonation), 341(punishment for wrongful restrain), 506(criminal intimidation), 149(unlawful assembly),120(b)(criminal conspiracy), 147(gathering with purpose of riot), 342(assault) of Indian Penal Code.
The Telangana police have sent teams to Andhra Pradesh to nab Srinivas Chowdhary @Guntur Srinu, Prakash, Sai,Chanti. "Akhila Priya and A.V Subba Reddy are the prime accused in planning" Hyderabad commissioner said.
Family background of victims
Praveen Rao is the fourth sibbling in the Rao family. Eldest brother Kiran and second Pratap (lawyer by profession) live in Mahbubnagar of Telangana while Praveen, Naveen and Sunil Rao reside in Hyderabad. The family is engaged into real-estate business. Long time ago Praveen Rao represented Andhra Pradesh at national level in the game of hockey.