Interview:Take deep breath; revel in wholesome experience of Amrabad tiger safari: Rohith Gopidi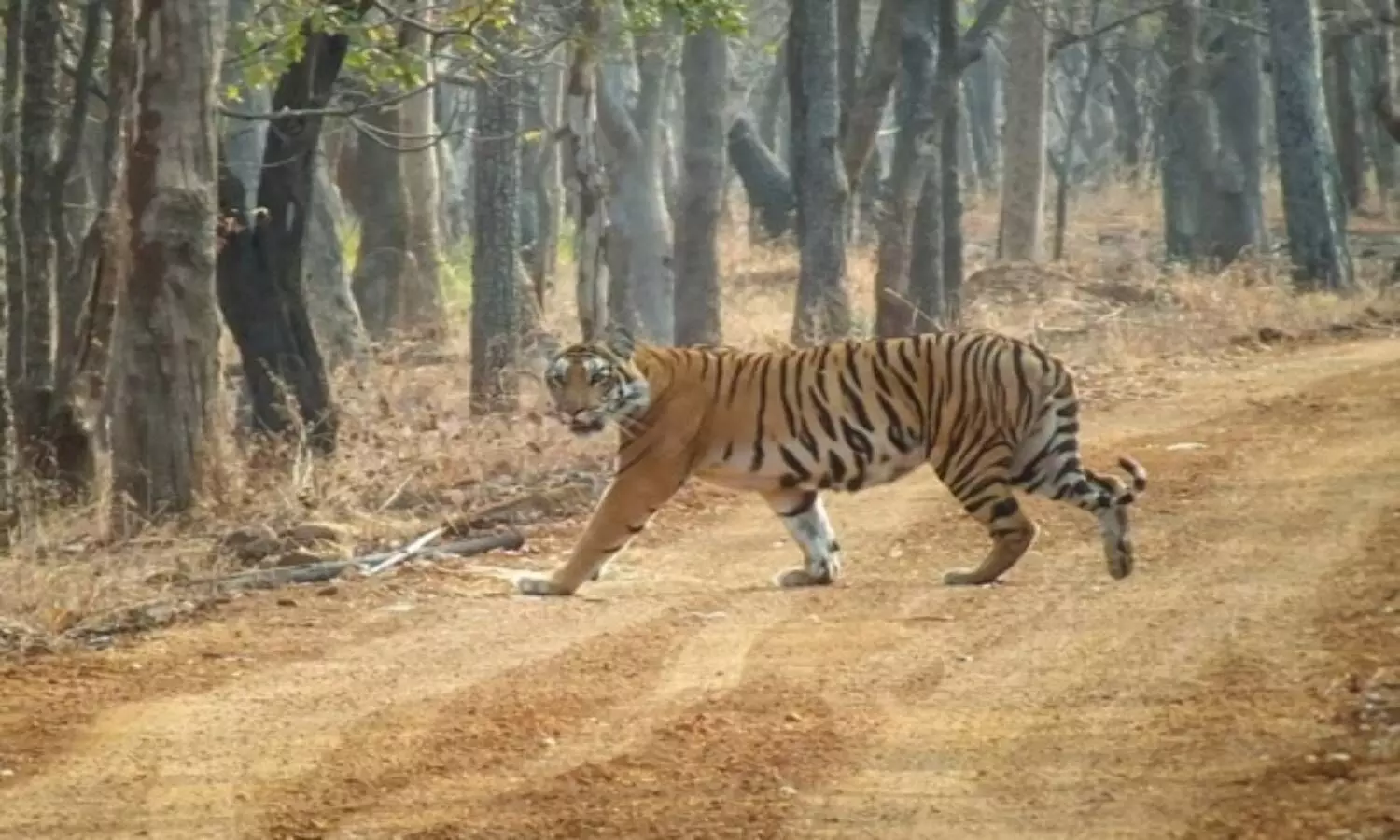 Amrabad Tiger Reserve will be starting safari packages soon. The tour packages have been started with three objectives- creating employment opportunities for the local people, educating people of Telangana, and creating a network of 'friends of Amrabad' who will work for preserving the forest in the future.
As Amrabad Tiger Reserve is all set to welcome people, Indian Forest Service (IFS) Officer Rohith Gopidi answers queries of travel and wildlife enthusiasts.
ATR is one of the largest tiger reserves in India that extends about 2611.4 Sq Km over Nagarkurnool and Nalgonda districts of Telangana State Amrabad Tiger Reserve a well-known and well-preserved nature reserve in Nallamala Hills, part of the Eastern Ghats chain. This is the second-largest Tiger Reserve in terms of core area but the sixth-largest tiger reserve in terms of total area among 51 Tiger Reserves in India.
Excerpts from the interview:

Q) Safari is not a new concept in Telangana. Several parks, sanctuaries, and reserve forests already offer such opportunities. How different is the Amrabad Tiger Reserve safari going to be? What are the unique features that you have included in the safari package?

Safaris are available but none of them guarantee this kind of wilderness experience. The likelihood of spotting wildlife animals is high at Amrabad. There are breathtaking sightseeing points, especially at Farahabad view point. Visitors will be in awe of nature. I don't think there is any similar safari in Telangana. Amrabad Tiger Reserve (ATR) safari is unique for its best landscapes. Also, the likelihood of spotting sloth bears, leopards, and of course tigers is high in ATR.
The Amrabad Tiger Reserve(ATR) which is part of the Nallamala Forest track has rich Biological Diversity with several endemic species of flora and fauna. Amrabad Tiger Reserve is home to the largest number of Tigers in Telangana State. The hilly terrain of this Tiger Reserve with deep valleys and gorges forms the catchment of the Krishna River.
Most importantly, in the middle of the safari, the visitors are allowed to get down at the Farahabad viewpoint and enjoy a beautiful view of the pristine Nallamala.

Q) Considering the fear of Covid-19 still lingering in the minds of people, what are the measures taken to control crowds and ensure that there are no super spreaders? Are you planning to cap the number of people?

A) All Covid-19 guidelines will be followed in letter and spirit. Masks and sanitizers are mandatory for all visitors.

Not just because of Covid-19, but also considering the carrying capacity. We are allowing only 12 people per day initially. Later on, we will increase this to 20. We believe in the tourism of quality and not quantity.
Q) Exposure to wildlife at an early age helps children understand and connect with nature. Since they haven't been vaccinated, will they be allowed at the Amrabad Tiger Reserve?

A) Children are our major focus. Also, there are no government restrictions for children visiting public places. So we are allowing children. Considering the risk, we shall take all precautions for a safe and enjoyable trip at ATR. This is not just another Safari. It is not only for the animal experience. The intention is to provide a wholesome experience. It is also about learning about the fauna and fauna.
Our tour package is an attempt to provide this experience. Through trekking, we want to explain forest bathing. We want to record the experience and disseminate it through videos, explainers, and short documentaries. We plan to establish a lab for research. We have also established a plastic recycling center. We want to create awareness. We want to show the public how difficult is to handle the waste they litter. Also, the guides would be local chennu who are well aware of the area.
Q) Reaching ATR or Nallamala is not so easy for a resident of Hyderabad or any other city as there are hardly any buses, trains, or metro services to this area. What are the transportation services that you are arranging to facilitate people from Hyderabad and other cities to reach the tiger reserve? Any plans to collaborate with RTC for the same?

ATR is just two hours drive from Hyderabad. Currently, there are 6-8 buses from Hyderabad to Srisailam, which is the entrance of the check post. We are not planning to collaborate with the RTC right now. Initially, we are permitting only 12 people per day and it will be difficult to ply buses for such a small number. We are expecting the people to come by themselves for now.

Q) For people visiting from faraway places, the night stay packages are really helpful. What will be the booking charges?

We have arranged different packages depending on the number of people. To know the charges of each, please visit the ATR website.The website will be live from November 7. We haven't decided about the exact date. Tentatively it will start from the second week of this month. The date will be notified on the website on November 7 or 8. Safari experience will give you a thrill. It will be breathtaking. Visitors can also visit the decade-old temple.
Q) There will be a large footfall of people and hygiene is a priority these days. How are you planning to ensure the cleanliness of the area, especially washrooms, and canteens?

A) People need not worry about a large footfall. Only 12 people will visit the reserve per day. The entire safari package is planned on a sustainable model. People need to understand that we are here for visitors. They shall have a quality experience. Wildlife tourism is not mass tourism. It will be done in a qualitative manner. Imagine if there are 25 safari vehicles, it would spoil the wildlife experience. It is not for money generation but for livelihood. Thrill, adventure, and education is our motive.

We want the trip to be a learning experience. We also have a plastic recycling center at the reserve. Here, we collect all the plastic wastes disposed of by visitors. We send it to Hyderabad for recycling.

Q) Forest fires in Amrabad Tiger Reserve have increased 1.6 times over the past one year. How does it affect the ground vegetation? Will setting up watchtowers help? Can the people living around do something regarding this?- Credit Naveena Ghanate

A) Yes, forest fire is a big issue here. Most of the fires are man-made. The local tribal people living in these forests resort to burning for the extraction of forest produce like Mahua flowers and tubers like Nannari Gada. As a result, the soil starts depleting, and slowly the vegetation in this area dies leaving behind only bare rocks.

Tribals nowadays complain about not finding Nannari Gada. Due to over-extraction, it has got exhausted. Fire also alters the characteristics of the vegetation here. Plants like phoenix keep on growing due to fires which in turn degrade other plants in the area.
Watchtowers are helpful. It takes hours to get to know about a particular incident. Here we have workers belonging to local Chenchu tribes to notify about forest fires.
We need to educate the locals about forest fires. Let them know about the sustainable options of harvesting forest produce. Their livelihood should not be compromised but at the same time, forests should not be burnt. We are planning to conduct an awareness programme by the end of this month so that we can be prepared for the next harvest season beginning December-January.
Q) What do you wish to tell the visitors who are looking forward to coming to ATR?

A) Do not come here with the sole objective of spotting a tiger or a leopard. Rather take a deep breath and revel in the wholesome experience of the forest. We want people to come and give us feedback so that we can improve the existing facilities.
The reserve was notified as a sanctuary in the year 1983 and after the bifurcation of Telugu States in 2014, it was declared as Amarabad Tiger Reserve. It lies in the three forest divisions of Amarabad, Achampet in Nagarkurnool district, and Nagarjunsagar division in Nalgonda district. Major reservoirs like the Srishailam Dam and Nagarjunsagar Dam are fed by the river Krishna and its several perennial streams that originate in the Tiger Reserve. The distance between Hyderabad to Amrabad Tiger Reserve is 140km.