Madhapur road-accident: Srujana school founder Raghunandhan Reddy, son, HCL employee booked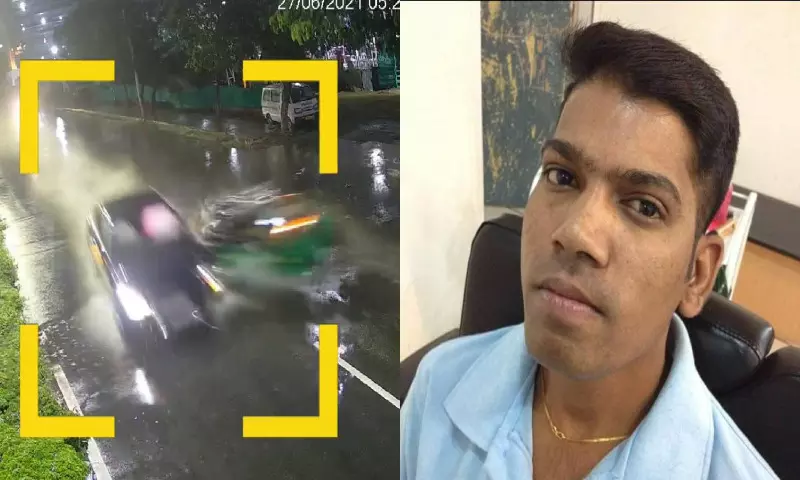 Hyderabad: Police have arrested Srujana High School, Uppal, founder V Raghunandhan Reddy, his son Sujith Reddy Vakiti, a civil engineering student in Goa, and HCL software employee Ashish in the Madhapur accident case that left Prism Pub employee dead.
Madhapur Police have released a video of a road accident. The incident occurred on June 27 when a speedy Audi rammed into Uber auto at the signal near IKEA circle. Such was the impact that Uber auto flung into the air. Umesh Kumar, an employee with Prism Pub, Gachibowli, had booked auto to go home at Begumpet. He was returning from work when the auto was hit by speedy Audi.
The investigation revealed some interesting facts. After the case was handed over to the Madhapur Law and order police, the cops collated the CCTV footage and traced Raghunandhan Reddy through the number plate.
When called for questioning, Raghunandhan brought his 55-year-old driver Prabhakar along. His driver admitted to have committed the crime. Unsatisfied with his narration, the cops scanned the CCTV footage to reach the bottom of the case.

Investigation revealed that Sujith Reddy and his friend Ashish had attended a private party at the former's guest house near Ramky towers. During the wee hours, the duo left the guest house for home. Heavily drunk, Sujith was driving the vehicle when he hit the Auto. The videos confirmed that the Sujith was driving at a very high speed."Raghunandhan Reddy influenced his 55-year-old driver (employee with them for 20 years) to accept the crime. He promised a hefty compensation and assured him bail. However, Prabhakar failed during interrogation. Also, the CCTV footage at the scene of offence and wine shop shows Sujith and Ashish in the car," Madhapur Inspector Ravinder Prasad told NewsMeter.
Raghunandhan Reddy was booked under section 203, 205, 212 and 419 of the Indian Penal code for harboring his son and misleading the cops. Sujith and Ashish were booked under 304 (2), 201, and 506 of IPC. All three have been arrested, the CI said. Sujith Reddy had completed his B-tech and went to study Civil Engineering in Goa.

Inspector said beer bottles were retrieved from the Audi car and there is enough evidence to prove both were drunk. "Since they were arrested more than 12 hours after the crime, the blood alcohol levels did not give conclusive results. The father wanted to hide his son's crime. However, Sujith Reddy was arrested from D. V Colony, where he was reportedly hiding, while his friend Ashish was arrested from his home," he said.

The auto driver suffered injuries while, Umesh Kumar however was not lucky and succumbed to his injuries.
Vakiti Raghunandhan Reddy is the founder of Srujuna High School in Uppal of Hyderabad, he earlier contested on a Member of Parliament ticket from AIFB party in 2018 however lost elections. While Sujith Reddy Vakiti is studying at the National Institute of Construction Management and Research, Goa. Sujith and Ashish were classmates while studying B-tech, Ashish went on to work with HCL.