Magic or madness: Thousands turn up at Nellore to receive `COVID medicine' from Ayurveda practitioner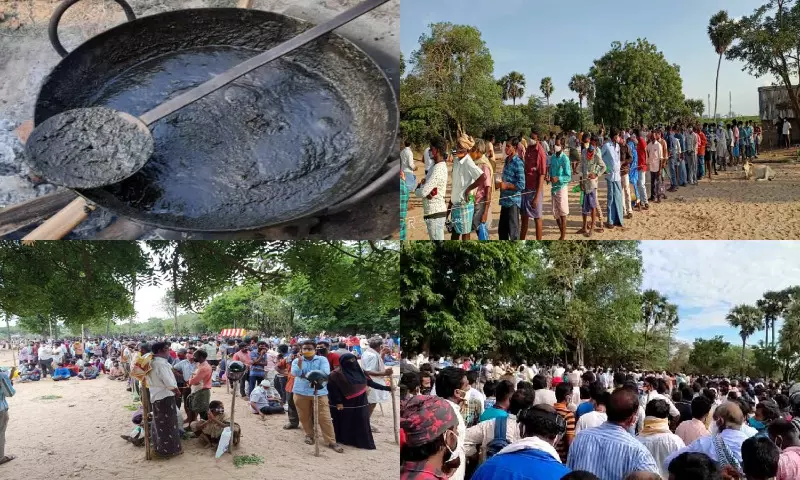 Nellore : When the world struggles to find medicine for Covid-19, thousands of people including patients are making beeline to an Ayurveda practitioner at Nelore for a herbal concoction that he claims can cure the deadly infection.
All roads seem to be leading to a sleepy village of Krishnapatnam with people lining up since daybreak to receive Ayurvedic preparation from the local practitioner. Ayurveda practitioner Bonigi Anandaiah claimed that he distributed the medicine to over 20,000 people. Visuals of serpentine queues outside Anandaiah's home went viral on social media. As a result, many people from neighboring states drove to the village to receive the concoction.
The organizers are distributing medicines to infected patients. They said they use leaves, honey, pepper, green camphor, nutmeg, black cumin, and cinnamon to prepare medicines. Even they are providing eye drops. Anandaiah is distributing the medicine free of cost to the people. Those in critical condition are given eye drops. He said it increases the oxygen level of the patients.

Ayurvedic balls with ingredients such as Giloy (Tinospora codifolio), neem, pepper, ginger, and turmeric prepared by a large number of workers are distributed to those who test positive for COVID-19. The same preparation is also given as an immunity booster to people waiting to get vaccinated. People from parts of Rayalaseema and Guntur said their relatives, who were suffering from COVID, have recovered after taking the medicine.
A retired school teacher claimed that he was on a death bed and had lost hope to survive. "I recovered within few minutes after taking the medicine," he said. Anandaiah claimed that he has been preparing the medicine by using the ingredients such as ginger, pepper, turmeric, neem, rock candy, herbals, and few other spices, and some leaves only. "People have a lot of faith in the medicines as some patients recovered from the virus," he said.
Anandaiah has managed to secure the support of philanthropists who are funding the procurement of ingredients needed to prepare the medicine in large quantities. On Friday, utter traffic chaos was witnessed on some roads as thousands of vehicles headed towards Ayurveda practitioner Bonigi Anandaiah for the medicine.
Nellore Collector KVN Chakradhar Babu constituted a committee comprising AYUSH doctors and official to looking into the claims. The committee is headed by District Panchayat Officer Dhanalakshmi. Samples of the preparation were sent to an AYUSH laboratory in Hyderabad for testing, he added.
Dr. P V Ramesh, a former advisor to the government of AP, said it is a clear violation of the pharmacy, and drugs and magic remedies act 1954. "This is an epidemic of madness. The government essentially must protect society from false belief. It seems to be driven by superstition and we are being taken to dark ages. The government should stop it," he told NewsMeter.
Ayush commissioner Colonel Ramulu, however, said that the components in the Krishnapatnam herbal medicine were within the prescribed standards and they didn't notice any side effects. He, however, said that it would take seven to ten days to get the laboratory report on the efficacy of the medicine.
What collector's report say?

A team of officers along with a group of Ayurvedic Doctors visited Krishnapatnam Village on May 17. The inspection found that Borigi Anandaiah of Krishnapatnam Village is preparing and distributing an herbal medicine for Covid-I9 patients.

The person dispensing the medicine is not a qualified professional in Ayurvedic medicine and the formula narrated by him is not forming part of any standard recipe. However, the ingredients being used are general herbs only and the method of preparation and dosages is reported as sub-standard. The team said the ingredients of the eye drops may be harmful to the eyesight in the long run.
The report said medicines/herbal preparations have also been sent to the state Ayurvedic lab at Vijayawada for detailed analysis and meanwhile the person is instructed not to distribute any medicines/preparations unless it is certified / permitted by any government agency.