`Messiah in apron': Hyderabad Doc Khizer Hussain Junaidy who has brought affordable healthcare to people's doorsteps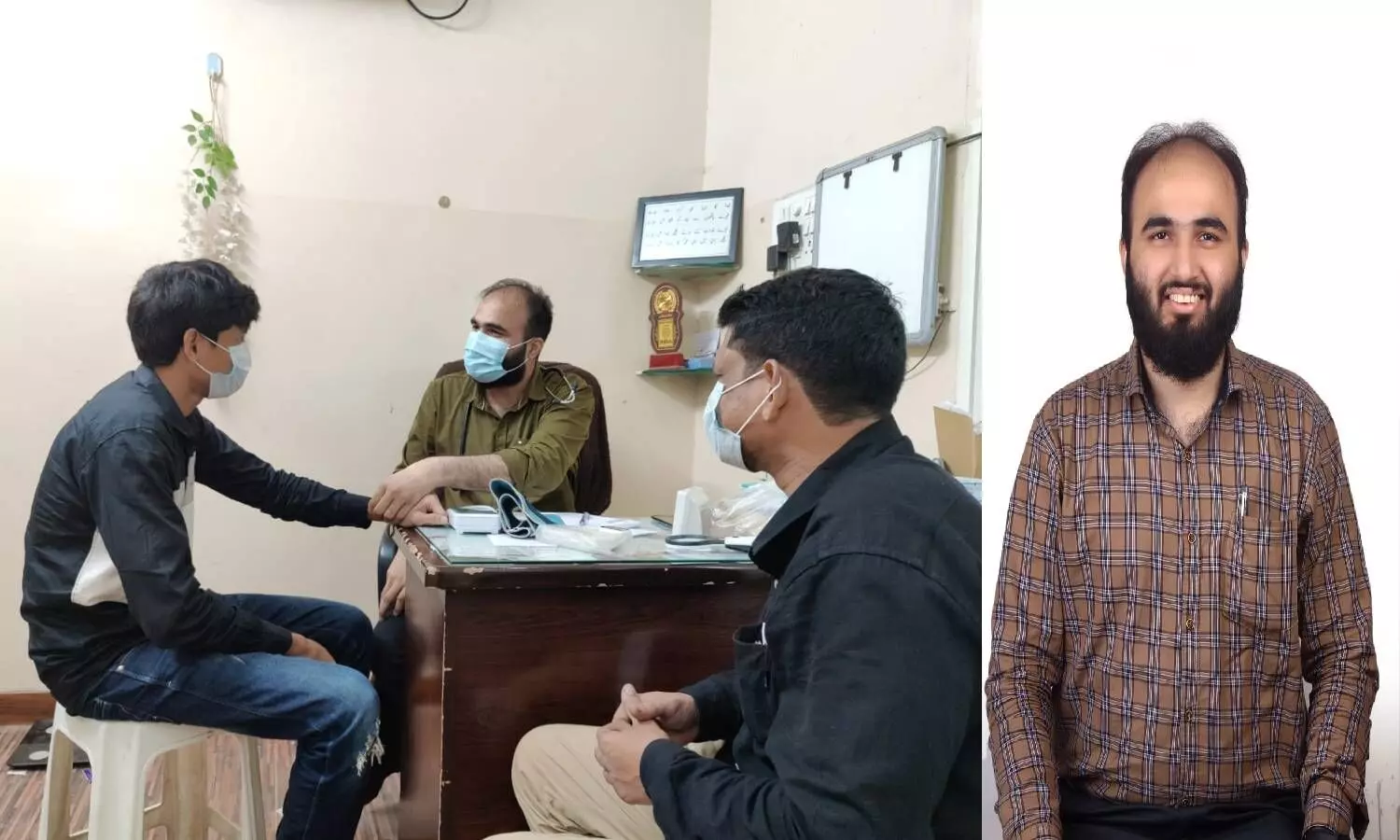 Hyderabad: Unmindful of risks, Dr. Khizer treated hundreds of infected patients. Personal care with human touch was his hallmark and that is the reason that patients describe him as `messiah in apron'.
Every day hundreds of patients make a beeline to his clinic. Starting in the wee hours, Dr. Khizer works till late evening. A token fee and subsidized treatment cost are USP of the young doctor. An alumnus of the prestigious Gandhi Medical College, Secunderabad, he underwent training in early management of trauma from Christian Medical College, Vellore.
He is a Basic Life Support (BLS) and Advanced Cardiac Life Support (ACLS) provider certified by the American Heart Association (AHA). Pharmacotherapy is his strength. He is currently pursuing his MD in Pharmacology from Gandhi Medical College itself.

Dr. Khizer started his practice from a small clinic in Mallepally, where he treated hundreds of patients daily at a very nominal charge. He plans to upgrade to a bigger and better multi-specialty center to cover a broader population and provide them with all facilities under one roof, including specialist consultations, diagnostics, pharmacy, etc.
A believer in a holistic approach to health, he addresses every aspect of a patient's concern before jumping to writing a prescription. His patient-listening and friendly demeanor besides his excellent clinical skills seem to be the reason for his widespread popularity.

"Good quality, affordable healthcare provided with dignity is a fundamental human right, but quality healthcare is not accessible to all strata of society. More often decent healthcare seems out of reach for a large proportion of the population. Poor quality health services- inaccurate diagnosis, medication errors, inappropriate or unnecessary treatment, inadequate or unsafe clinical practices, or providers, who lack training and expertise, increase the burden of illness and healthcare costs and disproportionately impact the poor.
It is economically unsustainable for families and the nation at large. Illnesses force people with limited finances to choose between draining savings of a lifetime and settling for poor quality care," he said.

Though he has reasonable experience in managing all the common Outpatient complaints, he takes particular interest in the initiation and follow-up treatment of patients with lifestyle diseases like Diabetes, Hypertension, Obesity, Acid Peptic Disease, etc

As director of Caspian Lifesciences Private Limited, he aims to improve his health facility to serve the general public to the best of his knowledge and ability.
"Caspian Healthcare is a medical health facility that specializes in providing quality healthcare with sincerity, dignity, and cost-efficiency. We are committed to providing consistently superior quality health care services and addressing the day-to-day health care needs of the family. Caspian Healthcare is an integrated model and offers specialists Consultation, Diagnostics, Preventive Health Checks, and Pharmacy facilities to maximize convenience and comfort," he said.

His empathy is his greatest strength. He believes that his patients' wishes and prayers drive his consistently superior quality of work.

"As healthcare providers, we understand that there are certain areas where there can be no compromise, as the quality of drugs, medical equipment, lab equipment, sanitation, staff qualification, and training. We let go of nonessential luxuries like the fancy interior design to cut business costs and make healthcare affordable," he said.

According to the US Trade Representative Office's annual report on intellectual property protection and review of notorious markets for privacy and counterfeiting, up to 20% of all drugs sold in the Indian market are counterfeit- posing a severe threat to patient health and safety. According to a WHO report, about 10.5% of medicines sold in low and middle-income countries, including India, are substandard and falsified. Add to this the fact that most chemist shops employ improper storage and handling techniques; medicines lose their efficacy before reaching the consumer.

"We are sure of one thing! We are not doing this for money. The clinic that we started four years ago was not for money either. Profits are inherent to healthcare. Service is our focus. By scaling the project and having a chain of Caspain Healthcare, it will be commercially viable and employment generating. That will increase the accessibility of people to competent healthcare," Dr. Khizer said.