Satisfying tummies and hearts: Hyd woman offers free food to cancer patients of NIMS Panjagutta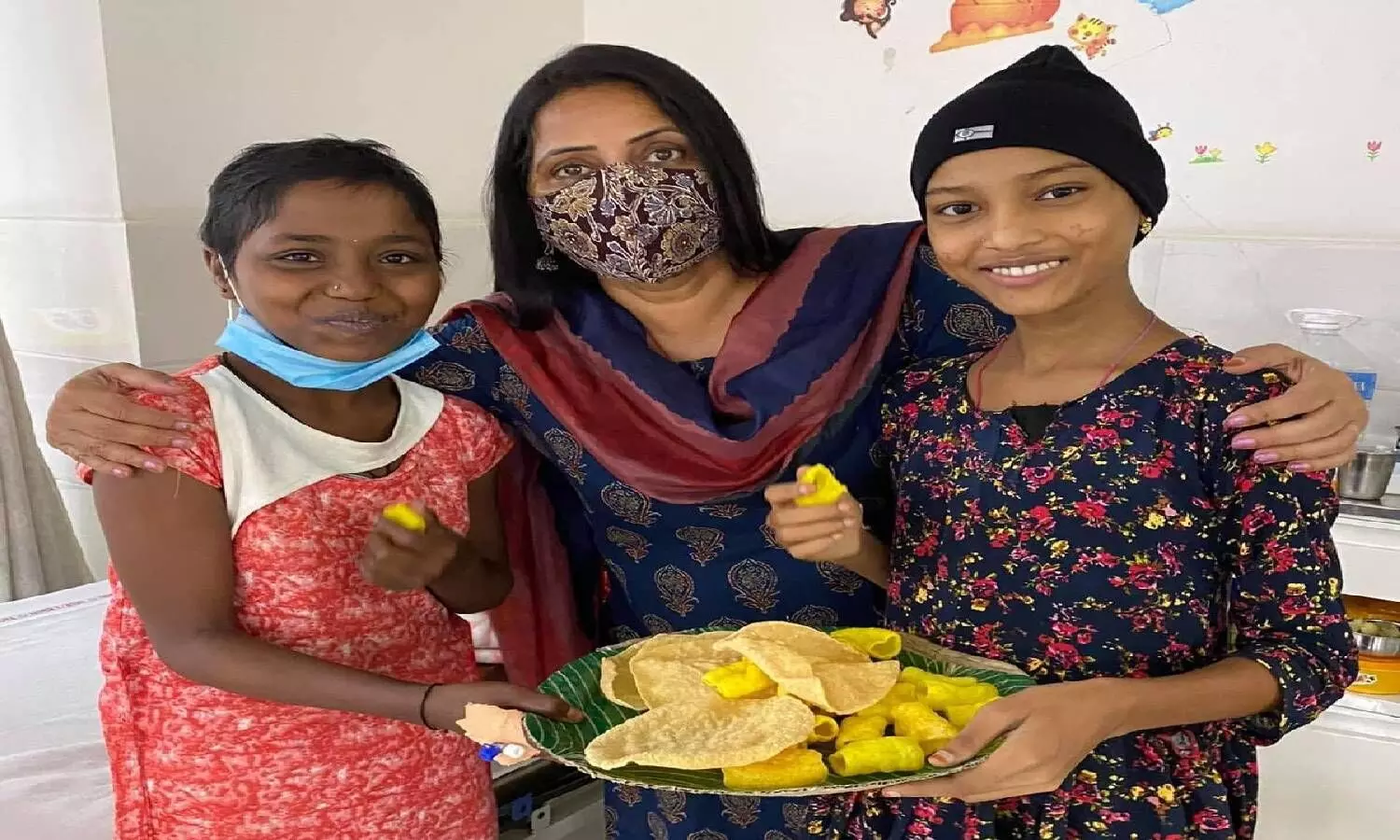 Hyderabad: Sudha Kesavaraju's day starts early in the morning. After jogging and walking for two hours, she has to rush home to get ready and start preparing lunch for around 45 people, all cancer patients at NIMS Hospital, Panjagutta.

Sudha, a resident of Nizampet Road, drives 13km from her home to NIMS every day and serves food to the cancer patients there. To somebody wondering why she has to drive all the way and serve the food all by herself, Sudha has an answer: "Seeing their happiness makes my day; makes life worth living."
In 2017, Sudha started small by cooking for 15 kids who were undergoing cancer treatment but now she has expanded her service to the entire ward (around 45 people) of the oncology and radiology department at NIMS, Panjagutta. She still fondly recalls that day when the head of the department of oncology came to her and asked her if she could get hot and nutritional food for the patients. It was just a few days ago that some patients had got food poisoning.
"It costs around Rs. 80 per meal and managing three meals a day, including for the attendants, is very difficult for the families to arrange," says Sudha. So she decided to provide lunch and dinner for the 15 kids. Now, she serves lunch to 45 people, mostly by herself and also with the help of her friends and some sponsors.
"I try to make three-four dishes every day so that they like and eat at least something," says Sudha. Anuradha Kalkindi, her friend, also steps in when the children ask for non-vegetarian food.
"I am not sure of their life span. All that I want is to give them some happy moments in their life," says Sudha. She says that since she goes and serves the food herself, she can personally ensure that people eat. This, she adds, also helps her ensure if someone does not like any food. Then she can make some modifications to the menu. Sudha also spends an hour or two with the kids, plays board games with them, and sometimes even takes them out if they are well.
Sudha, originally a native of Kakinada in Andhra Pradesh, first came face-to-face with cancer when her own father was diagnosed with lung cancer in 1998. She recalls, "He lived for just one more month but suffered very much." She saw three of her close relatives succumb to cancer. Her personal experiences inspired her to do something for the ailing patients to make their lives a little easier and happier.
Narrating one of her memorable and heart-wrenching experiences, Sudha says, "During the lockdown, a 14-year-old boy named Tejas Patil from Maharashtra was admitted to NIMS with leukemia. After five-six months, the doctors said that no medications will work thereafter. I still remember the boy telling me 'ghar jaana hai' (I want to go home). He wasn't sure how long he would survive and he wanted to spend time with his family."
But since it was lockdown, getting a travel pass from Telangana to Maharashtra was not easy. Sudha, with the help of her friend, arrange for a travel pass but couldn't find a driver for the boy and his father. Finally, she gave them her own car. On 21 May, Tejas reached home. On 1 June, he passed away. "I was happy that I could give him some happiness on the last few days of his life," says Sudha.
In another unfortunate incident, a boy wanted to meet a celebrity. Sudha was clueless but thanks to her friend who put her in touch with Vijay Devarakonda. "He was very happy when he got to talk with the actor on a video call," recalls Sudha. The boy passed away the very next day.
Recently, she has started providing free medicines also. "It costs around Rs. 60,000 per month to provide free food to the people. My two brothers and sister help me financially," she says. Sudha also runs the Samtrupti Foundation to help cancer patients.