Video: Secunderabad Club manager killed after drunk techie rams Mercedez into bike at Madhapur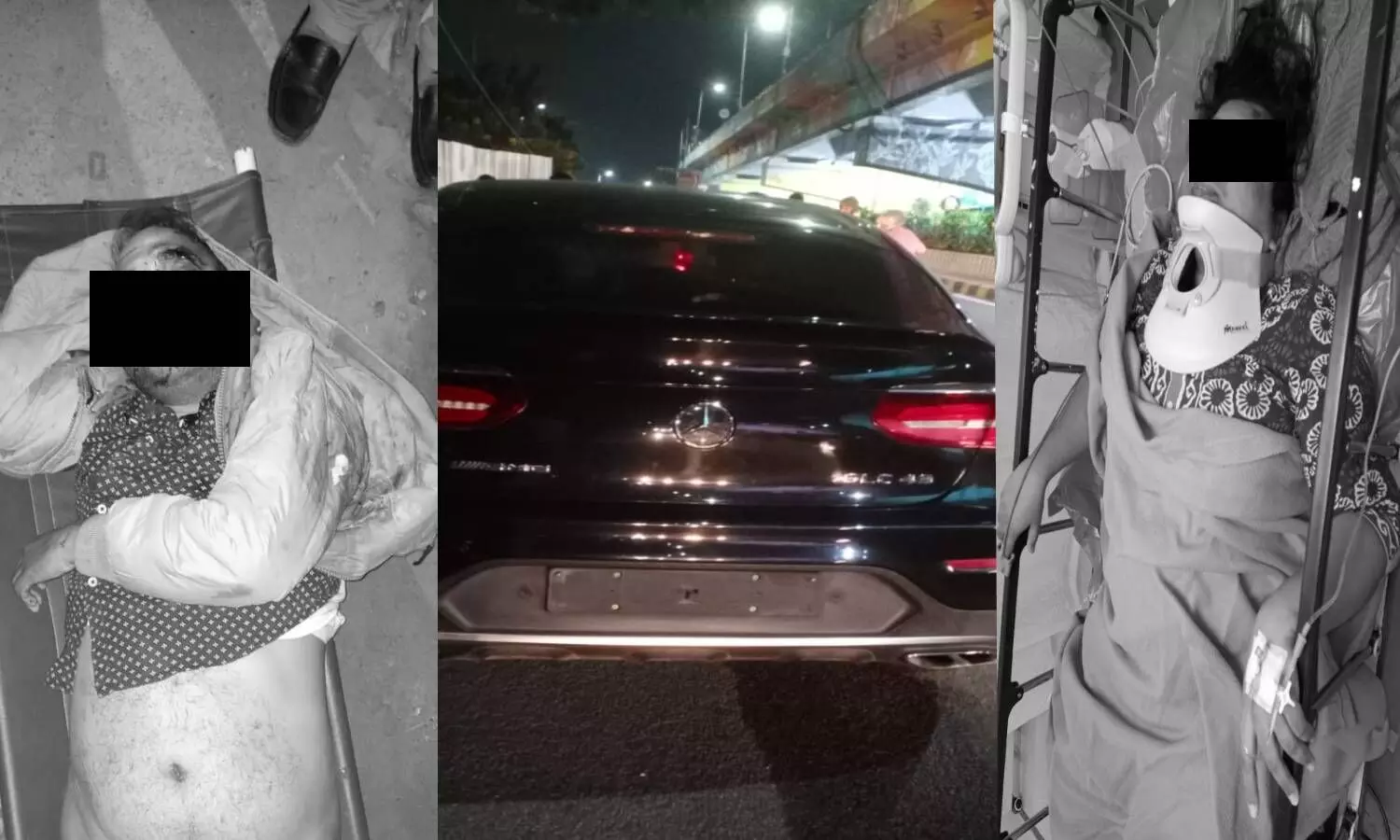 Hyderabad: A club manager was killed while his wife suffered grievous injuries when a tipsy techie driving a Mercedes Benz rammed into his bike after jumping the signal at Cyber Towers traffic junction in Madhapur.
The techie was identified as Mancham Kashi Vishwanath. Police said he was not only driving at a high speed but also jumped the signal at the Cyber towers Traffic Junction in Madhapur.
Police said the accused was returning after partying with a friend at a pub in Jubilee Hills. Police said they were on their way to Kukatpally for supper. Madhapur police registered a case against Kashi Vishwanath under charges of culpable homicide not amounting to murder and started investigation.

According to police, Gowtham Dev, working as a manager at the Secunderabad Club and his wife Swetha were heading home on their Royal Enfield bike. Vishwanath and his friend were proceeding towards Kukatpally. At the Cyber Towers traffic junction, the signal towards Kukatpally was on red. But Vishwanath jumped the signal and hit the bike.
Gowtham Dev received injuries and died on the spot. His wife was also severely injured in the accident. She was rushed to a nearby private hospital where her condition is said to be critical.
#Cyberabad- A techie driving a Mercedes Benz ran into a Royal Enfield bike, killing the rider and severely injuring the pillion rider, his wife. Identified as Mancham Kashi Vishwanath was driving at a high speed and also jumped the signal at the Cyber towers Traffic Junction. pic.twitter.com/zQtSlA3I6B

— NewsMeter (@NewsMeter_In) November 13, 2020
Three days ago, in another incident of drunken driving near HCU on the Old Mumbai Highway, a medical student died and her friend escaped with minor injuries. They were on a long drive after partying at a pub in Banjara Hills.

Investigation carried out by the Cyberabad traffic police revealed that drunk driving and not wearing a seat belt resulted in a fatal accident. According to the cops, Mithi Modi (20) and Ponnapalli Priyanka were returning from Air Live Pub, Jubilee hills. He reportedly drove the car (bearing no. AP 13 DQ 0123) in drunken condition and violated speed limits. On losing control, he hit against a tree opposite to Indian Immunological Ltd, resulting in co-passenger's (Priyanka) death. It was found that Modi who was on the driver's seat wore the seat belt while Priyanka did not. She sustained severe injuries and died while being shifted to the nearby hospital. The accused driver could survive as he had put on the seat belt, cops said.
In view of the fatal accident due to drunken drive Cyberabad Traffic Police appeals public to follow speed limits while driving any vehicle on all roads. Deputy Commissioner of Police –Cyberabad Traffic police Vijay Kumar said, "Apart from having the valid driving license, the public shall also have knowledge and skill of driving vehicles on different roads and circumstances.Also, needless to mention, the persons driving any vehicle shall not be under the influence of any drugs or alcohol and the management of the pubs and bars shall not knowingly be blind to this dangerous and illegal activity. They shall urge their customers and make necessary arrangements for their safe journey".