We were worried about him since he became PSO for General Bipin Rawat: Lance Naik Sai Teja's family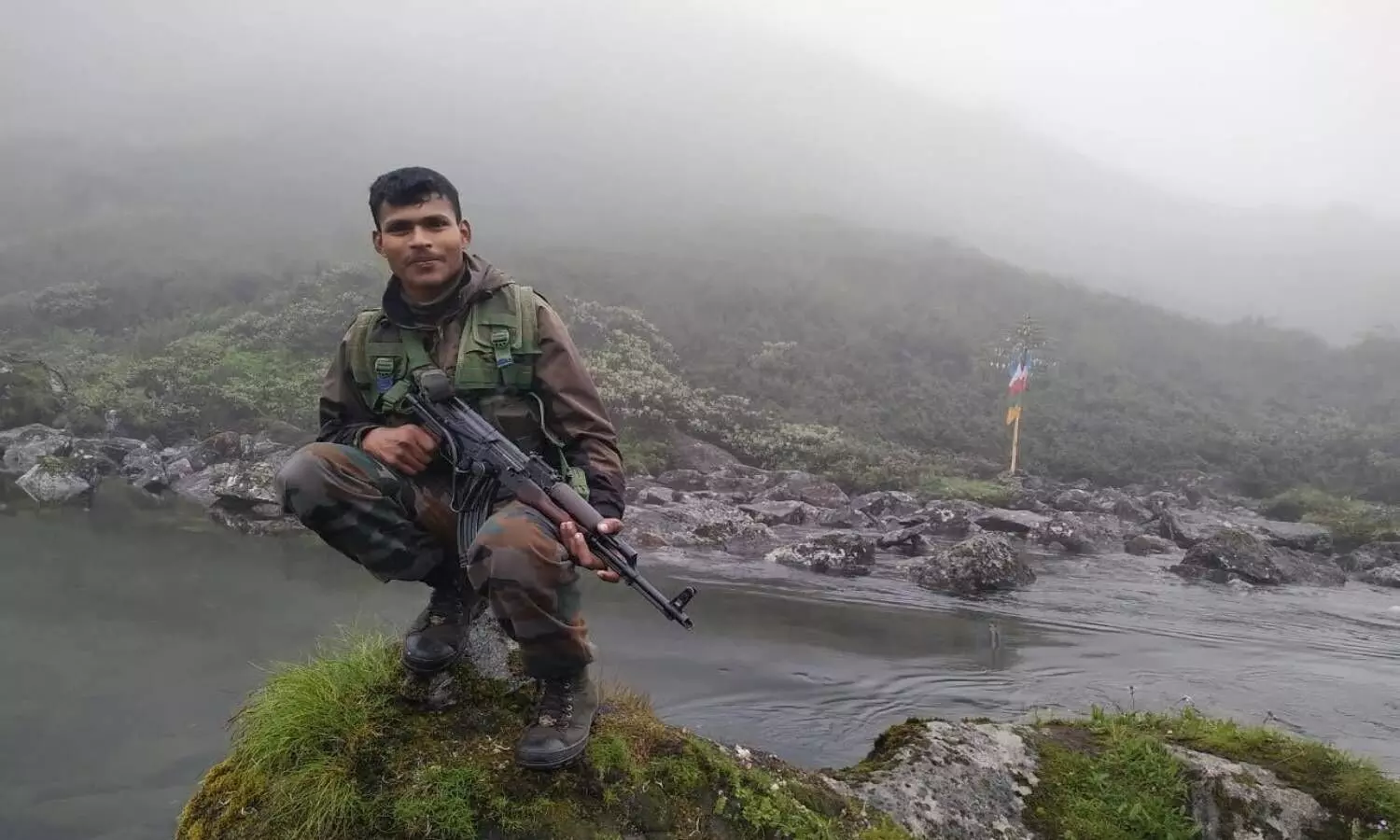 Hyderabad: The family members of Lance Naik Sai Teja, the personal security officer to Chief of Defence Staff Bipin Rawat, who was among the 13 killed in the IAF helicopter crash recall their memories of the young officer.
Lance Naik B Sai Teja has served the 11 PARA (SF). He was enrolled in the Indian Army in June 2013.
Lance Naik Sai Teja served in super-high altitudes in Arunachal along Sino-Indian border and has been a part of counter terrorist operations in Manipur and Nagaland.
Besides, he was also an expert in mixed martial arts, unarmed combat, communications and electronic warfare.
Lance Naik Sai Teja is from Eguvaregadipalle in Chittoor district, Andhra Pradesh, and his family last saw him in September when he visited them for Vinayak Chaturthi. Lance Sai Teja last spoke to his wife Syamala, his three-year-old son, and his two-year-old daughter on Wednesday morning before boarding the flight.
While the family is waiting for his mortal remains which are likely to arrive in their village by evening, Sai Teja's wife Syamala, father Mohan, and mother Bhuvaneshwari are still in shock.
The family remembers Sai Teja as an active person since he was a child when he used to take part in sports. After completing his degree in Madanapalle, he decided to join the Army. He had prepared for Army selections in Guntur and joined the services as a soldier. His younger brother Mahesh Babu is also in the Army and is currently posted in Himachal Pradesh.
Sai Teja had worked hard to serve the country, the family says. In 2012, he was selected for the Bangalore Regiment and served in Jammu and Kashmir for a while. A year later, he qualified as Para Commando and joined the 11 Para SF as the personal security officer (PSO) of General Bipin Rawat seven months ago.
"Ever since he was selected as PSO for General Bipin Rawat, we were worried about him. We told him to transfer to any other department but my son decided that it was his duty to serve his General and protect the country," said Sai Teja's father Mohan.
The villagers of Eguvaregadipalle were also grief-stricken by Sai Teja's death. They fondly remember his friendly nature.
Speaking about the final rites of Sai Teja, his younger brother Mahesh said "It is heartbreaking to say that many of the deceased bodies are in unidentified. Medical teams have collected blood samples of our parents for DNA matches. Once the procedure is completed, mortals of Sai Teja will be sent to his village by Friday evening."
The Indian Air Force helicopter Mi 17 V5 which took off from Sulur airbase in Tamil Nadu on Wednesday afternoon, was on its way to the Defence Services Staff College in Wellington, just a few kilometers away from Coonoor, where it crashed.
The Chittoor district administration is making arrangements for Sai Teja's last rites that will be given state honors in his village.
Besides Lance Naik Sai Teja, Naik Gursevak Singh, Lance Naik Vivek Kumar, and Lance Naik Jitender Kumar were also Personal Security Officers (PSOs) for CDS Gen Bipin Rawat.
Naik Gursevak Singh has served in the 9 PARA (SF). He was enrolled in the Indian Army in March 2004. He served in Ladakh, J&K (Poonch-Rajouri, South & North Kashmir). He was awarded the best student in Demolition specialist and leadership course. Besides, he was an expert in unarmed combat and close quarter battle.
Lance Naik Vivek Kumar has served in the 1 PARA SF. He was enrolled in the Indian Army in December 2012. He has served in J&K (South & North Kashmir - Sino Indian border ahead of Spiti. He was a specialist in combat greefall, a communication expert and excellent in unarmed combat
Lance Naik Jitender Kumar has served in the 3 PARA (SF). He was enrolled in the Indian Army in March 2011. He served in the Desert sector along Indo-Pak border, Sino-Indian border near Pithoragarh and J&K. He was an expert Sniper and specialist in Communications.