Hyderabad: Nannu Kshaminchu Girija, talli Amrutha amma daggariki vellipo (Forgive me Girija. Please go back to mother, dear Amrutha) were the words found on a note purportedly written by Maruthi Rao, mentioning about his wife and daughter. Police recovered a small piece of paper kept on the dressing table in the room in which he stayed during the night. His driver last saw him on Saturday night.
Maruthi Rao belonging to Miryalaguda town of Nalgonda district started from home. He told his wife Girija that he was going to Hyderabad on some work, but did not specify the nature of the work to her. It was also found that he also did not specify anything to his driver Rajesh. Around 8 pm, they arrived at the Arya Vysya Bhavan in Khairatabad. After having food, Maruti Rao went to the room, while the driver slept in the car.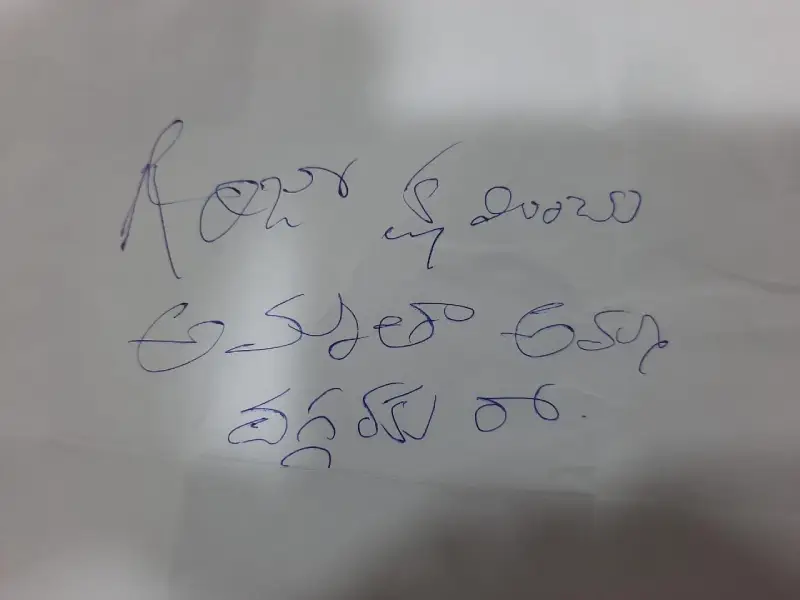 On Sunday morning when the housekeeping staff came to clean the room, there was no response from inside. The staff alerted their superiors, who called Rao's driver. Later they broke open the door and found him lying in an unconscious condition on the cot. They tried shifting him to hospital but he was already dead and immediately alerted Punjagutta police station, under whose jurisdiction the place falls.
Police suspect that he consumed an unknown poison and committed suicide, but did not find any poisonous substance in the room. They are ascertaining whether he had consumed the poison before arriving or after entering the room. Further, they are also probing if he spoke to anyone over the phone in the night. As his smartphone could be vital evidence and provide more clues to the suicide, it has been seized and will be sent for forensic examination.