Wearing poll-bound Assam's 'gamchha', PM Modi takes Bharat Biotech's `Covaxin' jab at Delhi's AIIMS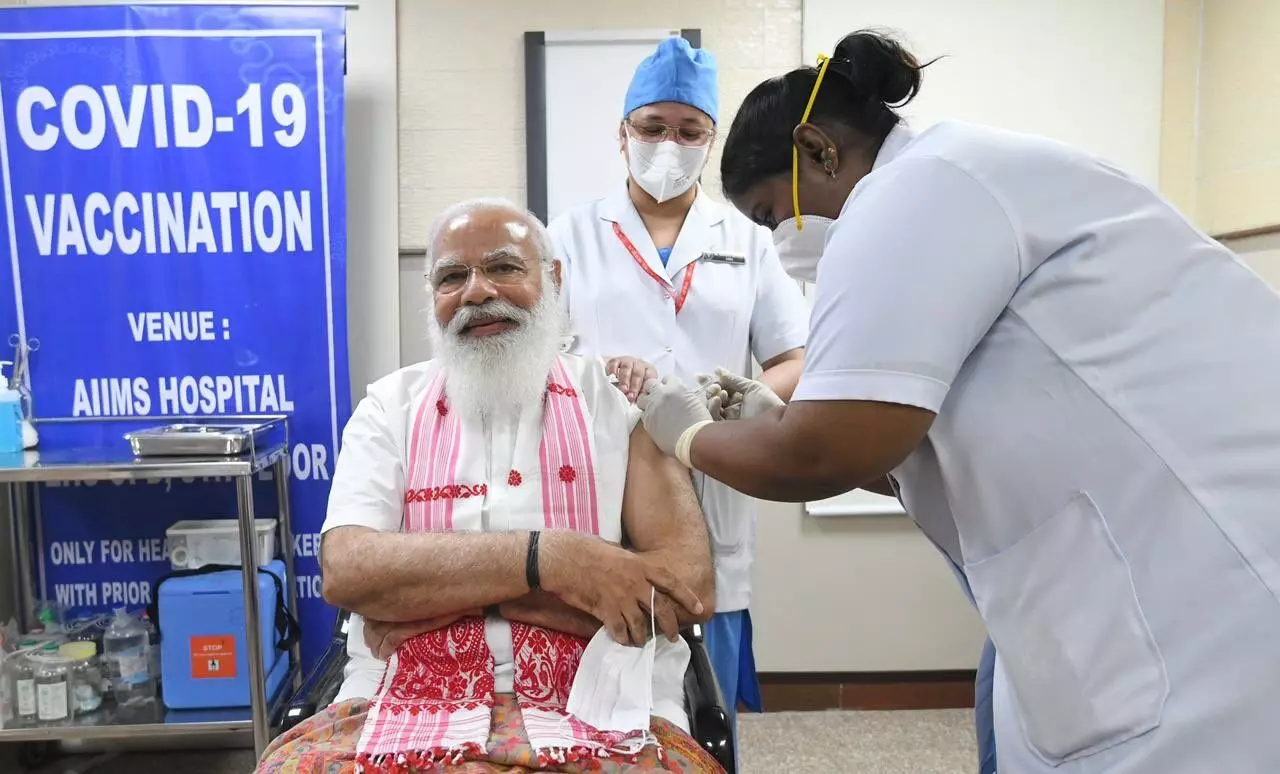 New Delhi: Prime Minister Narendra Modi on Monday received the first dose of Covaxin, the indigenous Coronavirus vaccine developed by Bharat Biotech, at New Delhi's All India Institute of Medical Sciences (AIIMS).

With this, PM Modi became the first beneficiary of the second phase of the nationwide vaccination drive.
"Took my first dose of the COVID-19 vaccine at AIIMS. Remarkable how our doctors and scientists have worked in quick time to strengthen the global fight against COVID-19. I appeal to all those who are eligible to take the vaccine. Together, let us make India COVID-19 free!" tweeted the Prime Minister.
He was administered the indigenous vaccine COVAXIN by Sister P Niveda, from Puducherry. The second nurse is from Kerala.

The PM's vaccination was replete with symbols from states where elections will be held in March-April; he wore a 'gamchha' or scarf from Assam and nurses from Puducherry and Kerala administered the dose.

A statement from his office said he chose to take the shot early and was taken to AIIMS without any special route restrictions to avoid any inconvenience to the people.

The next phase of India's vaccination drive against the coronavirus infection to vaccinate those over 60 and those over 45 with comorbidities are starting today as the country hopes to win the war against the infection.

From 9 am onwards, all people aged above 60 and those over 45 with comorbidities will be able to get Covid-19 vaccine shots free of cost from over 10,000 government vaccination centers.

Documents you'll need

All beneficiaries, regardless of the mode of access --through online registration or mobilization through on-site registration --must be advised to carry the following for verification at the time of vaccination:

1. Aadhar Card;

2. Electoral Photo Identity Card (EPIC);

3. The Photo ID card specified at the time of registration in case of online registration.

4. Certificate of comorbidity for citizens in the age group of 45 years to 59 years.

5. Employment certificate/ Official Identity Card (either but with photo)