Hyderabad: In a new development, the Ministry of Civil Aviation has announced that all domestic commercial flights will be stopped indefinitely from March 24, amid the Coronavirus outbreak. The flights functioning after 11.59 pm tomorrow will be effectively cancelled. However, this restriction does not apply to cargo flights.
The ministry, in an order issued on Monday, said, " The government considers that the movement of persons within the country by flights carrying a large number of persons together will aid and assist the spread of the virus within India. For prevention of further spread of the epidemic disease, such movements of people must be restricted'.
The order permitted airports to function in order to handle permitted flight operations.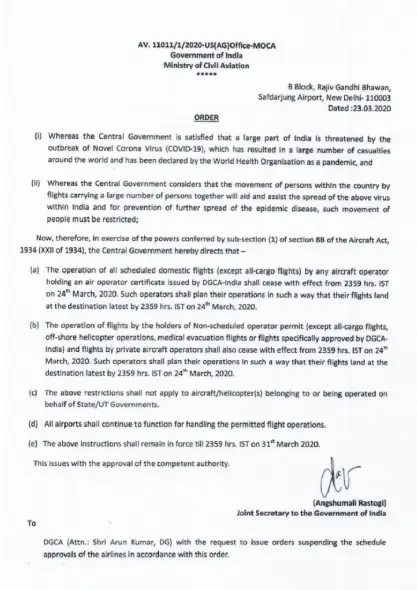 However, the above order does not stand for aircrafts/helicopters belonging or operating on behalf of the state or UT governments.
As of March 23, India has reported 7 deaths due to COVID-19. Maharashtra has registered the highest number of coronavirus positive cases, with 64 confirmed patients, while Kerala registered 60 cases.
The country has witnessed a total of 349 corona-positive cases among Indian nationals. 41 foreign nationals have also been infected with the virus.