Plantable wedding card, plastic-free reception, Telangana officer's green wedding creating buzz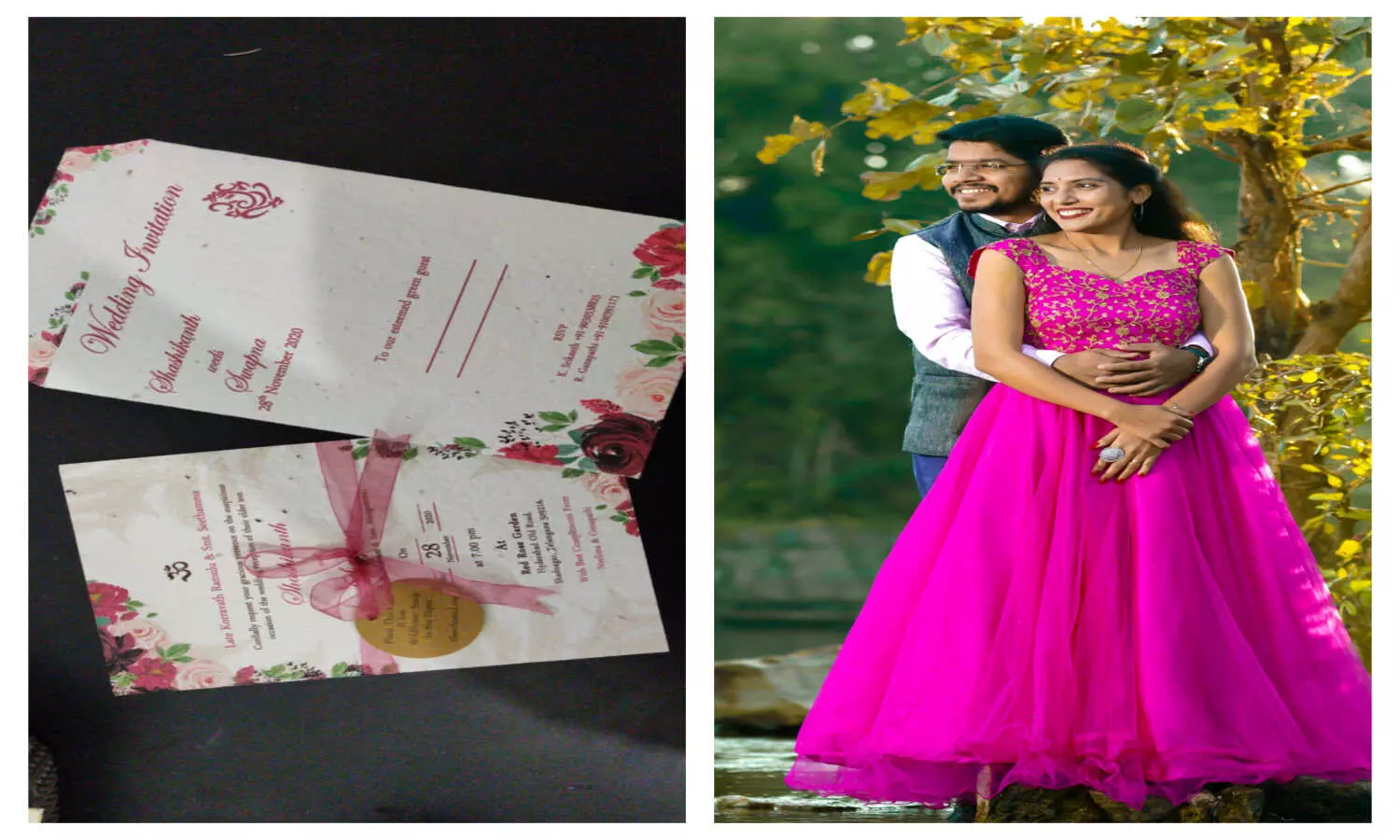 Hyderabad: An Indian Railways traffic service officer from Telangana, Shashikant Korravath, is all set to get married on 28 November. What makes his wedding unique is that it will be a plastic-free ceremony. From wooden cutlery to paper cups to leaf plates, the wedding is likely to kickstart eco-friendly wedding trends in the state.
But it is the couple's plantable wedding card that has created quite a buzz among bureaucratic circles. The wedding card has a seed inside and one can plant it by tearing the card into pieces. The card grows into three varieties of flowering plants while the envelope grows into three different vegetable plants.
Sharing his thoughts with NewsMeter, Shashikant said, "I went to a government school located in a highly secluded area in Mahbubnagar of Telangana where I fell in love with nature. Over the years I researched plastic pollution and that bothered me. I am a strong believer in Mahatma Gandhi's saying 'Be the change you wish to see in the world'. Since marriage is a new beginning of life, we wanted to ensure it was a green beginning."

The couple - Shashikant and Swapna – have ordered 100 plantable wedding cards from an Agra-based organisation. "Wedding cards, when disposed, cause pollution and also the depletion of green cover. It is time we embrace the eco-friendly way of organising weddings. Except for the plastic water cans, our wedding will be plastic-free. I have spoken to a vendor to ensure that the water cans are recycled and not dumped," Shashikant, a native of Shadnagar in Telangana, said.

The card with the message 'Welcome esteemed green guest' when disposed of will grow into a tomato, a ladyfinger, and a chilly plant. The envelope will grow into a chamanthi, a banti, and a lily plant.

Shashikant further said, "A good wedding is not remembered for the money spent on décor, food, or gifts but for its very essence. The message printed on the card has, in fact, put the onus on the invitees to ensure the card is planted. I have requested all my guests to send photos of the plants that will grow from the card. This was done with an idea to kickstart a new beginning in consonance with nature."