Hyderabad: Protesters who had gathered to form a human chain to protest against the CAA and NRC on Thursday condemned the Jamia firing which left one student injured.
On the occasion of Martyrs' Day a human chain was formed at Dharna Chowk near Indira Park in Hyderabad to protest against the CAA and NRC. Hundreds of people formed the chain which was part of the nationwide call under "We the People of India" (Hum Bharat ke log). A minute of silence was also observed to mourn Mahatma Gandhi's death. He was assassinated at 5:15 p.m. on January 30, 1948.
Professor Syed Masood Ahammad, one of the participants, told NewsMeter, "What happened at Jamia is the outcome of accumulated hate which is being propagated over the past several decades. We can blame the person who committed the crime but it is not just him. It is the fascist ideology and hate which are being propagated for years. Unfortunately, no one paid any attention. The protest against CAA is going to be a long fight, and we are not going to give up."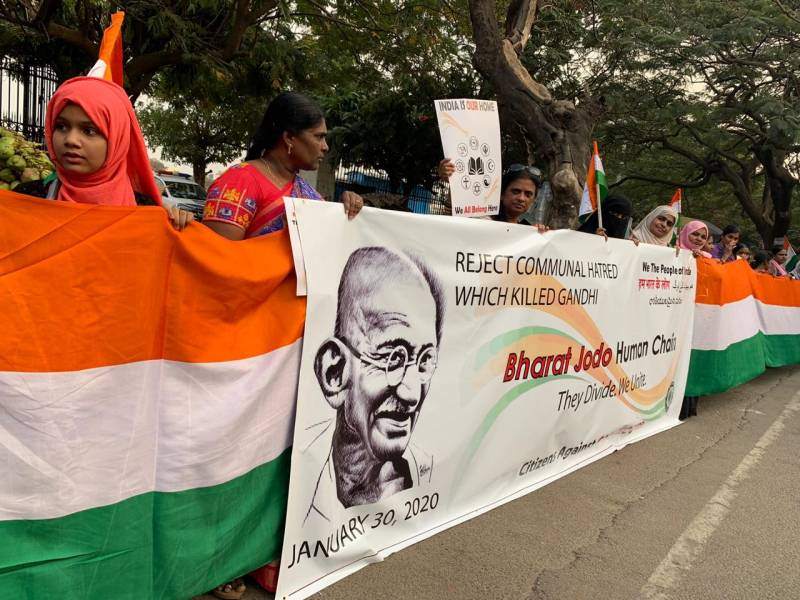 The protesters, however, were not surprised about the Jamia incident where a man opened fire at Jamia students who were protesting against the Citizenship Amendment Act. They said Union ministers must be held responsible for the incident and demanded immediate action against the culprits. Dr Mohammad Arman told NewsMeter, "What happened at Jamia is expected. This is just one incident. Many might be yet to come. Looking at the kind of statements that our Central ministers make against their citizens, this was bound to happen. Police should take some serious action against what has happened. There should be an enquiry and the guilty must be severely punished and made an example of so that such incidents do not happen again."
Dr Anni Hassan told NewsMeter, "We are afraid that the social fabric of our country will be affected. That is the reason why we are coming together and trying to bring back what Mahatma wanted. He wanted all religions to live together in harmony. Nehru said that diversity is what makes India unique in the world. We want to continue to be a secular democracy."
Meanwhile, AIMIM chief Asaduddin Owaisi on the occasion of Gandhi's death anniversary attacked the BJP on Twitter. He alleged that BJP members consider Nathu Ram Godse a patriot. Reacting to the Jamia incident, he held Union minister Anurag Thakur responsible and blamed the ministers for spreading hatred.