Hyderabad: Fifty-six-year-old Bagelu Mehatho and 46-year-old Naval Roy were crossing the road at Gachibowli when a speeding SUV knocked the duo down. The car immediately fled the scene. The two are among hundreds of pedestrian accidents occurring daily at Hyderabad's Cyberabad region.
According to Cyberabad police, as many as 221 pedestrians died of accidents within Cyberabad limits. Out of 2,694 accidents reported in 2019, as many as 630 were pedestrian accidents. While 484 pedestrians were injured in these accidents, 215 of them suffered fatally.
Cyberabad, which has become a hub for IT companies, has seen an alarming number of accidents. On average, around 200 accidents, happen per month — this is a high number. As per official records, 30 per cent of accidents lead to pedestrian deaths. Out of 720 people who died in accidents, 221 were pedestrians.

Meanwhile, pedestrian deaths in Cyberabad are followed by 363 deaths occurred due to not wearing of helmets.
Twenty-eight-year-old Gujjeti Maruthi, a sales executive, was proceeding from his office in Madhapur, towards Pragathi Nagar in KPHB one day on his bike. At the time, a Bolero, which was moving in the same direction as the bike, suddenly turned right without any indication and collided with Maruthi's motorcycle. Due to head and body injuries, Maruthi died while he was being taken to a hospital. Though Maruthi had a helmet, it was kept on the petrol tank.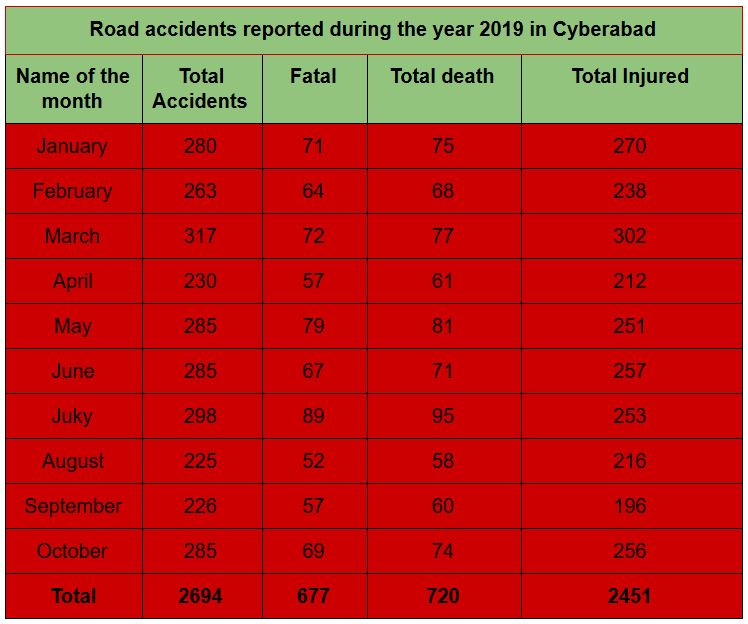 In 2019, July is reportedly the month with the highest number of accident deaths within Cyberabad limits. Ninety-five people lost their life in July alone. When 298 accidents were reported, 89 were grievously injured, and 209 had non-fatal injuries. Death rate stayed beyond 50 during every month from January to October.
(Image courtesy: UrbanVoice)