Hyderabad: An image of Amit Shah sitting next to Karnataka Chief Minister BS Yeddyurappa and some sadhus, has gone viral on social media. "Home minister holding a meeting with scientists. Very soon medicine for coronavirus will be developed," reads the English translation of the Facebook post.
Since Aug 31, the post has notched over 600 reactions and 243 shares.
Similar claims are here on Twitter.
Fact Check:
The image is photoshopped. The claim is FALSE.
We can see the Chief minister of Karnataka, Yedyurappa along with Amit Shah. So, with the help of the keyword 'Yeddyurappa with sadhus,' we found the original image was published by various news channels in 2017. A YouTube video of TV 9 Kannada was uploaded on Oct 2, 2017.
According to TV 9 Kannada, this picture is from Yeddyurappa's house in Bangalore's Dollars Colony, where he met some Naga sadhus. It can be seen in the video that the Home Minister was not sitting next to Yeddyurappa. Amith Shah has nothing to do with this video.
"According to the BSY office, the sadhus demanded to see Yeddyurappa but were denied permission as he was in a meeting. But on insisting and reminding Yeddyurappa's office that they were unaware of who the sadhus were, the godmen were ushered in to meet Yeddyurappa," The Times of India reported.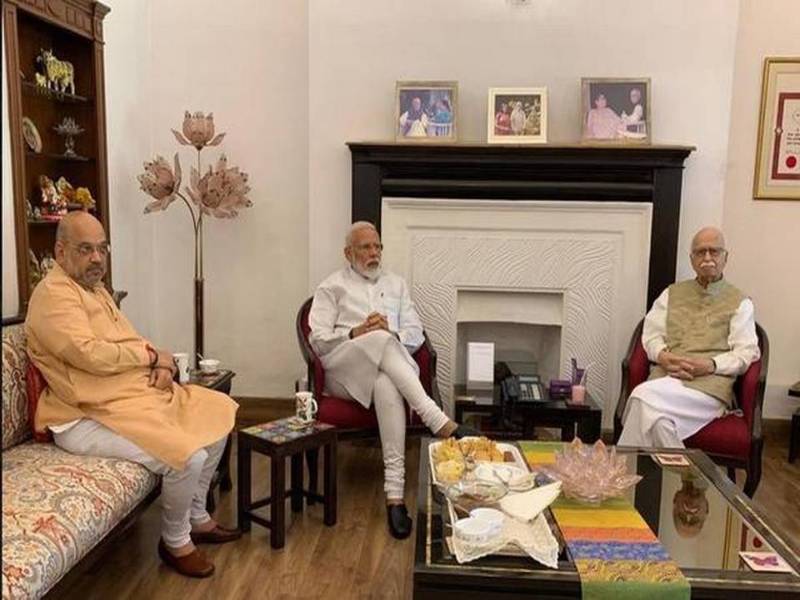 Newsmeter searched from where Amit Shah's picture has been taken in the viral image. We found a report in The Hindu. And the photo credit was given to Twitter/@narendramodi. In a photo present in this report, Amit Shah is seen sitting with Prime Minister Narendra Modi and LK Advani. Amit Shah's part is taken from this image. This picture was from May 2019 when Amit Shah and PM Modi met Murali Manohar Joshi and Advani after winning the Lok Sabha elections.
With the help of Photoshop, it was morphed in such a way that it looked that Amit Shah is sitting next to Yeddyurappa along with Naga Sadhus.
Hence, the claim is FALSE.
Claim Review :
Picture of home minister Amit Shah sitting with sadhus
Claimed By :
social media users