Hyderabad: On the eve of Republic Day, Hyderabad witnessed a strange spectacle. The protests against CAA/NRC spilled into celebrations. And for a change poetry dominated speeches. There were no slogans or banners - only verses to mark the 'Youm-e-Jamhuria' programme convened by the Alliance Against CAA and NRC, of which the Asaduddin Owaisi led AIMIM is a part. People in their hundreds assembled at the Khilwat ground to register their protest and also to celebrate RD.
Following the High Court directive, the programme venue was shifted from the historic Charminar to the nearby Khilwat ground. The court also curtailed the time given to the organizers by asking them to wind up the programme by 9.15 p.m. Soon after the Maghrib namaz, the programme started around 6.30 p.m. In view of the large number of leaders present on the dais, Mr. Owaisi urged them to limit their address to just 5 to 7 minutes so that the poets invited for the programme could be heard.
Whatever the occasion, Hyderabadis turn to shayeri for both pleasure and inspiration. It was no different this time. A good number of people dropped in just to listen to Rahat Indori, who is making waves with his verse 'Kisi ke baap ka Hindustan thodi hai'. Other big names like Manzar Bhopali, Sampat Saral, Shabeena Adeeb, Nabia Khan, Hashim Ferozabadi, Aamir Aziz, Husain Hyderi and Iqra Khan graced the occasion.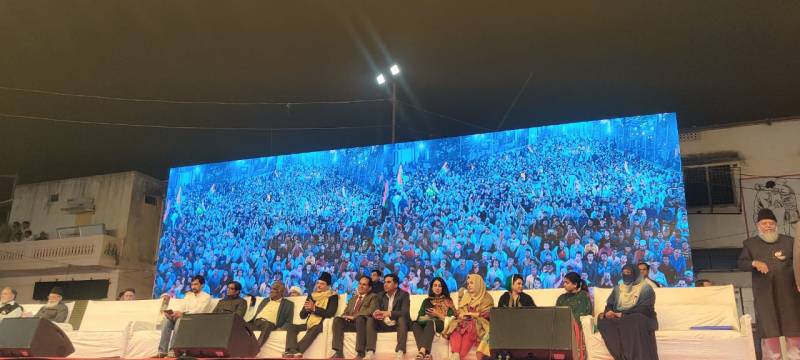 The programme commenced with the famous poem 'Kab tak mere Moula' written by Hyderabad poet, Shaz Tamkanat. Warasi brothers cast a mesmerising spell with this soul-stirring qawwali:
Main ek harfe tamanna hoon
Badi der se chup hoon
Kab tak mere Maula
The audience was moved when this verse was rendered:
Aye kashife israre nihani tere sadqe
Ab Shaz ko de hukum tere sadqe
Tehra huva darya hoon badi der se chup hun
In the backdrop of the magnificent Khilwat palace, the poets set the evening afire with their searing verses. Women also turned up in large numbers. When protest poetry is on can the revolutionary nazm of Faiz Ahmed Faiz be far behind. The moving poem 'Hum Dekhenge' reverberated in the Khilwat ground as the Warsi brother sang:
Hum dekhenge
Lazim hai ke hum bhi dekhenge
Wo din ke jis ka wada hai
Jo lauh-e-azl mein likha hai
In view of the paucity of time, the organisers interspersed the programme with poetry and speeches. The crowed lustily cheered when it was announced that the Telangana Chief Minister, K. Chandrashkar Rao, had tweeted that a resolution against implementation of CAA and NRC would be passed in the ensuing session of state Assembly. Many in the crowed were seen waving the tricolour as the mushaira was on.
Local poet, Sardar Saleem, regaled the audience with his ghazal:
Khabar rakhna bhi mushkil
Nazr rakhna bhi mushkil
Bharosa ab to Chowkidar pe bhi mushkil
Hussain Haidary of Delhi received lot of applause when he highlighted the diversity of class, caste, region and philosophy through his poem 'Hindustani Musalman'.
Main kaisa Musalman Hoon Bhai
Main Shia hoon ya Sunni hoon
Main Khoja hoon ya Bhori hoon
Main gaaon se hoon ya shehri hoon
Main Baagi hoon ya Sufi hoon
Main quomi hoon ya dhongi hoon
Main kaisa Musalman hoon bhai?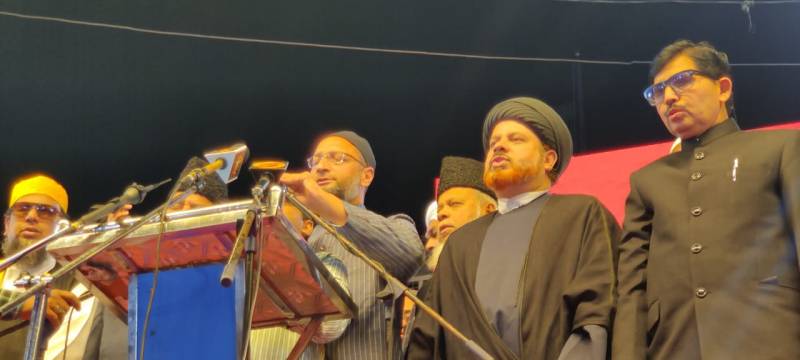 A Jamia product, Aamir Aziz, created quite a stir with his powerful poem written in the wake of recent attack on JNU students.
Sab yaad rakha jayega
Sab kutch yaad rakha jayega
Tumahari lathion se golion se jo khatl huye hain
Mere yaar sab
Unki yaad mein dilon ko barbad rakha jayega
Sab kutch yaad rakha jayega
Young woman poet, Nabia Khan, was a big hit with the audience when she pointed out how the present revolution is being carried out by women wearing bindi and burqa. Her poem "Ayega inqilab' seemed to strike a chord in the listeners as it made veiled references to the Shaheen Bagh protest.
Ayega inqilab
Pehan ke bindi, chudiyan, burqa, hijab
Kabhi Shaheen Bagh ban ke
Kabhi Jamia ki shaan ban ke
Lene tumhare zulm ka hisab
Ayega inqilab
Iqra Khan, who introduced herself as the daughter from the land of Modi and Amit Shah won over the audience with her nazm which focussed on the role of women:
Kisi ke dum se nahin tu roshan
Ke tu auje noor hilal hai
Tu ab kisi ki amaan mein nahin
Ke tu ab khud alambardar hai
Popular poetess, Shabeena Adeeb, fired up the atmosphere with her poem 'Hindustan hamara hai'. In her characteristic style she went hammer and tongs thus:
Hindustan hamara hai
Yehin jiyenge, yehin marenge
Ye armaan hamara hai
Another well known poet, Manzar Bhopali, left his mark with his sarcastic verses.
Maut se jo dar jaaon zindgi nahin milti
Jung jeetna chaho kashtiyan jaladena
Ghairat-e-jihad apni, zakhm kha ke jaagegi
Pahla waar tum karlo, doosra hamara hai
Many hung on to listen to Rahat Indori. And of course he lived up to his reputation. He recited the hugely popular ghazal which has the recurring words 'thodi hai' much to the delight of the crowd.
Main jaanta hoon dushman bhi kam nahin
Laikin hamari tarha jaan hateli pe thodi hai
Sabhi ka khoon shamil hai yehan ki mitti mein
Kisi ke baap ka Hindustan thodi hai
Rahat Indori came up with a new verse which ridicules the insistence on producing documents to establish identity.
Main jab mar jaaonga to meri alag pehchaan likh dena
Lahu se meri peshani pe Hindustan likh dena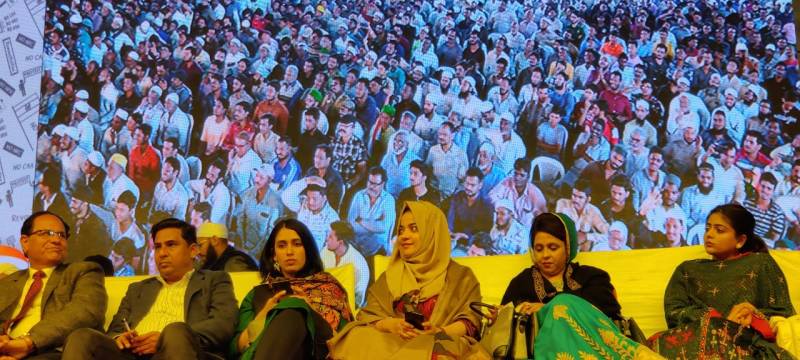 Image credits: Dheeshma Puzhakkal