Hyderabad: On October 16, a 19-year-old student from Jubilee Hills was allegedly drugged and raped by three youth in a hotel at Kukatpally.
The incident occurred on October 5 but came to light after the girl informed her mother two days ago. A Zero FIR was registered at Jubilee Hills police station. Later the case was transferred to Kukatpally police station, which registered a case of rape and arrested the three accused.
The incident comes a month after the gang rape and murder of a 19-year-old Dalit woman in Uttar Pradesh's Hathras sparked national outrage.
Post-September 14 Hathras incident, India has reported 48 gang-rape cases till October 11, according to data collated by Violence Lab, the research branch of The Polis Project,
The victims are in the age group of 11 and 45 years. They include married, spinsters, mentally challenged, transgenders, and differently-abled. Of the 47 victims, 12 belong to the Dalit community and two are tribals. On September 28, an 11-year-old was brutally raped by four people in Bhind district of Madhya Pradesh.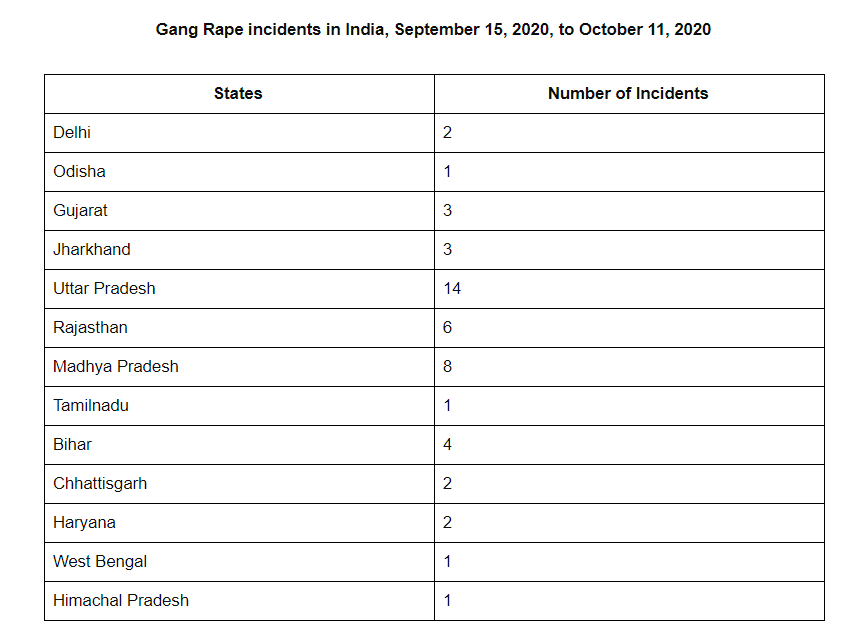 Even after the Hathras incident, the highest of 14 gang rapes have been reported from Uttar Pradesh followed by Madhya Pradesh 8, Rajasthan 6, and Bihar 4.
"We have collected gang-rape data as a part of a larger data collection project. We use a combination of text analysis tools and human coding to find cases from English language newspapers. We enter them into the data file, which we then geocode," said Vasundhara Sirnate, Director of Research- The Polis Project Inc.
Srinate said it takes a lot of time and effort to work on this project. "We are recording other categories of violence as well. The gang-rape data is a small fraction of the acutal number of cases. We can only record those cases which are publicly reported" she said.
The "Reported Gang Rapes in India, 2020" dataset has been compiled for Violence Lab, The Polis Project by Vasundhara Sirnate and Sajneet Mangat. It includes data compiled from news reports and does not purport to represent the exact number of gang-rape incidents that occurred in India.