Hyderabad: The protest at Gandhi Hospital in Hyderabad intensifies, as class 4 employees of sanitation department  boycott their duties and staged a dharna, on Tuesday morning. Around 620 employees took to the roads demanding for salaries and pending dues.
Pertinent to mention that Tuesday marks  5th day of  protest at Gandhi. While contract nurses continue to fight for regularisation of their jobs and salary hike. The nurses were joined by the class-4 employees.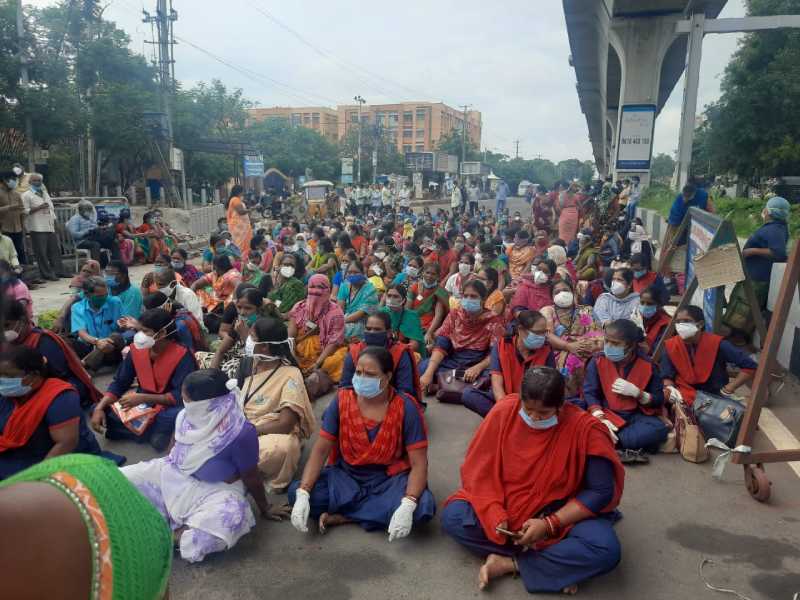 'We are paid Rs 10,000 for 10 hours a day, the job includes handling of the COVID waste. Has anyone in government bothered to enquire the  conditions we are working in? We haven't gone on strike till date because patients will bear the cost of it but this is not done," said T Yellama contract ayya working at Gandhi.
Another employee shares, "I have been working as a class four employee for the past twenty years at Gandhi Hospital. I started  with a salary of 500 rupees. Even before KCR had become the CM he had promised to regularize our jobs but nothing has been executed. We have been working with such less salaries even during this pandemic. Most of us do not go home and prefer to stay away from the family" added Balullika an employee on protest.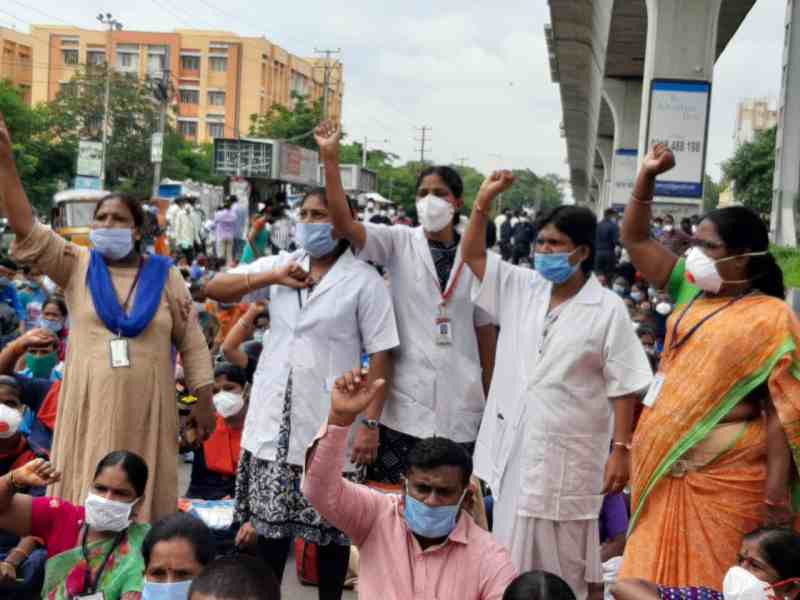 To recall, many families of supporting staff have shut doors for employee since they work for Gandhi Hospital. "What we get after all this is no security of job, no increase of salaries, no protection. We spend hours wearing PPE kits. Sometimes it feels like we might pass out if they don't even provide a water bottle, then why should we continue to work  when the Government is not bothered about our lives" said Ramesh, a class 4 employee.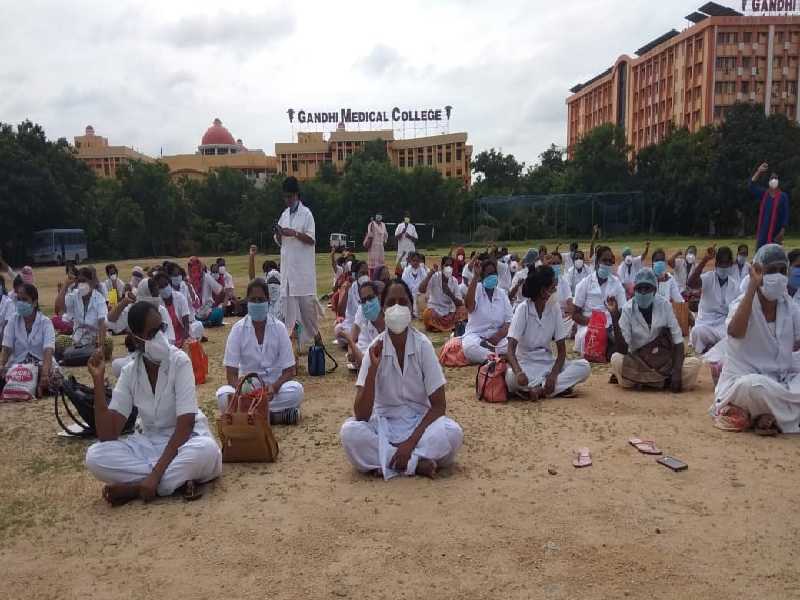 The salaries of the class-4 employees varies between Rs 10,000 to Rs 12,000, each.
"If doctors and nurses are infected by COVID they are given treatment in special ward's but if an Ayya is infected, she/he is  thrown in a general ward where there is no one to take care. We stay in rented places the owners ask us to vacate because we are working at Gandhi Hospital. Our family is unable to meet our basic needs with the salary, added Jyothi working as a contract ayya at Gandhi