Hyderabad: Unique Identification Authority of India (UIDAI) has served notices to as many as 127 citizens from Hyderabad asking them to prove their citizenship.
UIDAI alleged that they have obtained Aadhaar through illegal means. According to UIDAI the notice was issued following a report by the Telangana police.
"It may be noted that the regional office Hyderabad received reports from the state police that 127 people have obtained Aadhaar on false pretences. As in their preliminary enquiry they were found illegal immigrants who were not qualified to obtain an Aadhaar number. Therefore, the regional office Hyderabad has sent notices to them to appear in person and substantiate their claims for getting an Aadhaar number," UIDAI said.
Till date three men from the Old city area of Hyderabad have come forward stating they have received the notices. The summons issued to Md Sattar, a 40 year old auto driver from Hyderabad, has gone viral on social media.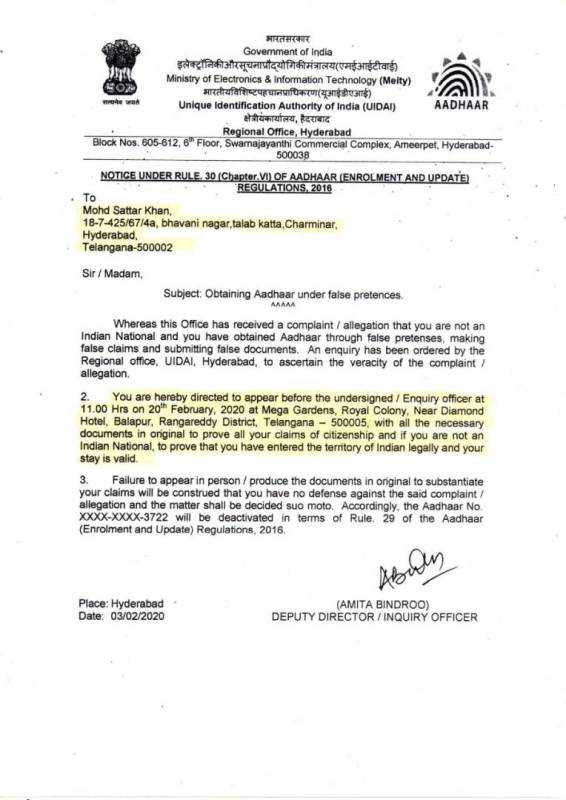 UIDIA said Sattar allegedly "obtained Aadhaar through false pretences" and that he was "not an Indian national".
"Whereas this office has received a complaint/allegation that you are not an Indian National and you have obtained Aadhaar through false pretences, making false claims and submitting false documents. An enquiry has been ordered by the Regional office, UIDAI, Hyderabad, to ascertain the veracity of the complaint/allegation," reads the notice sent to Sattar on February 3.
Muzzafar Ali Khan, counsel for Sattar, told NewsMeter, that this is for the first time that he has come across such a notice.
"Under rules Aadhaar is not proof of citizenship. Plus UIDAI does not have the power to declare any person a citizen or non-citizen of India. If they find that Aadhaar is fake, they can deactivate the card under Rule 29 of the Aadhaar enrollment and update regulations, 2016. They can seek an explanation asking why false information has been furnished. But UIDAI does not have the power to question a person and ask him to prove his or her citizenship because their Aadhaar card is not genuine," he said.
Adv Khan said Sattar was born and brought up in Hyderabad and has all the legal documents to prove his "citizenship".
"His father was employee in a public sector and hence the family luckily has the employment and pension certificate. Otherwise things would have become more difficult for him. But that might not be the case with several others who have been served with the notices. Sattar is a simple man. He was not aware what the notice contained until he was briefed that it is about citizenship. He went blank and started laughing," Adv Khan said.
This sudden move by UIDAI amid protest over the Citizenship Amendment Act (CAA) has sparked off a fresh row in the city.
"UIDAI has no authority to question anyone's citizenship. All the 127 members have the right to challenge this notice. Aadhaar is just an identification number that says this person exists. Aadhaar does not disclose whether they are Indians or foreigners," Mallesh Rao, senior advocate, told NewsMeter.
Roa said UIDAI can enquire the validity of Aadhaar, but have no right to charge people. "If the government violates fundamental rights of the citizens, then under Article 226 of the Indian constitution the High Court has the right to question the government authority which has violated the law," he said
Adv Khan and few other lawyers of Telangana High Court have decided to send a reply to the notice. "If any order is passed against, then we will challenge UIDAI in the Telangana High Court. How can UIDAI summon Indian nationals and question their citizenship?" he asked.
Adv Khan said UIDIA's notice will open floodgates about the citizenship issue. "Today Sattar has been served notice, tomorrow some other national authority or civil supply might ask me to prove whether I am a citizen or not. Or else let government declare Aadhaar as proof of citizenship. Then the problem will be solved," he said.
THREAD: UIDAI did not follow due procedure & abused its powers. The result was (understandable) panic among people

First, @UIDAI has no power to verify citizenship. It has few powers to look into some cases of Aadhaar being granted incorrectly (rules 27 & 28) https://t.co/2QlzaOcwVJ

— Asaduddin Owaisi (@asadowaisi) February 19, 2020
Adv Khan noted that two other men who have received notice are also Muslims and have been living in Hyderabad since decades. One is a carpenter and another porter.
In the notice, the 127 members have been asked to appear before the Deputy Director on February 20 for a personal hearing. However, after drawing flak, the nodal body has postponed the personal hearing till May 2020.
"Since it may take them some more time to collect their original documents that they had submitted for obtaining Aadhaar, as informed by the state police, the UIDAI has postponed the personal hearing to May 2020," UIDAI said.