Hyderabad: The Rachakonda police, on May 28, arrested four persons involved in selling the banned BT-3 cotton seeds to farmers. The police seized around Rs 50 lakhs worth of material, including two tonnes of the spurious cotton seed, along with their seed packing vans and seed processing machines from the cotton seed sellers.
It may be recalled that the Bollgard-3 aka BT-3 cotton seed developed by Monsanto India is an illegal herbicide tolerant seed banned in 2018 in Telangana. According to police, the four persons were involved in selling the spurious cotton seed since the past three years. The accused have been identified as ) Manyam Laxmi narayana, 2) Pinjari Yusif Basha, 3) Mala Dasari Suresh and 4) Vempati Bachi, hailing from Kandukuru in Rangareddy district.
The police said that Laxmi Narayana, the main accused in the case, has been running a seed processing unit named Thapasya Agro Tech., at Laxminagar colony, Uppal of Medhcal-Malkajgiri District. The accused allegedly has no license under Seed Act 1966 to manufacture or sell the cotton seed. His modus operandi includes procuring the loose seed from Nandyala town of Kurnool District and after reprocessing the same at his seed processing unit in Uppal, which is later packed into different brands of covers viz., Lion, Raghu, Kavya, Billa, Arunodaya, Meghana-45, and Pavani. These will be later sold in the market.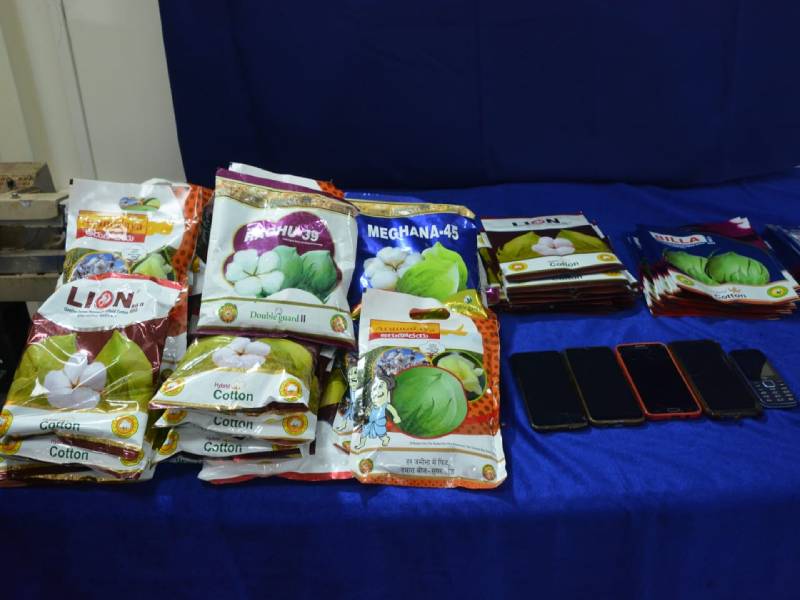 The other three persons are involved in the distribution and sale of these cotton seeds, the police confirmed. Even as Laxmi Narayana was arrested last year in Khammam for the same crime, he continued to function. "Despite of crackdown on BT-3 cotton seed, the A-1 is being sold it to the gullible farmers inducing them that the seed will raise cotton crop more than the permitted seed and thereby the accused is cheating the innocent farmers," the police said.
A case has been booked in Kandukuru police station under the four accused under Section 420 of IPC ( cheating), sec. 3(1) of seeds (control) order -1983, clause-7 of fertilizers (control) order -1985, sec.3(2)(d) of EC act-1955 and sec.29(1)(c) of insecticides act-1968