Hyderabad: The Legal Metrology Department in Ranga Reddy district booked Dream Valley resort in Moinabad for violating rules. The resort sold a water bottle at more than MRP.
Based on a complaint by a Hyderabad resident, district legal Metrology officer of Shamshabad inspected the trading premises of Dream Valley Resorts in Moinabad on November 26. During the inspections, the officer registered a case for contravention of section 8/25 of the Legal Metrology Act 2009.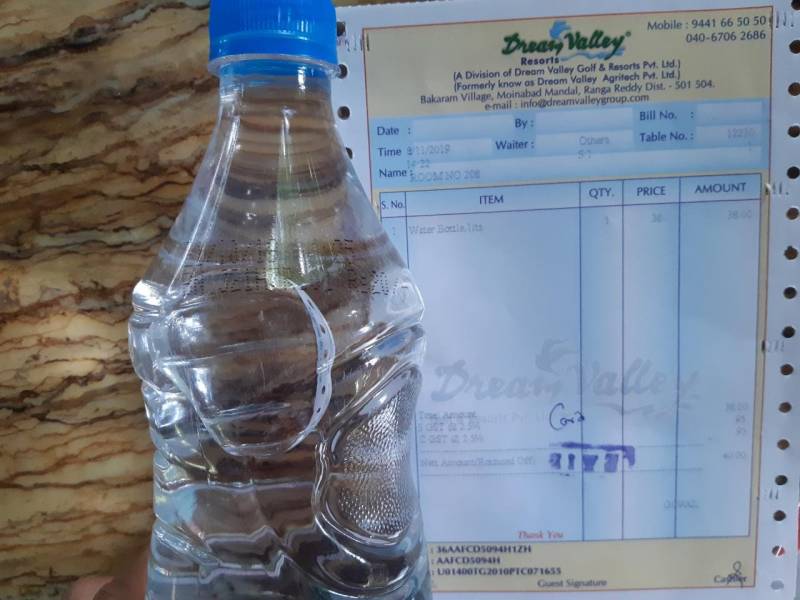 According to section 8/25, establishments must mention the weight of the product sold or served to the customer. Not saying the property weight is a violation of the article as prescribed in the Act.
Mr Rikkala Rajendra, the complainant, told NewsMeter, "I visited Dream Valley Resort at Moinabad on November 8 with my family. We purchased a water bottle, which they sold for Rs 40 when the MRP is only Rs 20. They also applied GST above the MRP. I raised my concern with the resorts, but they neither reduced the rate nor sold it at MRP. We complained against them with the Legal Metrology Department for taking necessary action against this sale."
Mr S Umesh Kumar, a consumer activist, told NewsMeter that it is the consumers' right to know how much quantity of pre-packaged commodities has been delivered to them in the invoice. "Not mentioning the proper weight of the commodity is a violation of Legal Metrology rules. Generally, consumers don't see the quantity of commodities served to them. Every trader using any weight or measure in any transaction shall issue a bill or receipt showing details of the quantity of goods sold or purchased, and the amount charged for the goods to every consumer," he added.