Black and red rice: Andhra tries exotic paddy to revolutionize farm sector, increase exports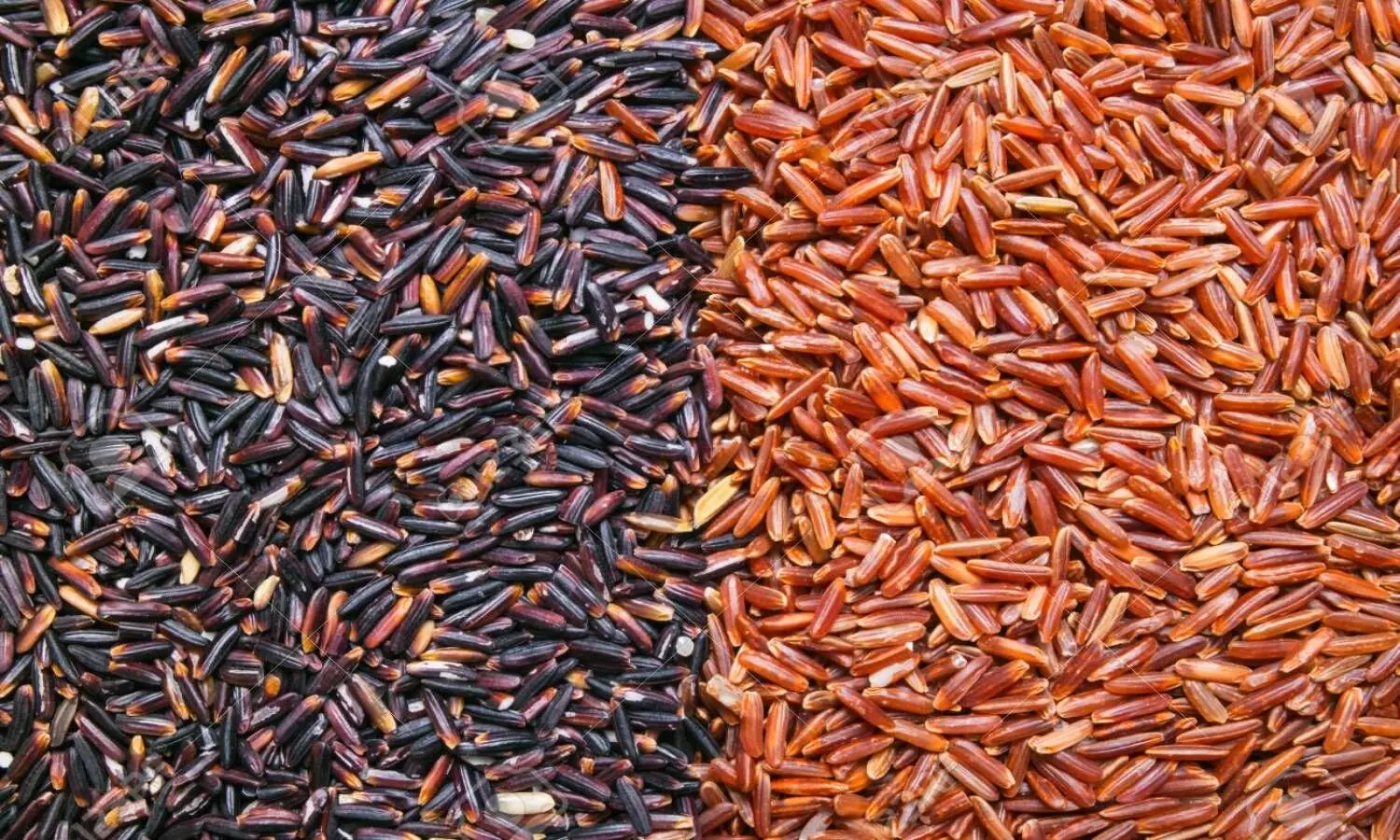 Vijayawada: Imagine savoring black and red rice with a bowl of mutton stew!
Cultivation of exotic black and red rice is slowly increasing in Andhra Pradesh. Considered nutritious and low on fat, its demand is growing by the day.
The demand has also renewed hopes among the farmers who have been struggling to make the ends meet. Colored rice fetches double the profit of conventional white rice.
As per estimates over 1,000 farmers in Andhra Pradesh are engaged in black and red rice farming.
Under the natural farming initiative, the agriculture department has been promoting the cultivation of black and red rice and other varieties in Vizianagaram, Visakhapatnam, West Godavari, Krishna, and Guntur.
Black rice (Kala Batti) is a range of rice that turns purple when cooked. The purple color is due to its anthocyanin content.
"The black rice has more vitamins, calcium, and other minerals when compared to regular white rice. Black rice is also rich in fiber and has anti-carcinogenic properties. The plant is black in color and so is the grain. Similarly, the red-rice (Ratna Chodi) is rich in iron," said K Prakash, District Project Manager of Natural Farming, Vizianagaram.
A few selected farmers started black and red rice farming on a pilot basis a year ago. Now, the area under cultivation of black and red varieties has increased to over 200 acres in Vizianagaram district alone.
"Soon, the farming of the colored rice will become fancy. More farmers will prefer exotic over traditional white rice," Prakash said.
Muralikrishna, a farmer who grows colored rice said he will try to persuade other villagers to cultivate Kala Batti as it gives a yield in 140 days.
``I came to know about the benefits and huge market value of black rice and decided to experiment on some land. The input cost for growing the variety is also low and the return is good. Demand for the variety is also more, he said.
D Sudhakar, a resident of Vizag city said they have been consuming the black rice variety for the past few months as it improves immunity and controls diabetes
Key highlights:

Farmers sell black rice at Rs 200 per kg and red rice at Rs150 per kg

The yield of black rice is 15 to 18 bags per acre

The crop fetches a premium price with less input cost compared to the normal white rice.

Scientists say red-rice and black rice are exported to the USA and European Countries from India.

Western Odisha farmers have success stories in growing black and red rice varieties

Few farmers are growing exotic rice in the hilly areas of Vizag Agency