`Kalyuga will end, Satyayuga will dawn ': Superstitious beliefs drove highly educated couple to kill young daughters in Chittoor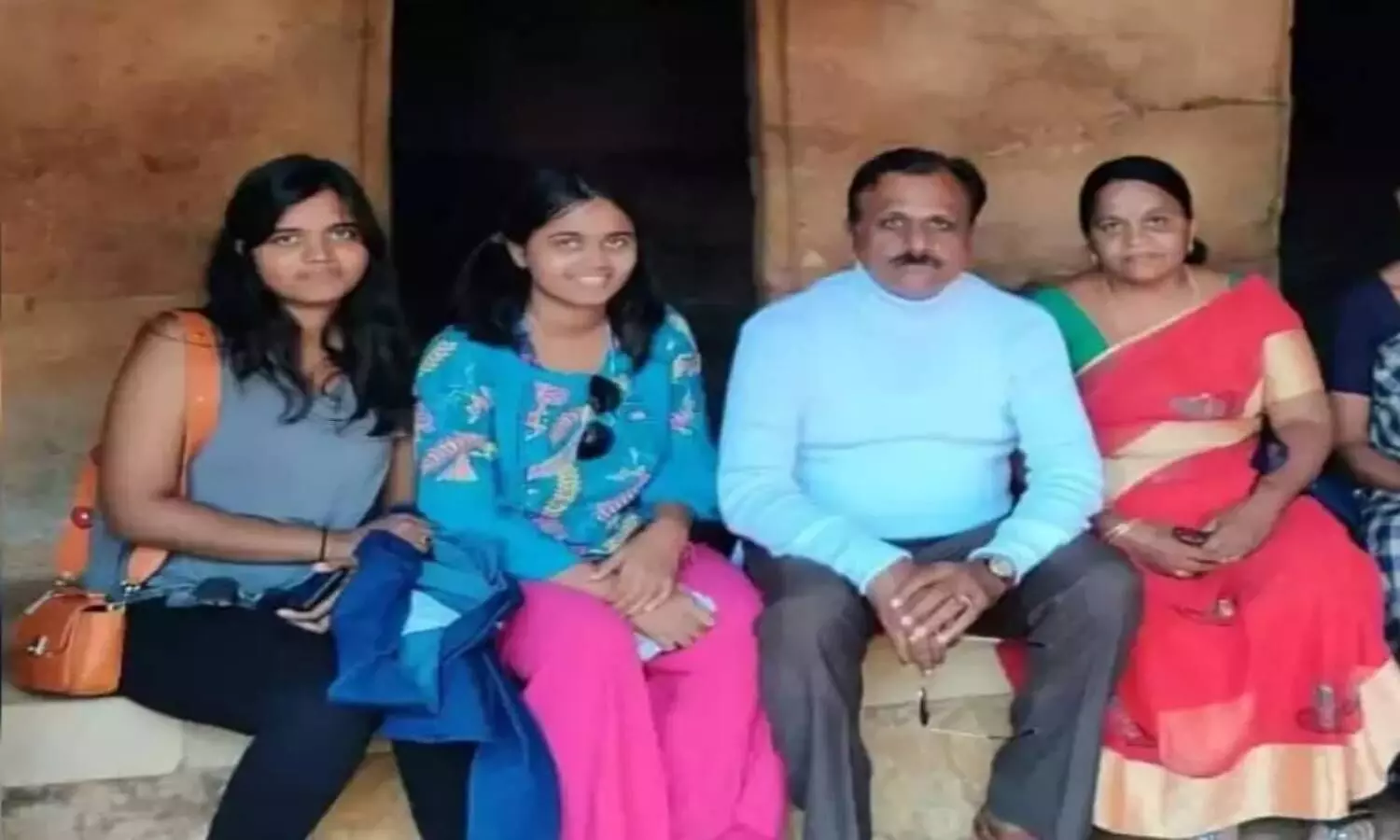 Chittoor: Behind the urbane societies lie the ugly underbelly of superstition and fallacy.
A highly educated couple with cushy government jobs had a fallacy that they would resurrect their daughters from dead as "Kalyuga" will end and "Satyayuga" will dawn.
With a result, the couple allegedly bludgeoned their two young daughters to death with dumbbells at their residence in Andhra Pradesh's Madanapalle in Chittoor district.
Both V Padmaja and V Purushotham Naidu are highly educated. Purushotham is an associate professor of Chemistry at Government Degree College in Madanapalle. Padmaja is a University Gold Medalist having M.Sc in Mathematics. She is the correspondent at Masterminds IIT Talent School in Chittoor.
The victims have been identified as Alekya, 27, and Sai Divya, 22. Alekya was a student of the Indian Institute of Forest Management and Divya was a BBA graduate pursuing a career in music, police said. Divya was a student of AR Rahman Music School in Mumbai and had returned home during the lockdown.
"Give us time till the end of the night, we will bring them back," the couple told the police who arrived at the house.
Police said the couple was behaving strangely during Covid-19 lockdown and particularly on Sunday night. Neighbors called the police after hearing strange noises and cries from the house.
When police tried entering the house, the couple resisted. But when they finally forced themselves into the house, the crime scene left the police in shock.
The body of one of the girls was recovered from the "pooja room" and another body was found in the other room. The bodies were covered in red clothes.
The parents who were so much in the Trans even after the twin murder pleaded the local police to leave the corpses of their two daughters at their home as they firmly believed that they will come back to life. Moments before being taken into custody the couple told the police: "Kalyuga will end today and Satyayuga will commence tomorrow and will bring back both our daughters to life in a more pure form".
Police officers were horrified hearing the statements of the couple.
Chittoor SP S Senthil Kumar said they are probing the case from multiple angles. "It is too early to say if some invisible person instigated the family or whether it was pure superstition that drove the well-educated couple to brutally murder their daughters. We will also try to rule out if someone drove this family towards superstition for financial gain," he said.
Police said the couple and their daughters remained isolated at their residence and did not allow maids inside the house following the pandemic