Polavaram project: Amid estimates row, Jagan asks officials to complete construction by December 2021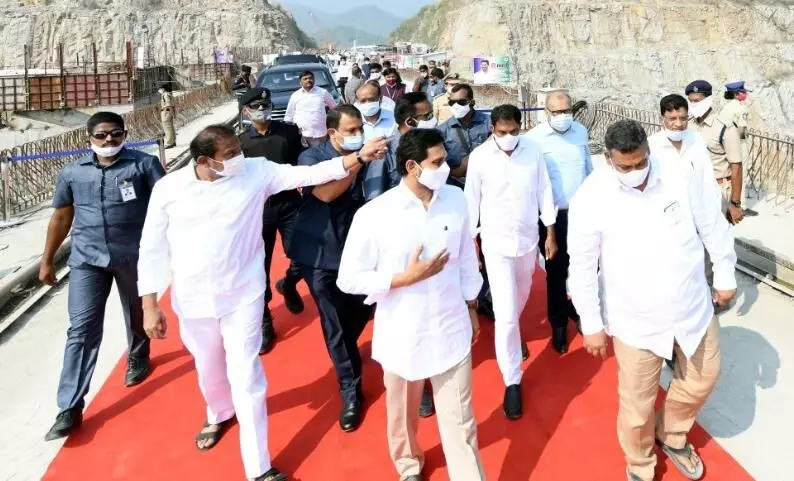 Vijayawada: Chief Minister YS Jagan Mohan Reddy on Monday reviewed the progress of much needed multipurpose Polavaram project and asked the officials to complete it by December 2021.
Jagan Mohan Reddy along with officials visited the project in East Godavari district.
During the inspection, the officials informed Jagan Mohan Reddy that 66.86% of headworks, 91.69% of Right Main Canal, 68.34% of Left Main Canal and 41% of land acquisition and rehabilitation and resettlement has been completed.
Considered lifeline for Andhra Pradesh, the Polavaram project is in the advance stage of construction at 42 km upstream of Sir Arthur Cotton Barrage of Dowleswaram on the river Godavari near Ramayyapeta village in West Godavari district.
It may be recalled that the BJP government declared the Polavaram project as a national project as per the promise made at the time of bifurcation and later it became part of AP Reorganisation Act, 2014.

There is a dispute between the Union government and AP government over the revised project estimates and the reimbursement of funds. The AP government has urged the NDA government to release funds.
Talks are in progress to iron out differences over fears of submergence in areas bordering Odisha and Chhattisgarh. The project envisages a reservoir capacity of 194.6 TMC, total utilization of water 322 TMC, creating a new ayacut of 7.2 lakh acres, 23.44 TMC for Visakhapatnam to meet the drinking water and industrial needs, and a 960 MW hydropower plant.
It also aims to provide utilization of 5 TMC to Odisha, 1.5 TMC to Chhattisgarh, and diversion of 80 TMC to Krishna River. After the formation of the YSRCP government in 2019, the contractors for the cofferdam, spillways, and spill chambers were changed through reverse tendering. The government claimed reverse tendering led to a saving of Rs .838 crore. The state government has notified revised administrative approval for Rs. 55,548 crores.
The Centre has so far released Rs. 8,507 crore to the State through Polavaram Project Authority. The Centre has to release Rs. 4,022 crore, which the state government spent after Polavaram was declared as a national project. The Centre is to ratify the revised estimates as BJP leaders including State general secretary Vishnuvardhan Reddy accused the State government of exaggerating the estimates.