Ramatheertham temple vandalism: Motive was to create tension, tarnish image of government, says CID chief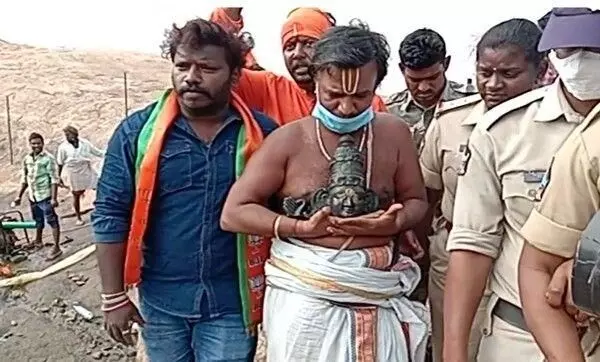 Vizianagaram:Investigation into Ramatheertham temple desecration has revealed that the miscreants' main aim was to fan communal trouble and tarnish the image of the government.
"We are suspecting that culprits involved in the attack wanted to tarnish the image of the government and create tension and rift between two groups. Neither was any burglary, nor any ornament was missing," said PV Sunil Kumar, Additional Director General of Police, Criminal Investigation Department (CID).
A team of CID officials led by PV Sunil Kumar visited the Sri Kodanda Rama Swamy temple at Ramatheertham in Vizianagaram district and launched the probe. Andhra Pradesh Chief Minister YS Jagan Mohan Reddy has ordered a CID probe into the Ramatheertham temple incident.
"We have observed that the culprits had full knowledge of the temple and the surrounding areas. Miscreants beheaded Lord Rama's idol on December 29 by climbing the hill. Head of the idol and the Hacksaw Blade, which was used for the crime, was found in a pond near Ramatheertham," said Sunil Kumar.
Section 30 of the CrPC was enforced in Ramatheertham and surrounding areas to prevent any untoward incidents. Police said no protests or meetings were allowed in the region.
COVID-19 Disaster Management regulations were also implemented. Police are also checking vehicles entering the region near Rajapulova.