Sanitation workers dump garbage in front of banks for delaying loan disbursement in Andhra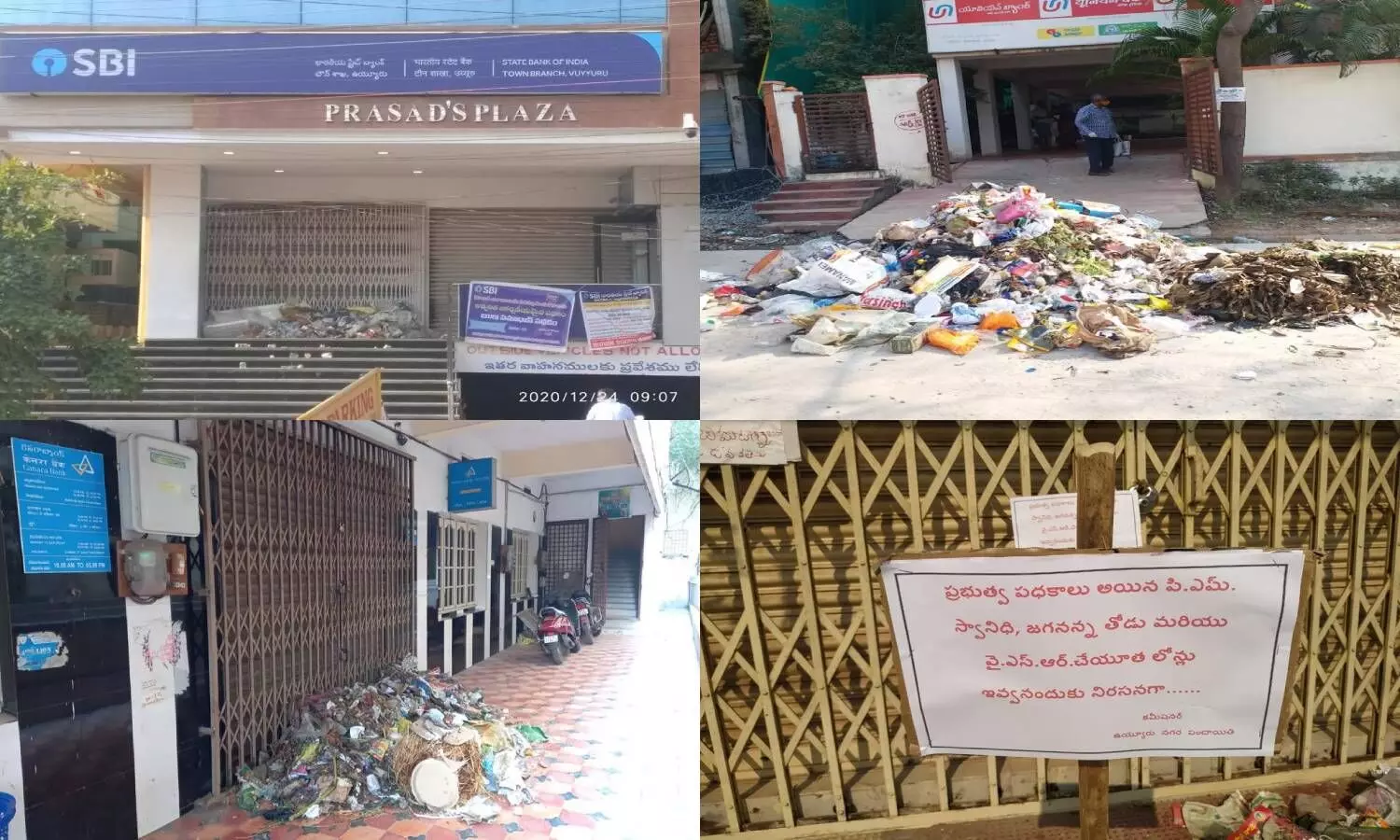 Vijayawada: In a bizarre protest, sanitation workers in Krishna district dumped garbage in front of banks in Vijayawada and Vuyyuru, expressing anger against delay in the disbursement of their loans that were sanctioned under the welfare schemes of the AP government.

The beneficiaries alleged that despite several requests to the bank officials they received no replies on their queries regarding their loan amounts under the YSR Cheyutha scheme and others.
The district collector, while criticising the behaviour of the municipal staff, ordered that the garbage be removed immediately.
The AP state unit of All India Bank Officers' Confederation condemned the action of the municipal workers to dump garbage in front of the bank branches at Vijayawada and Vuyyuru.
"We noticed that the municipal staff were instructed to dump garbage in front of the banks. It is an unethical practice by a government body to harm the image of the public sector," read a statement from the bank employee organisation.
"We served the public during the pandemic. No other industry served the public directly by taking huge risks to their lives. Many employees contracted the virus in the line of duty," said Y.V. Satyanarayana, AP Unit secretary of the bank organisation.
The branches had received thousands of applications for different schemes announced by the state government. Given the limited manpower and time, bank staff have been working day and night to clear the way for the disbursement of loans, the confederation explained, urging all to maintain harmony and understanding during the pandemic.
The top brass of the banks escalated the matter to Municipal Administration Secretary, Ajay Jain, and apprised him of the situation.
The heads of the banks also shared the issues bank staffers face in implementing government schemes and how such a situation only makes it harder for them to do their jobs efficiently.