Uranium tailing pond breach: HRF calls for suspending UCIL operations at Thummalapalle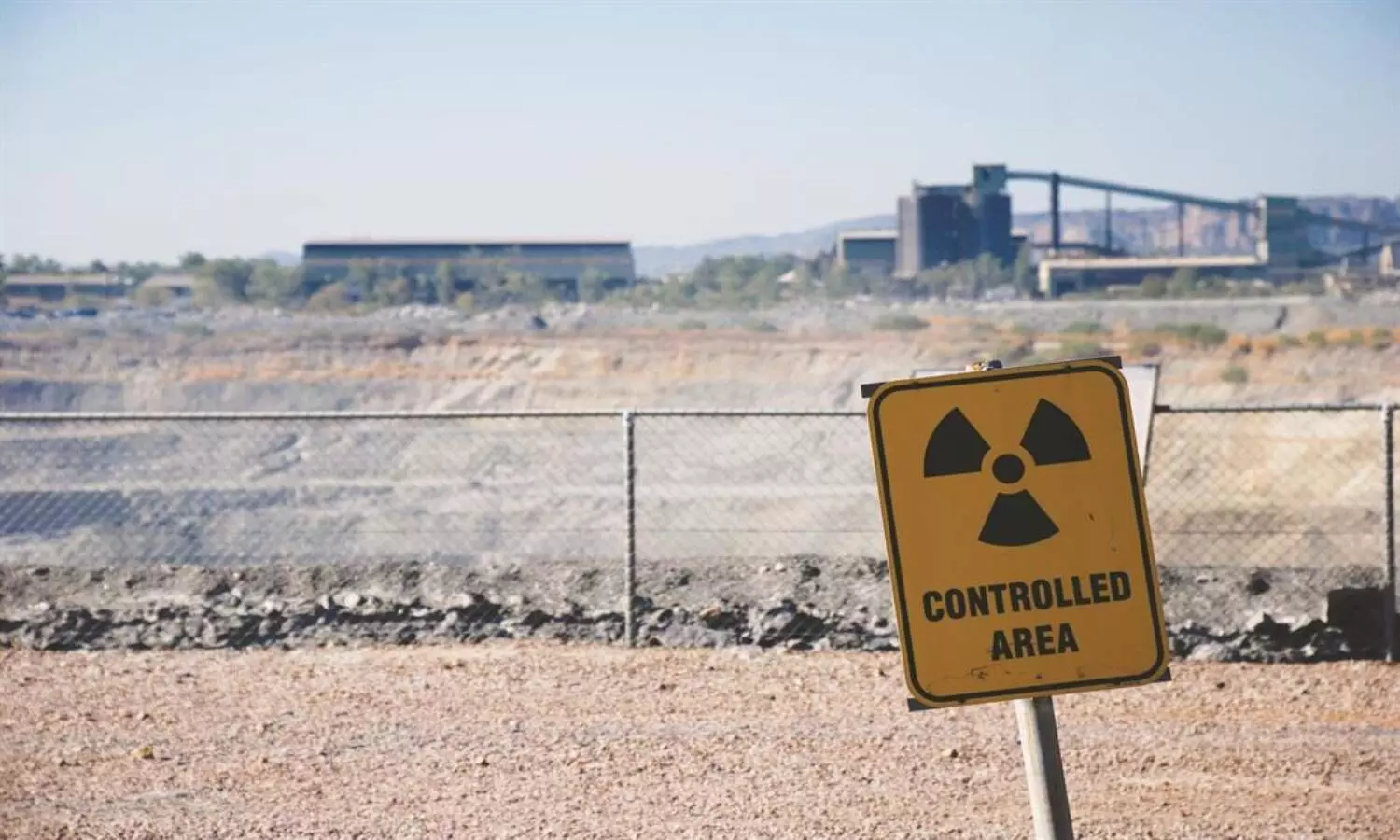 Human Rights Forum (HRF) has expressed serious concern over the embankment breach and overflowing of tailing pond of Uranium Corporation of India Ltd (UCIL) at Thummalapalli in Vemula Mandal of Kadapa district.

As is known, the waste generated while processing uranium is stored in the form of slurry in a tailing pond. Uranium tailings contain over a dozen radioactive nuclides. These ponds hold hazardous radioactive matter that is highly toxic in nature and is a constant menace to the health of people, groundwater, local water bodies, agriculture, and livestock in the area.
The embankment of the tailings pond, located close to KK Kottala village and the Erravanka rivulet gave way because of incessant rain in the area on the intervening night of September 2-3.
HRF said residents of Mabbuchintapalli, Thummalapalle, Bhoomaiahgaripalle, Rachakuntapalle and KK Kottala fear contamination in the area.
This is not the first time such an incident has occurred in the tailings pond. On June 9 this year, a short spell of intense rain caused the overflow from the tailings pond and the spewing of radioactive waste and toxic slurry in the adjoining area. Nearby farmlands were inundated to a depth of nearly 6 feet with farmers suffering a loss of banana and other crops. The UCIL claimed on that occasion that it did not envisage such a heavy rainfall!
HRF, along with concerned citizens and environmental groups has consistently highlighted the environmental and health risks associated with uranium mining. "We have pointed out that the mining and processing of uranium ore invariably contaminates air, soil, underground and surface water and that people in the villages nearby are already suffering from a slew of ailments as a result," HRF said.
HRF said they have time and again brought to the notice of concerned authorities the reckless manner in which the UCIL was storing radioactive sludge at the impoundment near KK Kottala. "We have emphasized that inadequate embankment and absence of lining of the tailings pond are clearly leading to continuous seepage and contamination of groundwater aquifers. No satisfactory measures were taken to prevent toxic leaks from the site. As per norms, all tailings ponds in uranium mining have to be lined with clay and impermeable liner so as to avoid polluting groundwater but the pond near KK Kottala does not meet this standard. In fact, the UCIL has been dumping hazardous waste slurry in an unlined pond," HRF said.
Typically, the UCIL has repeatedly avoided questions on this aspect and has sought to couch the whole thing in secrecy. Its response has always been to play down the dangers or deny them altogether blithely refuting any adverse impact on local ecology and livelihood.
The latest breach is also being sought to be covered up and projected as a minor incident that is of not much consequence. However, local residents we spoke to are far from convinced and are understandably in a state of alarm. They are of the opinion that the breach was due to the poor quality of the earthwork and lack of adequate inspection. Farmers who tried to film the damaged embankment were prevented from doing so by the police.
Regulatory authorities have done precious little to hold UCIL to account for its criminality. Bodies like the Ministry of Environment Forest & Climate Change (MoEF&CC), Department of Atomic Energy (DAE) and the Atomic Energy Regulatory Board (AERB) have not rigorously examined the veracity of UCIL's assertions that it is complying with norms and have systematically overlooked evidence that points to radiation hazards.
On the occasion, the AP Pollution Control Board (APPCB), and even an expert committee that studied the impact of tailing ponds on the environs, have colluded with the UCIL to cover up serious violations and non-adherence to rules.
HRF demands that steps be taken to ensure compliance by the UCIL in respect of safety norms and compensation be determined and paid to affected residents in the area.
A comprehensive study must be undertaken to focus on the safety aspects of all operations of the UCIL. Given its frequent violations and refusal to take any corrective steps, the UCIL operations at Thummalapalle must be immediately put on hold and the facility must not be allowed to expand its capacity.