YSR leader D Revathi booked after video assaulting toll plaza staff at Guntur goes viral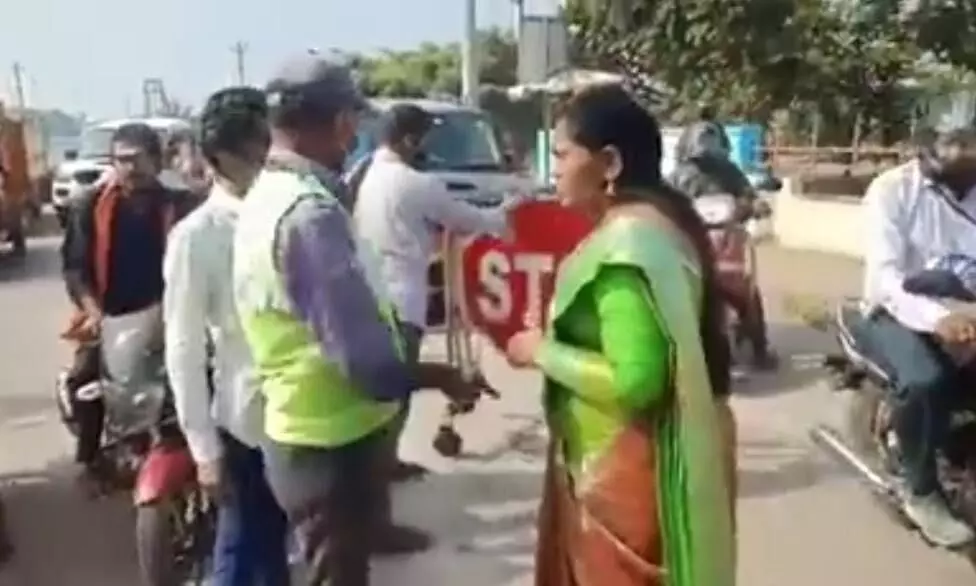 Guntur: Police have booked Andhra Pradesh Vaddera Welfare Development Corporation chairperson D Revathi after she was caught on camera physically assaulting a toll plaza staff at Kaja in Guntur district.
In the video, D Revathi, who is a senior YSR Congress Party (YSRCP), can be seen removing the barricades at Kaja Toll in Guntur district and engaging in a heated conversation with the staff.
The leader was also seen holding one of the employees by the collar before slapping him.
The incident occurred when she was stopped by toll staff and asked to pay the tax. Seemingly infuriated, she alighted from her vehicle and started removing the barricade. The siren from the black Scorpio, used by the YSRCP leader, is heard in the background as Revathi shoves away the barricade to make way for her vehicle.

At one point she raises her hand at a toll booth official when he stops her from removing the barricade. She is later seen holding him by his collar and slapping him when he tries to stop her again.
Later a complaint was filed against the YSR Congress leader and her driver at Mangalagiri police station. Police registered the case under section 188, 294-B, 323, 341, 506 r/w 34 IPC.
Police said they registered a case after a complaint was filed by Kolanti Praveen, Manpower Manager of Fairways Toll and Security Services Limited, Kaza Toll Plaza.