Water war: Telangana police stop Andhra chief whip Udaya Bhanu from visiting Pulichintala project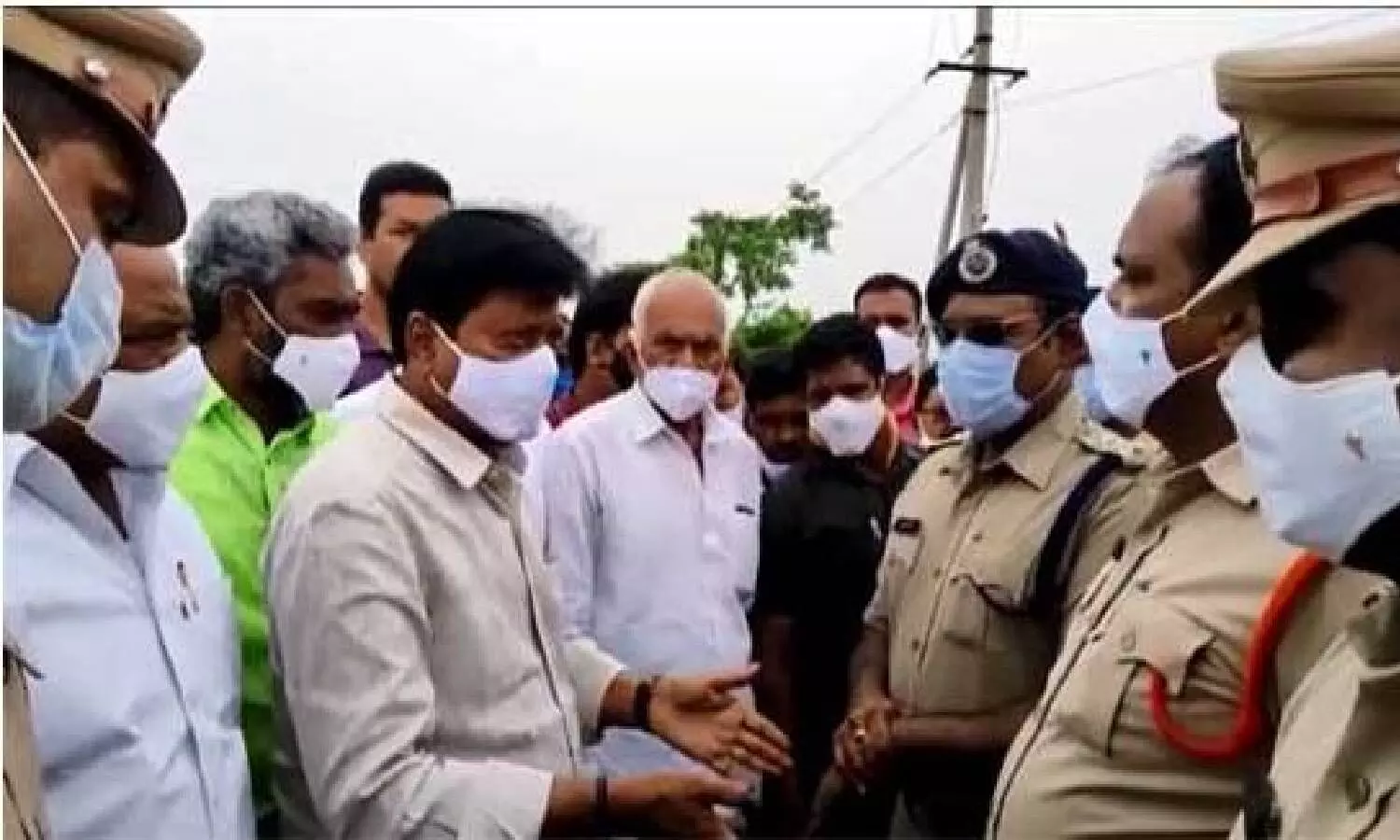 Hyderabad: Tension gripped Suryapet on Sunday when Telangana police disallowed Andhra Pradesh government chief whip and YSRCP MLA Samineni Udaya Bhanu to cross the border and visit the Pulichintala project.

Chief Whip was going to visit the irrigation project near Muktyala village in Jaggayyapeta Mandal when he was stopped.
He reached the Pulichintala project by boat from Krishna district.
Earlier, Telangana police had stopped Andhra government officials from visiting the project.
Telangana and Andhra Pradesh governments are at loggerheads over the former's decision to generate hydropower at three projects located across the river Krishna. Both states have deployed police forces at the Pulichintala project.
In addition, the Telangana government on Friday stopped the power generation at Nagarjuna Sagar. The conflict started after Andhra Pradesh started the Rayalaseema lift irrigation scheme (RLIS) and the Rajolibanda diversion scheme.
Udaya Bhanu was outraged that Telangana was allegedly generating electricity at Pulichintala. He said water was being wasted due to power generation before the start of the Kharif season.
Udaya Bhanu said water should be used as per the Bachawat tribunal. "Pulichintala irrigation project was built as part of the Jalayagnam when the late Dr. YS Rajasekhara Reddy was the chief minister. The late leader had built many such projects in Telangana. Still, Telangana leaders and ministers like Prashant Reddy, Srinivas Gowda were making inappropriate remarks," he said.
Telangana government has decided to demand 50:50 water allocation from this year. They have also sought allocation of half of 811 TMC of Krishna waters until the Tribunal takes a final decision.
Municipal Administration and Urban Development Minister KT Rama Rao on Saturday said the Telangana government would take all measures to ensure that not a single drop of water from its rightful share is lost.
"Not just Andhra Pradesh, if required, we will fight with the god to provide Krishna water to erstwhile Palamuru," he said.
Udaya Bhanu said AP Chief Minister has reiterated that the two states should be friendly. However, Minister KT Rama Rao should introspect. "We won't even listen to God about this issue," he said.