Daredevil mission: Local divers rescue three picnickers from flooded hill at Yarada beach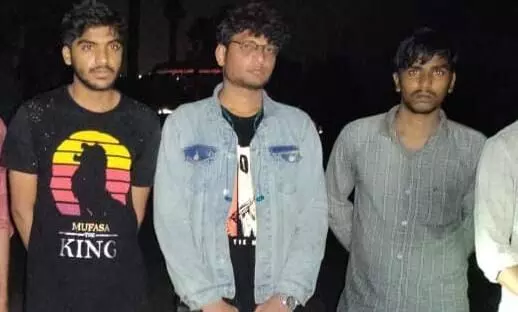 Visakhapatnam: Local divers rescued three picnickers who were trapped in the flooded hills at Yarada beach of the Vizag city on Sunday evening.
The scene brought back the memories of 2018 when divers rescued 12 footballers and their football coach from flooded caves after 17 days at Tham Luang in Thailand.
Police sources said a group of seven youngsters had gone to Yarada beach on a picnic. Three of them ventured into the waters and climbed the Pitla Hill along the beach. They however were trapped in the rocks due to the high waves and could not reach the shore.
Based on the information from the group members, the New Port Police, fire service personnel, and few others rushed to the Yarada beach and launched the rescue mission. Officials with the support of the experts in the swimming finally rescued the trio around 1 am on Monday.
They have been identified as K Naveen, B Yashwanth, and K Sravan, all in their twenties.
The rescued youngsters said that they were trapped in the rocks as had no scope to reach the shore due to the high current.
Police have advised the beach visitors not to venture into the waters as the rip current is high and there are possibilities of drowning. It may be recalled that a few days ago, two naval personnel drowned and died on the Yarada beach in Vizag city.