Police crack Rushikonda resort burglary case; arrest accused, recover Rs 30L worth ornaments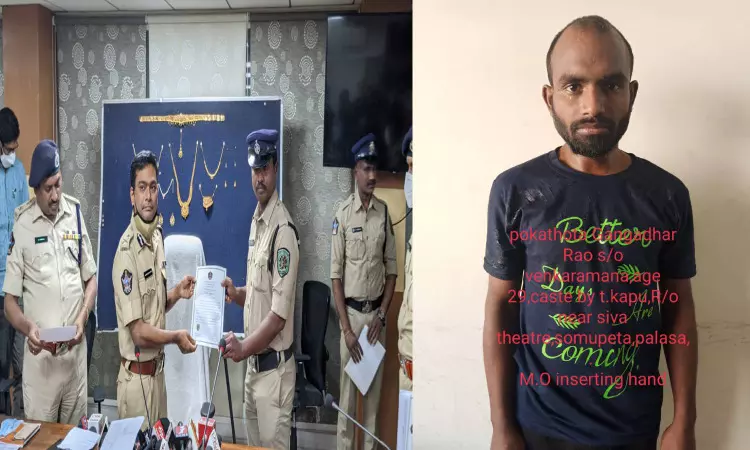 Visakhapatnam :Vizag city police cracked the Rushikonda resort burglary case when they arrested 29-year-old Pokathota Gangadhar and recovered 530 grams of gold jewelry worth Rs 30 lakh.
Soon after his release from prison, Gangadhar planned to scale the private resort wall, where the marriage function was taking place, and steal the ornaments and other valuables of the bride.

A clue left by the thief helped the cops to crack the case after four weeks of manhunt. Cops had visited various places in Andhra Pradesh and other states to look out for the thief.

The burglary incident took place on December 24 in a well-known resort near Rushikonda beach when the family members and relatives of the bride were asleep.

City police chief Manish Kumar Sinha said that they have solved the case with technical evidence.

An orphan, the accused is a native of Vijayawada. He has been working as a waiter in a restaurant at Vizag. He took the crime route for easy money and has been involved in 18 property offences in Andhra Pradesh. He was also arrested in the past.

On December 8, 2020, Gangadhar was released from prison. He came to know about a marriage at the famous resort. He scaled the wall of the resort on December 24 in the wee hours and took away the bride's gold ornaments weighing 600 gms. Later, he took a cab and fled from the spot.

ACP (Crime Wing) D Sravan Kumar said that initially they had no clue and it took them so many days to identify the accused.

"Some clues helped the police to zero in on the accused. We have recovered 530 gms of gold. We have to recover 60 gms of gold, which was pledged with a gold finance firm," he added.