Revenue Department, GVMC retrieve `encroached land' from TDP leader-run GITAM in Vizag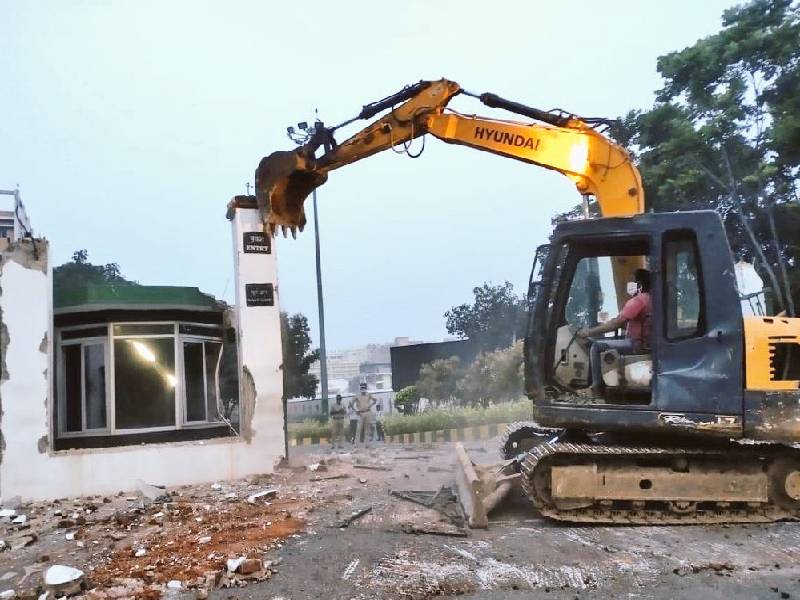 Visakhapatnam: Revenue Department and GVMC launched a massive anti-encroachment drive and retrieved government land allegedly occupied by Gandhi Institute of Technology and Management (GITAM), Rushikonda, in Vizag city.
GITAM, one of the largest private Universities in Andhra Pradesh, has been under a cloud for land grabbing and encroachment. The Vizag based GITAM having campuses in Hyderabad and Bengaluru was founded by TDP leader late MVVS Murthi.
GITAM has been offering over 100 programs at the undergraduate, postgraduate levels in Technology, Pharmacy, Science, Management, International Business, Architecture and Law. However, it has been allegedly violating the laws.
An inquiry team headed by Revenue Divisional Officer P Kishore has concluded that GITAM University has encroached 40.51 acres of land at Rushikonda and Yendada of Vizag city. The GITAM authorities have constructed a compound wall and some structures on this encroached land. Based on the RDO report, a Special Investigation Team (SIT) of the CID has also started an investigation into the matter.
The Revenue Department launched the drive to retrieve encroached lands from GITAM.
Revenue Department officials said that the previous TDP government did not retrieve the land since the university management is very influential and having connections with top officials.
The RDO said that in 1981, GITAM management had applied to the AP government for the allotment of 71.15 acres of land at Rushikonda and Yendada in Vizag city for setting up educational institutions.
Since the land was entangled in the legal dispute, the then government allotted it to GITAM subject to certain conditions that it should purchase the lands as per the prescribed price after the settlement in the court. But GITAM violated the rules and encroached over 40.51 acres of land.